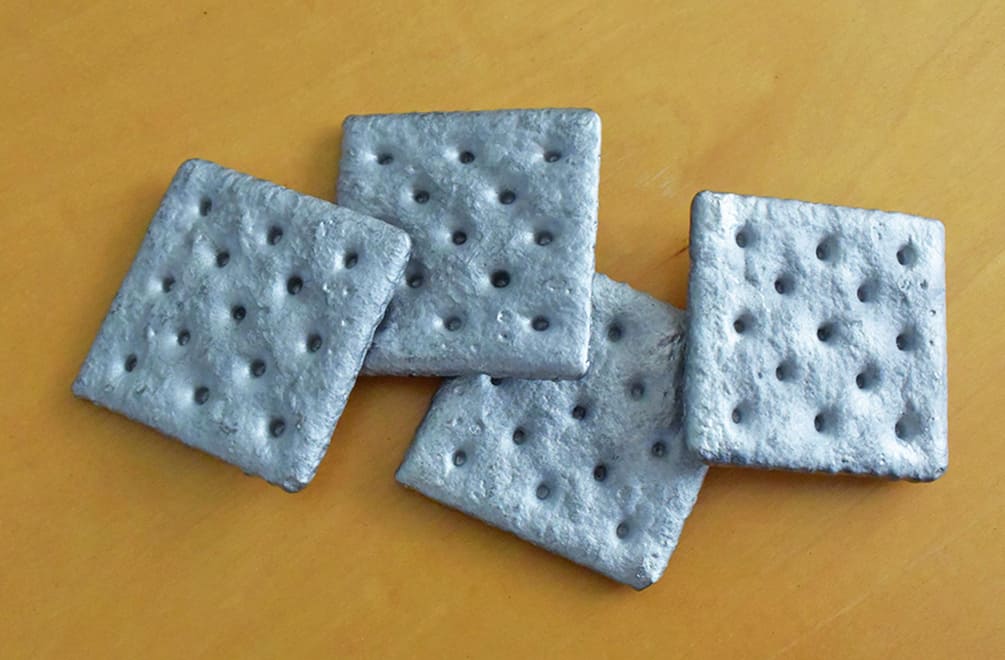 [lead]My husband is an excellent gift giver.[/lead] It actually causes me such stress — thinking about the perfect birthday, Christmas, Valentine's gift that will not look lame in comparison to a secret trip to London — it breeds anxiety. Now he's gone and done it again. He got me Saltines by artist Mike Simi. Who is now my new imaginary boyfriend. (Wait – is it gauche to talk about my husband and my imaginary boyfriend in the same post? I'll own it.) Why Saltines? Because I'm crazy for crackers. And art. Not necessarily in that order.
The Saltines are cast in lead, the size of an actual Premium or Zesta cracker. I'm lucky enough to be the proud owner of four of these beauties. Here's a shot with dramatic shadowing.
And a much nicer professional shot from the artist's website.
But it's not just the subject matter that makes me go crackers for Mike Simi. (See what I did there?) It's his complete body of work. Intelligent, filled with black humor and unafraid of any medium, he moves easily from ceramics to robotics. I hate to use the word "irreverant" but check out his instagram handle.
Every one of them is funny, playful, and but also informed, like the products of an MFA student tired of everyone around taking art way too seriously, whose peers then applaud his efforts at subverting their academic approaches. – Beautiful/Decay
Here's a quick introduction to his approach, presented by the man himself.
mikesimi.com/about.html from Mike Simi on Vimeo.
Simi is hot off a solo show at Volta Art Fair in New York, but has shown throughout the world. He is a particular favorite in the Pacific Northwest, having multiple shows in Seattle where he is represented by the fantastic Season Gallery, operated by the talented Robert Yoder.  (And what a smart eye Yoder has. The group of artists he represents, the shows he curates, intelligent and perfect.)
But I digress. Back to Simi. He has created a party tray as dart board, a set of pillows featuring sex offenders, a stretcher made of lawn chair webbing. Diverse works that bring the viewer along for the joke. But to consider these works as simply funny is to do them an extreme disservice. Each piece is clever, sure. But the concepts are astute. Shrewd even. I smile, but not without seeing the larger messaging. That's what I love. And my husband would see that and know that Saltines was the perfect gift. Even if it meant I have a fantastic new crush now.