[lead]The first time I saw the Kennedy Center for the Performing Arts, I was a Girl Scout on a troop trip.[/lead] I don't remember much about that trip except that it POURED the whole time we were there. The campground was a sopped mud pit and our little green socks never dried out the whole time. I was pretty miserable, but one thing that did leave an impression was the JFK bust by Robert Berks. I'm not sure why-maybe it was one of my first brushes with "fine art." Let's face it, my cultural icon at the time was Shawn Cassidy, so that sculpture was quite radical to my mind.
So off to the Kennedy Center and one of their free and frequent tours. We had a great guide who apologized that the tour would be truncated as there were so many performances beginning and we couldn't get into the theaters. We made the amateur mistake of going on a Sunday afternoon (see tip below). I was disappointed as there is so much mid-century art I wanted to see there, but we'd see what we could see. Plus, the building itself is a mid-century gem, so all was not lost.
You start off in the Hall of Nations, which displays flags of countries we currently have diplomatic relations with. My brother wondered if Cuba would be added soon.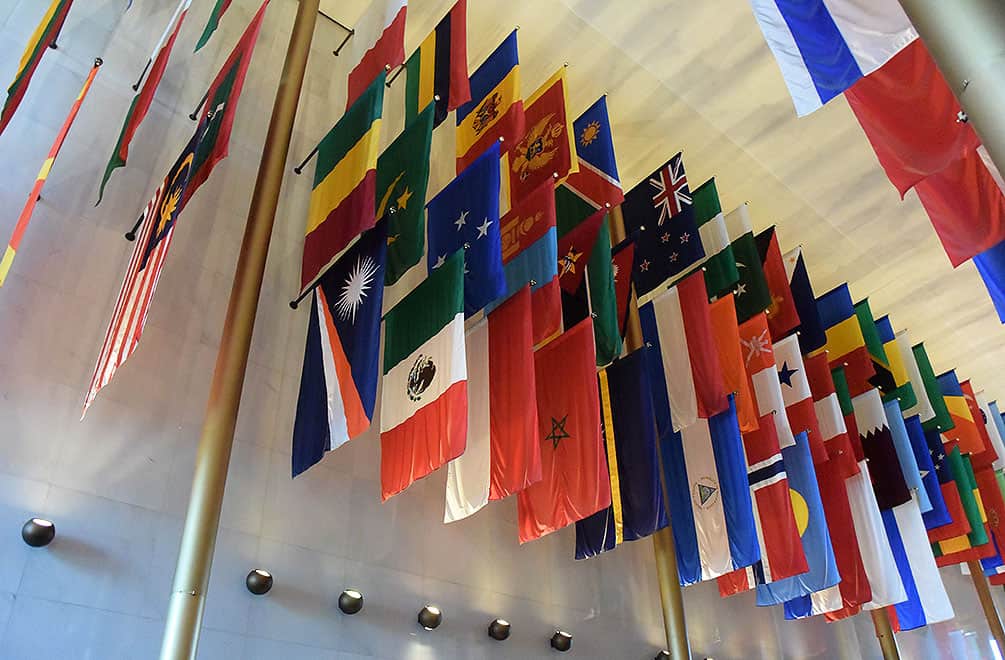 On the windows at the end of the hall was "China Red," a cut-out created by Oscar-winning art director Tim Yip (Crouncing Tiger, Hidden Dragon) that was supposed to be temporary, but everyone liked it so well that it has stayed on.
Many nations gave gifts to the Center at the onset of the project. 3,700 tons of Italian Carrera marble were gifted for the interior and exterior. Belgium contributed large mirrors for the foyer—check out the scale.
But some of the loveliest donations are the chandeliers given by Sweden. Made by Orrefors and gifted in 1967, 16 chandeliers hang in the foyer–each piece a hexagon, strung and illuminated.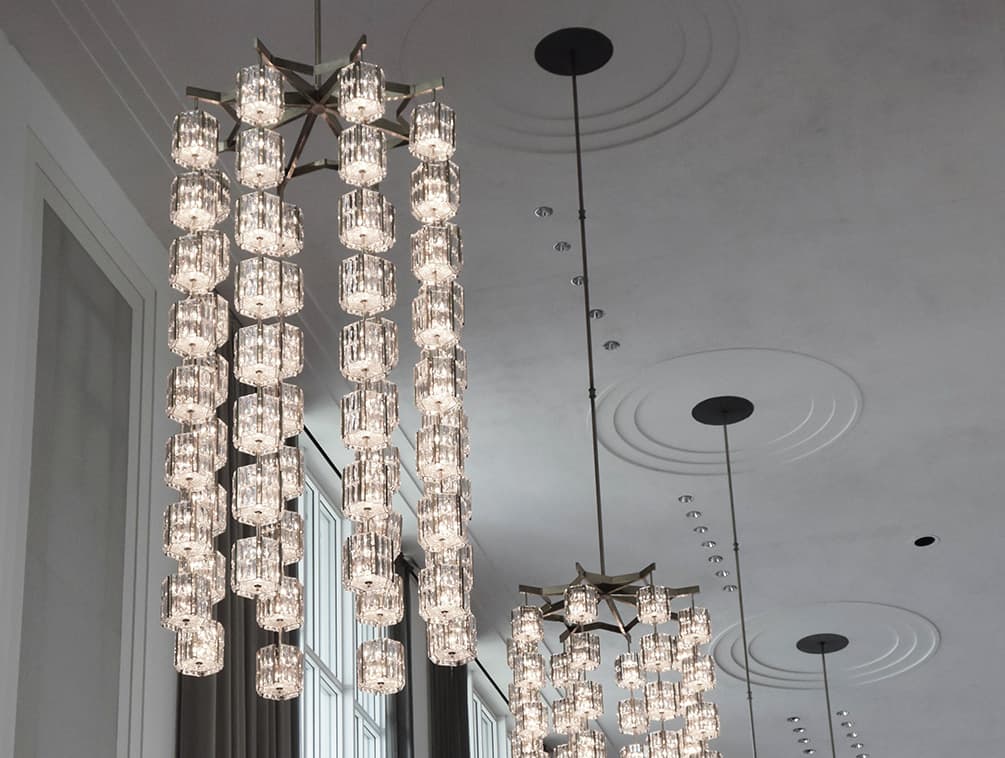 Onto the sculpture that prompted this trip. It was as grand as I recalled. The scale of the bust is perfect—approachable, but governing the space around it. Our tour guide pointed out something I hadn't noticed as a tween. One side of the sculpture depicts Kennedy as a youthful optomist, white on the other side, his features are drawn, reflecting the impact the office had on him.
As I mentioned, the tour was a shortened one, so we were encourage to go upstairs and walk around. You can go on all 4 sides of the terrace. The buildings lines are beautiful, clean and unadorned, letting the materials shine through. Thank you, Edward Durrell Stone (the architect).
And then there's the view. Not a drop of rain this time.
Although we didn't get to see much of what I hoped to see, it was offset by the buzz of the crowd. Children dressed up in their finest seeing their first performance, seasoned theater veterans, everyone jockeying to find their seats, grabbing a pre-event snack. I will want to go back again to see more of the art, but my fond recollection of the place—and that particular sculpture—has been further reinforced.
---
[highlight]That's nice. Sooo, should I go?[/highlight] Yes. Tours are free, the guides are enthusiastic. Probably not great for young children (a couple peeled off from our tour with 2 young kids). Plus, every night at 6pm, there's a free performance on the Millenium Stage.
[highlight]I'm smitten. Tell me more.[/highlight] Here's a booklet on the art, artists and nations there.
[highlight]Location[/highlight] Â 2700 F Street, NW Washington, DC 20566
[highlight]Cost[/highlight]  Tours are fee and depart about every 15 minutes. Performance ticket costs vary, of course.
[highlight]Tip[/highlight]Â Have I mentioned not to go on Sunday if you want a full tour? Take the free shuttle from the Foggy Bottom/George Washington University Metro stop. It picks you up right at the station and takes you to the Center's front door. So easy.