This past month I saw: a sound effects show, a teenage heartthrob, a surrealist play, 4 hysterical comedians, a mediocre dramedy, a 2-hit wonder, an Oliver Reed tribute, 2 Glaswegian comedians with accents I couldn't understand, a classical concert, a reworked Russian play, a Dungeons and Dragons role-playing show and a lecture on quackery. If you've read the headline, you've figured out that I was at The Edinburgh Fringe Festival. The jam-packed, month-long festival recently wrapped up and this year I made it my business to get there.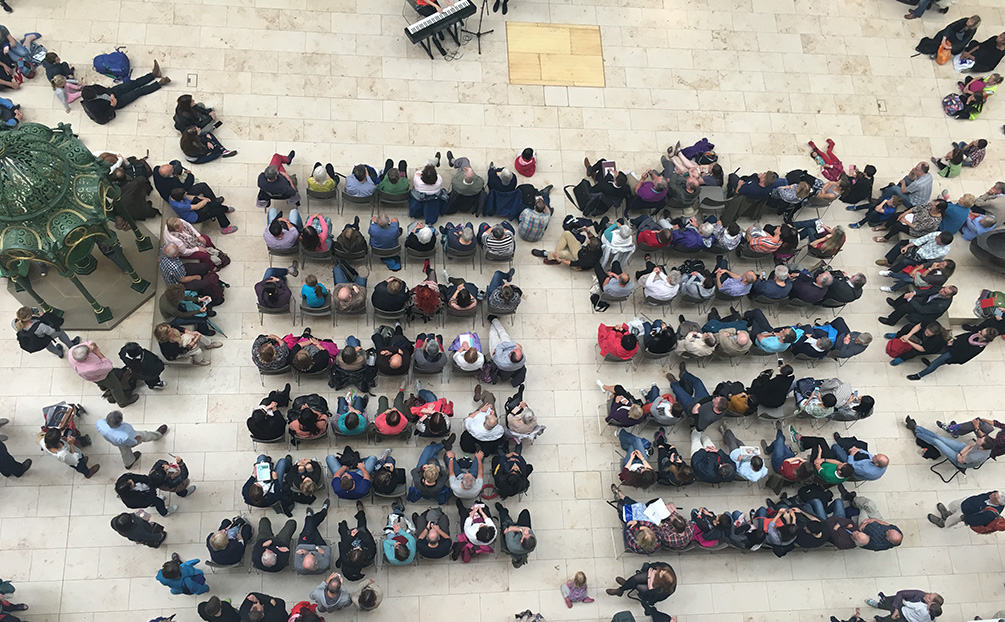 Junket Objective
Attend the Edinburgh Fringe Festival and hit as many shows as possible.
Transportation: I cashed in my frequent flyer miles, so $0, except for the taxes which were $154.
Cost of Lodging:  $1,488 for 8 nights at a cute Airbnb near Edinburgh Castle. That's $186 per night. Central location, view of the Castle!
Let's start with navigating this city-wide event. I had heard about huge crowds and long lines and worked myself up to expect them and deal with them. Our room was in Grassmarket, so I figured if it got too bad, I'd just head back to the room for a reprieve. But I really didn't experience this. Sure there were crowds of people on the Royal Mile watching the street performers and people walking on Princes Street and near Waverly Station, but it really wasn't that bad. Maybe I got lucky, or maybe it was because I used to live in New York, but as long as you allowed yourself a little more walking time, you'd be fine getting from venue to venue on foot. Which leads me to the long line issue and my first 3 tips.
To avoid long box office lines, become a Friend of the Fringe. I paid $40 to become a Friend of the Fringe for the year. Why? Because they have a special box office that had no line. I breezed past the others waiting in the regular box office line — sometimes in the rain — and walked right up to the incredible folks in the Friends box office. That fact alone made it worth the cost — vacation time is short. But the other Friend benefit allowed me to buy 2-for-1 tickets to a bevy of shows. I think I paid full price for only 2 shows I attended, so the 2-for-1 benefit actually pays for the membership if you attend a few participating shows. Plus it's a charity, so c'mon already.
If you still hate lines but you don't want to become a Friend, order tickets online. There are computer collection points around town with no lines. Be aware that you do pay a fee for ordering online, with a maximum fee of about $7.25. So, you have to weigh that cost with how much you hate to wait in a line. Personally, I think it's worth it. (Pro tip: Order a bunch of tickets and you still only pay the max fee, so ordering more is the way to save.)
The Fringe is skilled at people moving. The organization is exceptional. The process generally goes like this: you have your ticket in hand, you get to the venue and the assigned room about 15 minutes before the show. (Unless you're attending a sold-out show, then you'll want to get there a bit earlier.) You have a drink or run to get one (the possibilities are endless, see below). You're ushered into an area where a Fringer collects/tears your ticket. You are allowed into the venue about 5 minutes prior to the curtain and the performance begins and ends precisely on time. This happened everywhere, like clockwork. Impressive.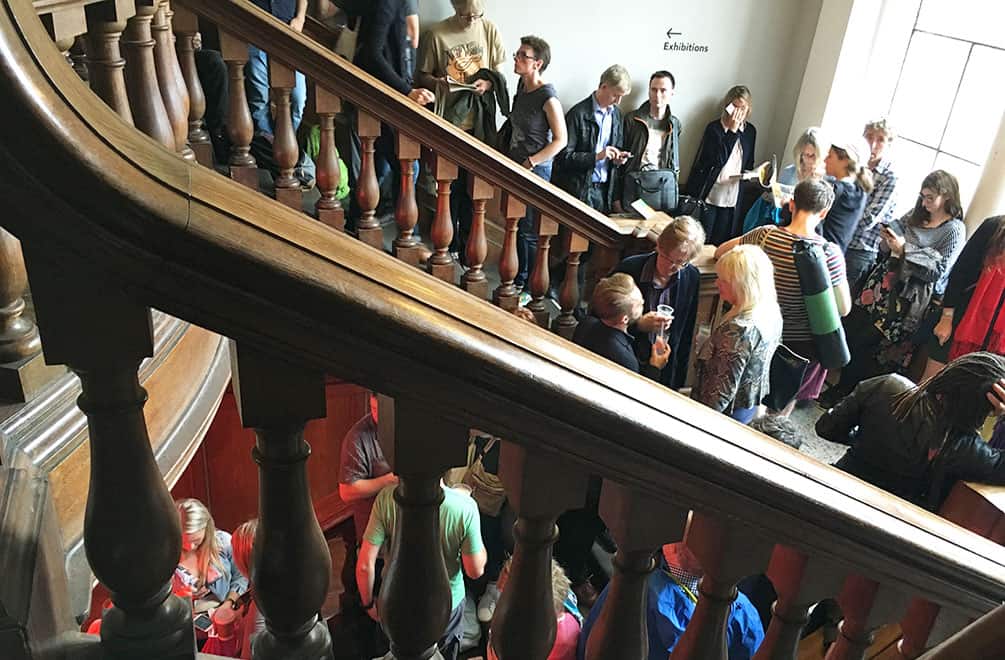 So you're moving around the city like a pro, but how do you pick what to see? It is daunting. Are you comfortable with the feel of paper between your fingers? The Fringe has large, free print programs available almost everywhere. Grab one. More of a cyber cat? Go to the website. Plan, but be open to the unplanned. The next section will help you narrow down the many choices.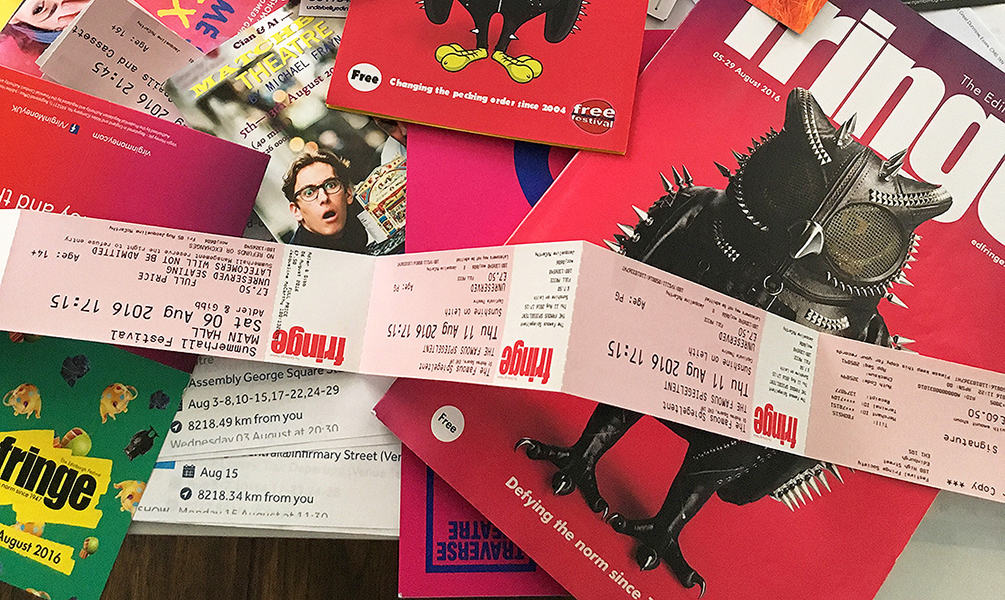 Download the Fringe app. I really loved this app, especially the Nearby Now feature, that maps performances near you, within a time window that you specify. You can filter in the dates you're in town, genres, etc. It was indispensable.
You will get a flyer or two. Or 600. Deal with it. The kids giving out the flyers are funny and the most polite I've ever encountered. (Try refusing leafleters in New York City.) Some might charm you into buying tickets to a bad show (that happened), but it's ok. You'll see plenty of good offerings. Check out The List and The Skinny for recommendations, or follow fringebiscuit on twitter for 140 character tweet reviews. Plus as the Festival rolls on, you can see "star" reviews plastered over posters around town.
Stop by the Virgin Half-Price Hut. If you aren't a Friend of the Fringe, you can still score a half-price deal at the Hut for performances on the same day. Check the board for what's available. There will be folks handing out flyers for shows on offer here too, if you want completely biased, in-depth information. The line moves fast.
Each venue has its own area and flavor. This was one of the most charming things about the Fringe. Each venue has its own feel. We saw shows in a cave, a spiegeltent, a physician's college, a debating hall, a veterinary hospital, a cabaret nightclub, a bar's backroom, and a student union. Each was different and delightful. Most had little villages around the theaters themselves-food stalls, bars, tables, heaters. You never had to be bored, hungry or sober if you were between shows. Discovering and experiencing the different showrooms was an unexpected pleasure.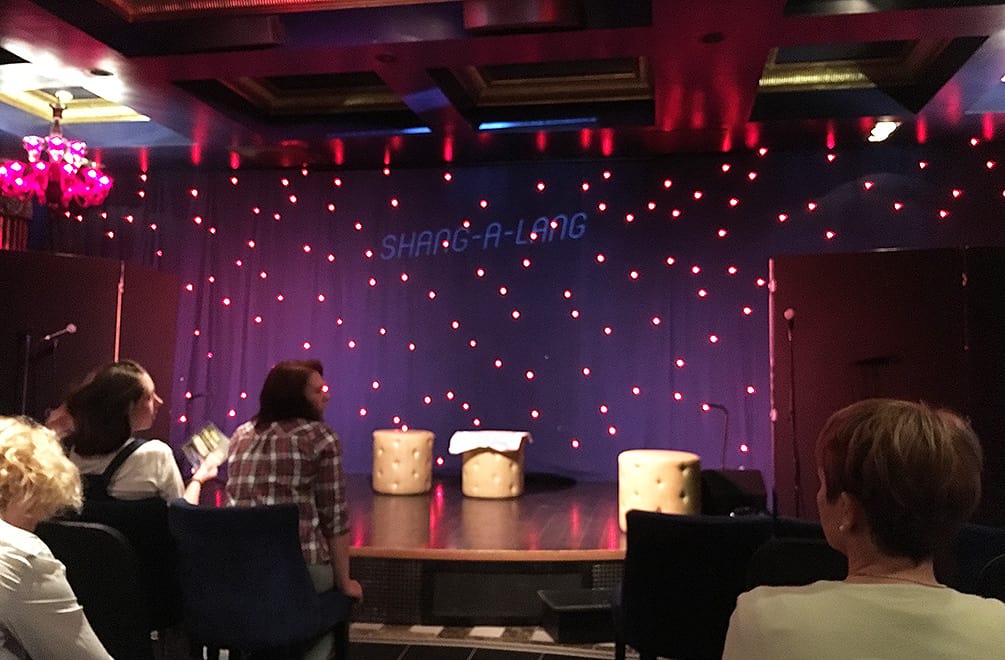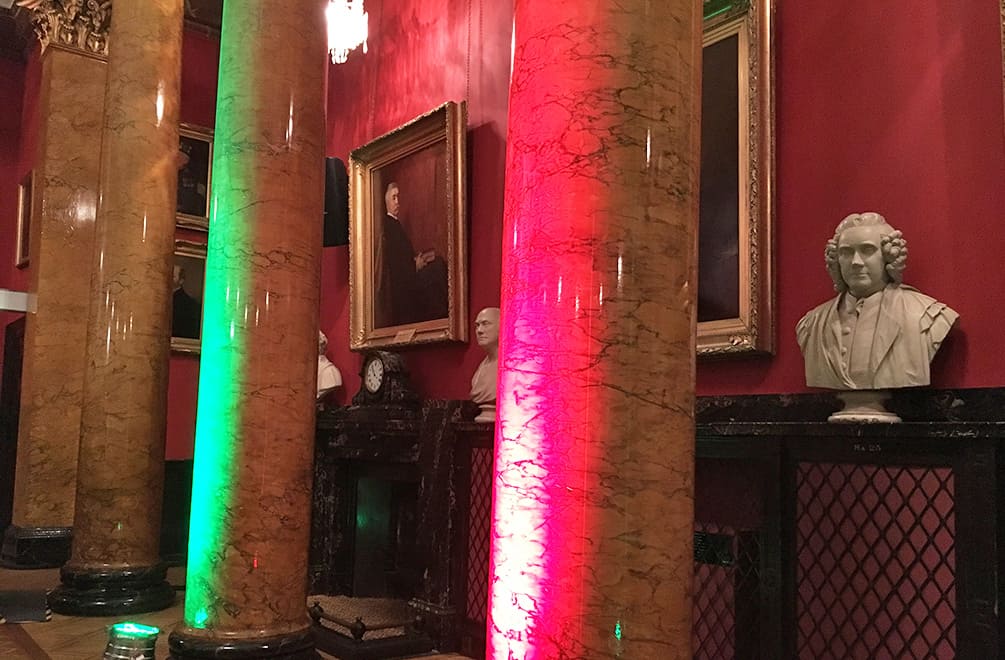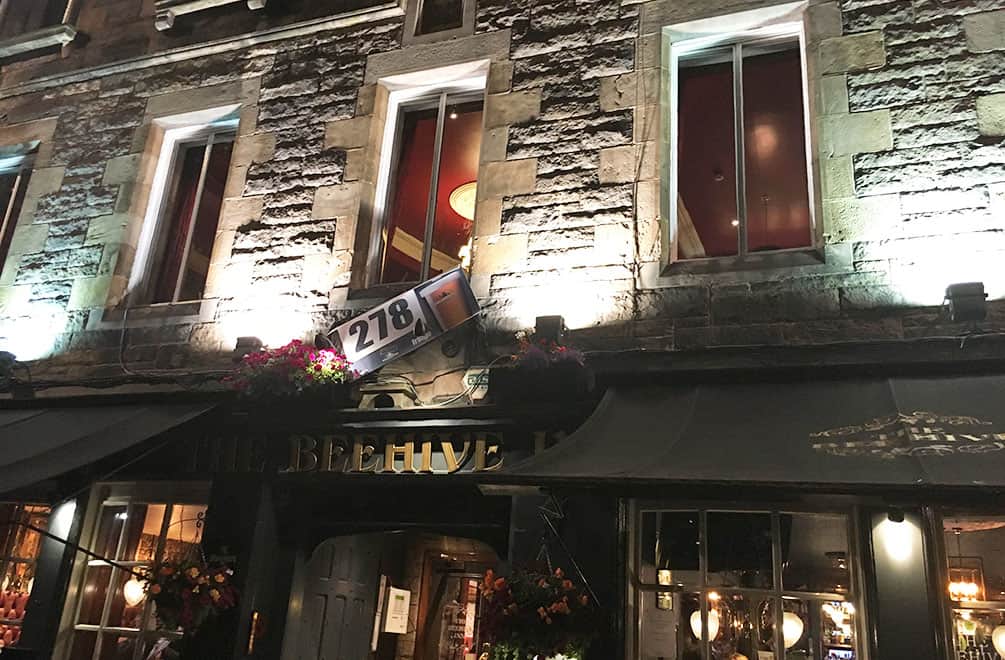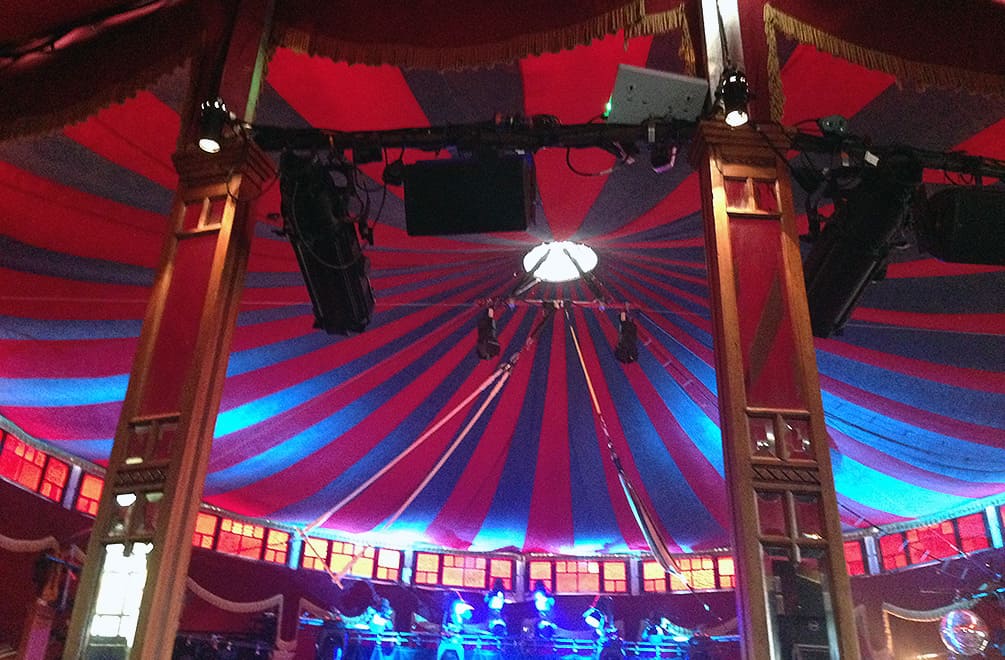 Be warned:
If you sit in the front row at a comedy show, you will be part of that comedy show. This might be obvious, but I'm putting it out there. My poor husband became part of almost every comedy show we attended, through no fault of his own. We didn't want to sit in the front row, but many times were ushered into it. He's a good sport and quick-witted, so it was all good fun. At the show pictured below, a shy, cute young couple sat up front and their non-responses became comedian Tom Ward's gold.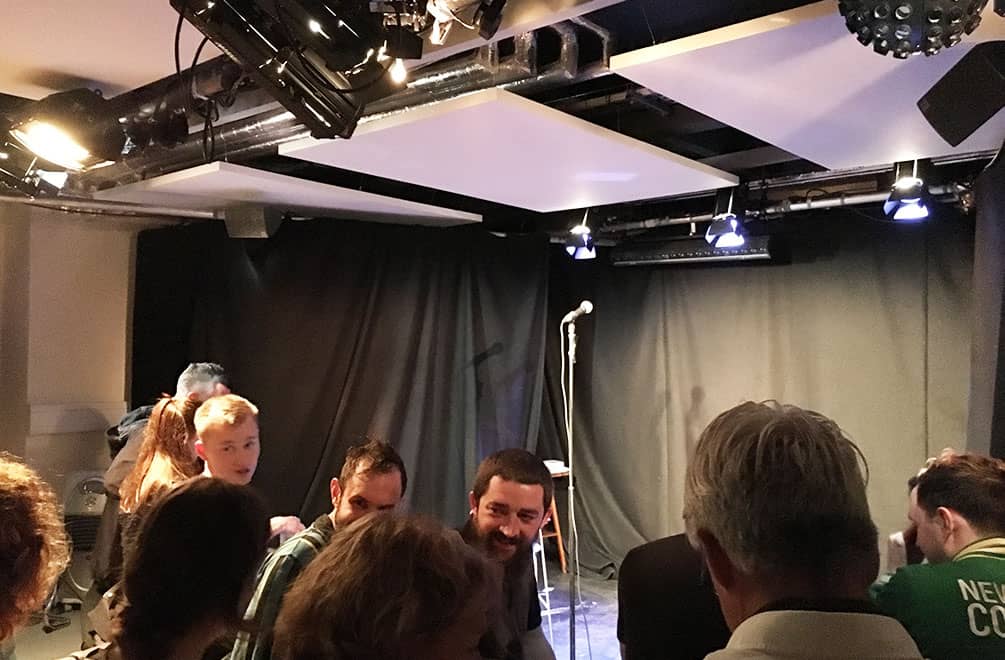 My husband gets nabbed again by JellyBean Martinez.
Bring your umbrella

. Everyone says this and there is a reason. Check those clouds.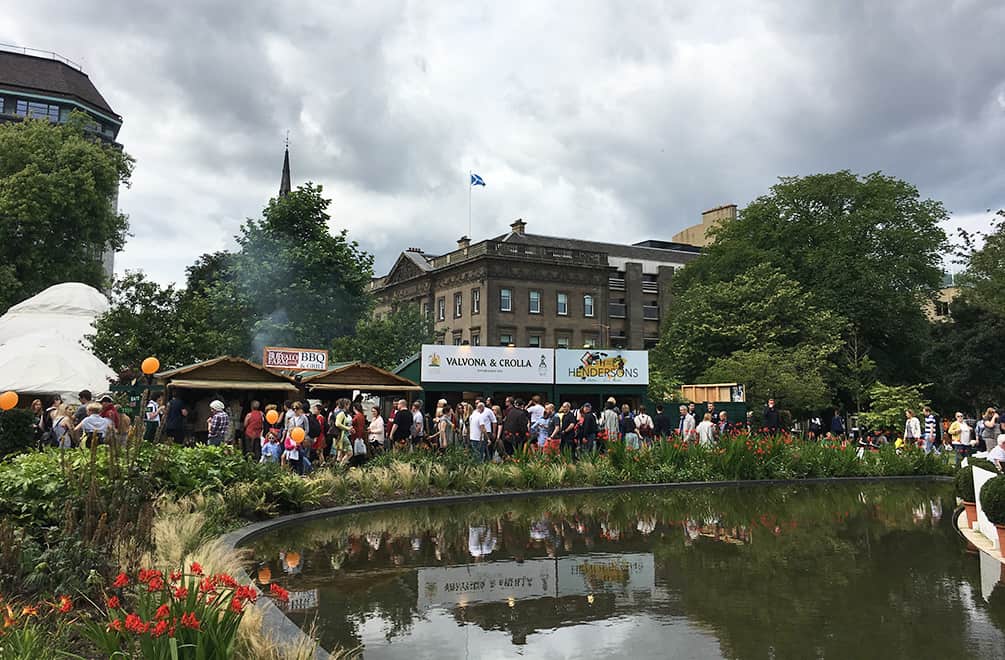 You'll spend money on booze. There are bars everywhere: prosecco bars, whisky bars, beer bars, gin bars, bars in Airstreams. The great news: all were reasonably priced. Much better priced than you can get in the US. Bonus: You can bring your drinks into the venues and during the festivals many bars have extended hours.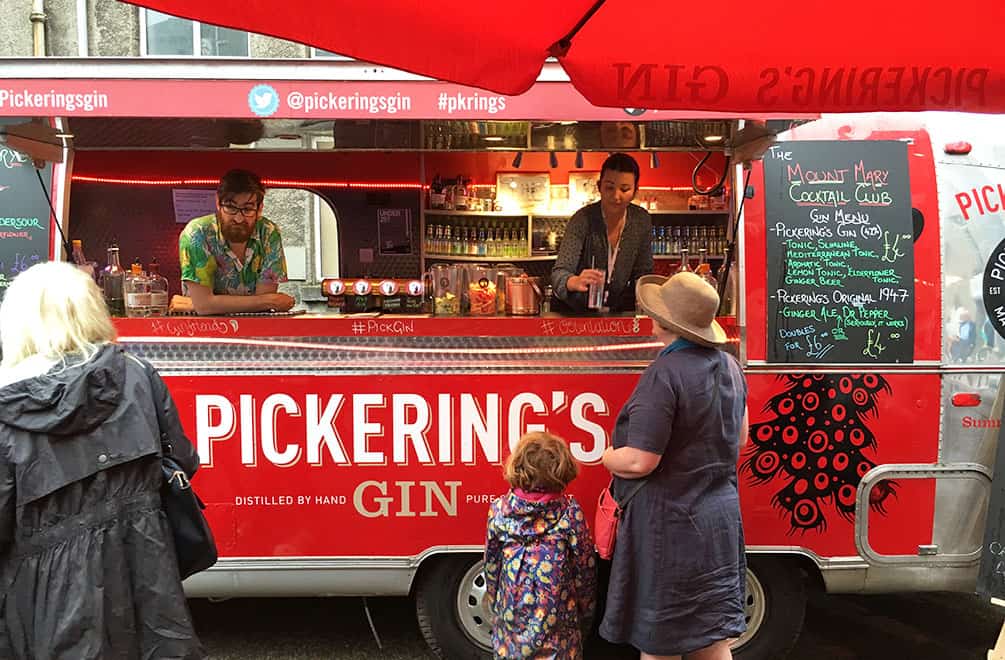 And finally,
The Scots are gracious and good-natured, even with this month-long tourist invasion. Every and I mean every interaction I had with the locals was pleasant, helpful and friendly. I don't know how they do it — answering the same questions day after day, repeating directions, and encountering disoriented visitors daily — but they maintain their wit and kindness through it all. This was the icing on a delicious, entertainment filled festival cake.
That's nice. Sooo, should I go? Yes. It's hectic and busy and so much friggin' fun.
I'm smitten. Tell me more. There are other festivals going on at the same time if you want to hit more than one: the Edinburgh International Festival, the Edinburgh International Book Festival, the Edinburgh Art Festival, and the Royal Edinburgh Military Tattoo. The Edinburgh International Festival sells out fast (I tried to get Alan Cumming tickets, without success. But I did get free Deep Time tickets-a light projection show, displayed on The Castle.)
Location Various venues in Edinburgh, Scotland
Cost It depends, but it's affordable. There are lots of free shows (on the street and in venues), which pass the bucket at the end. I think the highest priced show I saw was 15 pounds. Most shows are 1 hour.
Tip It probably goes without saying that lodging rates jump during August due to all the festivals. The normal rate for the Airbnb studio I rented is $114, so they raised it a bit, but not as much as the rise of hotel pricing. So wherever you'd like to stay, if you see a good rate, book it. It will disappear quickly.