During Festival season in Edinburgh, sleeping in an Airbnb is probably your best value as hotel rates can skyrocket. That's what we did for most of my stay. But for our last night, we opted for a boutique hotel in the city:  Angel's Share Hotel. And it was heaven.
Each room is named after a notable Scot. Some may be unfamiliar to folks outside the UK (some were unfamiliar to me), but it's a fun concept. Plus it will make you do a bit of research to determine what your room's namesake is famous for.
We were in the Paul Brannigan room (look up the film The Angel's Share, a delight) — a spacious double with a large bathroom. Stylish furnishings, a very comfortable King bed, an actual towel warmer (not a facsimile), a reasonably priced minibar with free bottled water, and as you'll see from the shot at the beginning of this post, a very large photo of Mr. Brannigan himself, looking over the bed. Oh, those eyes.
But I almost forgot to mention one of my favorite things in the room: THE TEA TRAY!!! This was probably the best tea and coffee tray I've ever encountered in a hotel. There was coffee, tea, real creamers (no stinking powder), and Tunnock's teacakes. I wish I had it in front of me right this instant.
The food and gorgeous bar are exceptional too. The public areas carry over the Scottish personalities photo theme. There are chandeliers everywhere adding to the luxurious feel of the place.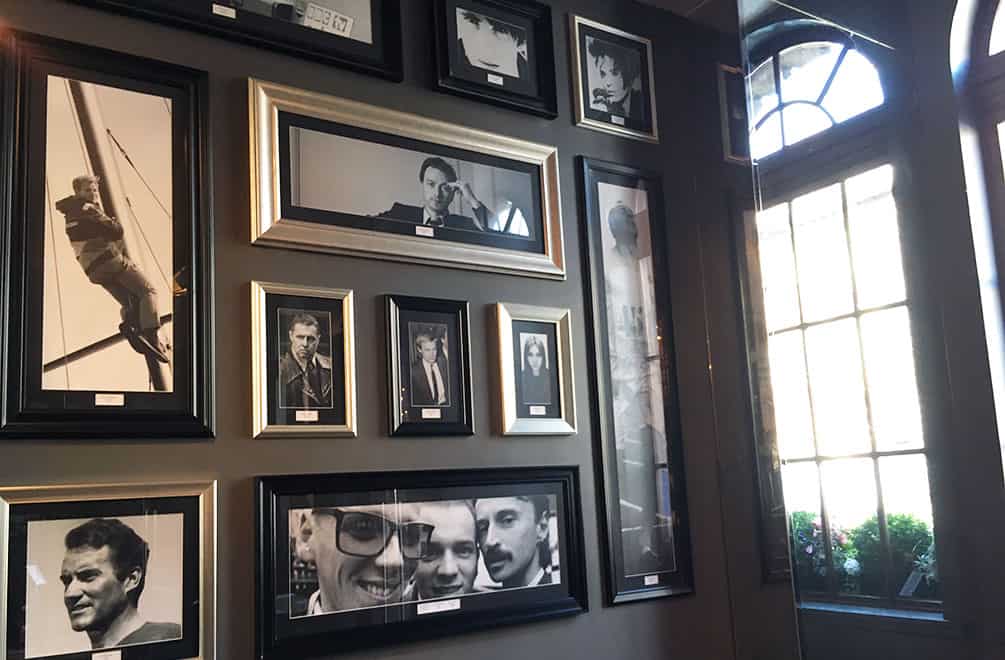 The Angel's Share is a terrific small hotel, kitted out expertly with a fine staff. I wish I had booked for a longer stay, but there's always future trips. And time to decide which Scot to sleep with next.
That's nice. Sooo, should I go? Yes. Unless you think eyes in photos constantly follow you.
I'm smitten. Tell me more. "The Angel's Share" refers to the portion of whisky which evaporates from casks during the aging process.
Location 9-11 Hope Street, Edinburgh, UK. Just around the corner from Princes Street.
Cost $252, including VAT for a Standard Double, but we got upgraded to a Deluxe Double. This was during the Festival, so their regular rates are lower.
Tip If you are headed out to the airport as I was, the airport tram is a short walk away.