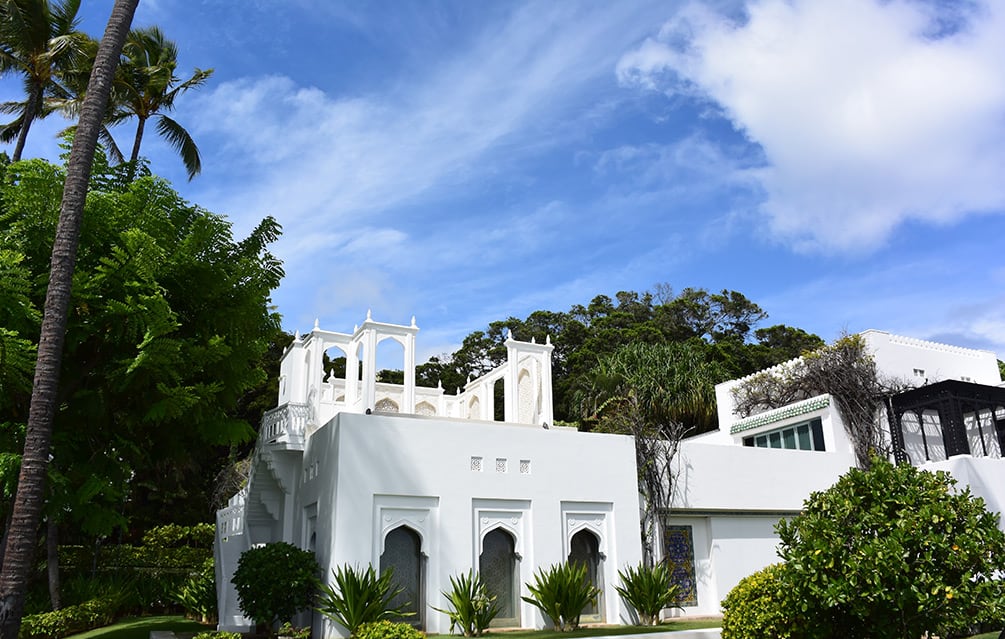 Maybe it was the heat. Maybe it was the noodles I had for lunch. Maybe it was the guy who did a crossword puzzle all through the tour. Whatever it was, it my visit to Shangri La in Honolulu left me somewhat cold. Even though it was hot. Really hot.
It's an interesting story: tobacco heiress Doris Duke gets married to James Cromwell and takes an around-the-world trip for her honeymoon. She visits the Taj Mahal and falls in love with the art and architecture. As her honeymoon continued, they land in Hawaii, love it and purchase a sweet spot of land to build a home on. The home will be filled with Islamic art, using architectural elements she witnessed in India, the Middle East and South Asia. The couple move into the house in 1938 and separate about a year and a half later.
Doris continued on at the house, stocking it with artwork from her travels. Duke herself is fascinating: philanthropist, surfer, foreign correspondent and astute business woman. Duke led an unconventional life, even for someone of her wealth. She was rumored to have had a child with Duke Kahanamoku. She adopted a 35-year old woman (who she thought to be her deceased child reincarnated.) She didn't squander her inheritance, she increased it by four times. And finally, her butler may have done her in.
But you will not learn any of those personal gossipy tidbits on the tour. If you are hoping for a Hollywood Babylon type tour, this is not for you. And I understand why — it's not the mission of Shangri La to inform one on the biography of Doris Duke (although it would be really engrossing). From the Shangri La website, the mission is "to promote the study and understanding of Islamic arts and cultures." So that is what the tour focused on. I was fine with that. Full disclosure, I don't know that much about Islamic art and am not a true aficionado of it, but I was hoping the tour would broaden my mind.
The tour is run through the Honolulu Museum of Art and that is where you pick up the bus to bring you to the house. Your tour fee includes admission to the Museum itself, which is great. (While there I saw an excellent, juried exhibit of Artists of Hawaii 2015 and Masami Teraoka working on one of his paintings on a ladder in a gallery. Stellar!) The bus ride is about 15 minutes or so and after traveling downhill into lush foliage, it drops you at an unassuming entrance.
Your bus will get split into 2 tours of 12. We went into the house first, where we were immediately given fans. Did I mention it was hot? Because it was. It was the 1:30 tour.
Once inside you see almost every surface covered with tile or stained glass or carvings. Ms. Duke purchased and commissioned these works, some of which were made overseas, taken apart, shipped and then reassembled by local craftsman on site. Unfortunately, I have no photos of these works as photography is not allowed inside the structure, only outdoors.
She had strong ideas about the house design and the architects worked with her to make them come to fruition.
The dining room was originally constructed with a Hawaiian theme, but after establishing the Doris Duke Foundation for Islamic Art, realized this room didn't fit the mission. She tore out the fish tanks and put in a tented room with fabric on the walls and a French chandelier at the center. A glimpse of it from the exterior.
Onto the outdoors. It is a spectacular site. Whether you're looking back toward the dining room…
or looking toward Diamond Head, it's stunning. Fun fact: all the beaches in Hawaii are public and all are allowed on them. A private owner cannot fence out the public. This area below is called Cromwell's Pool, but the Cromwells couldn't keep the public off it, even if they wanted to.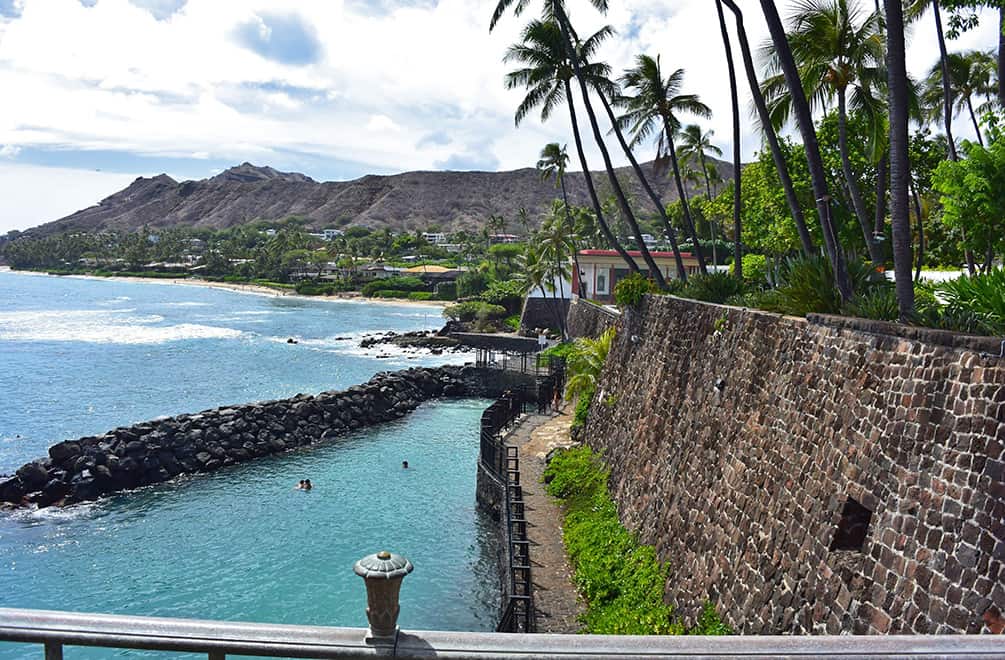 A little outdoor seating.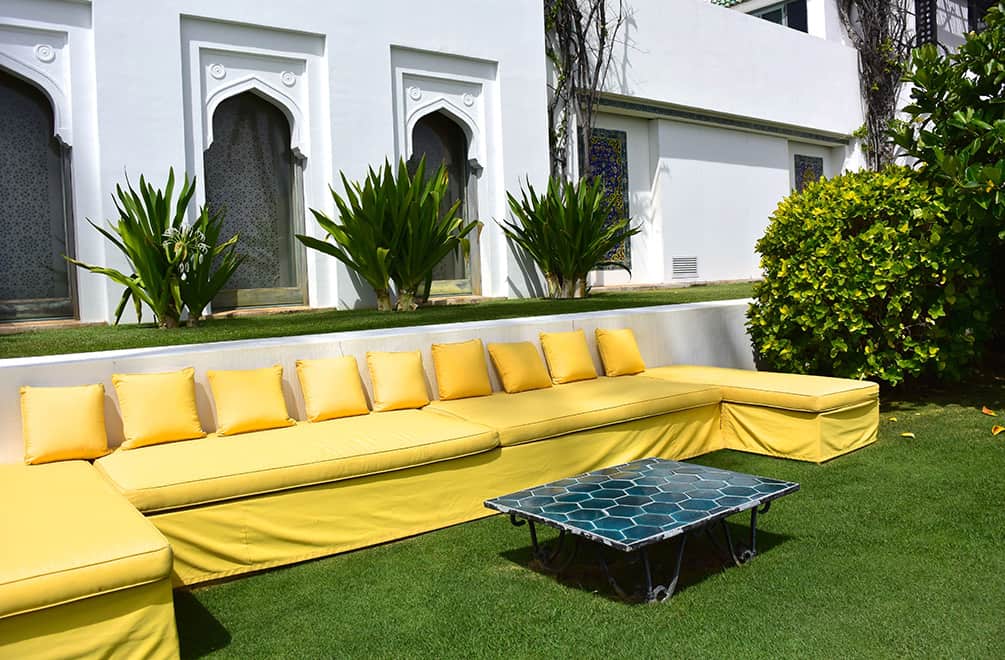 The Playhouse is situated across from the main house and is now used for public events. It also serves as the "dorm" for research scholars studying Islamic art. The landscape design overall on the site is amazing. Pools of water cascade, bubble and lead you through the site.
Now, looking back on these photos, I am wondering why I wasn't bowled over by this tour. I loved the grounds. I loved Doris Duke's dressing room which had slivers of mirrors arranged in star shapes embedded in the ceiling. I loved the bathroom attached to the dressing room — a large, inlay tile room with a unique sit-down shower. I loved the marble jalis (window screens). Our guide was informative. It could have been the heat, but more likely it was the group we were with. I couldn't figure out why most of them were there. Most weren't listening to the guide, seemed disinterested from the start, touched things when asked not to. Even a reporter doing a story on the building didn't seem that into it. And I wasn't kidding about the guy doing the crossword puzzle.

I don't know if I absorbed the group mood, if I was just not that interested in the artwork, or if it was just too much. Shangri La has a lot of ornamentation. But I have certainly been to places where I had no knowledge of the artist, culture, music, etc. and came away excited and wanting to know more. But here I was just excited to get onto the air-conditioned shuttle bus. So maybe it was the heat.
[highlight]That's nice. Sooo, should I go?[/highlight] If you have a strong interest in Islamic art, tile, or are a landscape architect, yes. If you're ambivalent about these things or have only a short time in Honolulu (this will take a big chunk of your day), explore the website first. And if you get pissed because you can't take photos somewhere, no. Folks with mobility issues may have difficulty on this tour.
[highlight]I'm smitten. Tell me more.[/highlight] There is a virtual tour to give you a taste before you book.
[highlight]Location[/highlight] You get the shuttle bus to Shangri La at the Honolulu Museum of Art: 900 South Beretania Street
Honolulu, Hawaii 96814. To get to the Museum, I took the city #2 bus which stops in front of the museum. Apparently some folks have trouble finding the parking lot when driving.
[highlight]Cost[/highlight] $25  + $1.50 online transaction fee per person, purchased in advance here. This includes admission to the excellent Honolulu Museum of Art, your shuttle to the house and the tour.
[highlight]Tip[/highlight]Â Book the 9:00 am tour. Because heat.