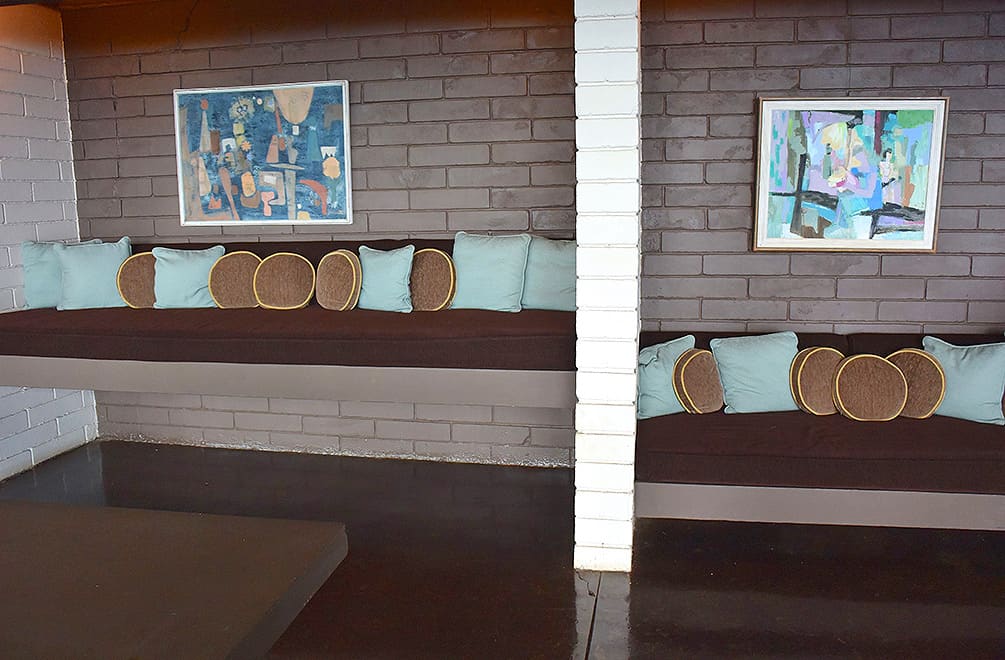 Onward! We are continuing the two hour tour through the Liljestrand House, conducted by Bob Liljestrand. We head downstairs into the rec room and onto the decks outside.
This rec room is the exact definition of a mid-century rec room. Polished wood floating stairs lead down.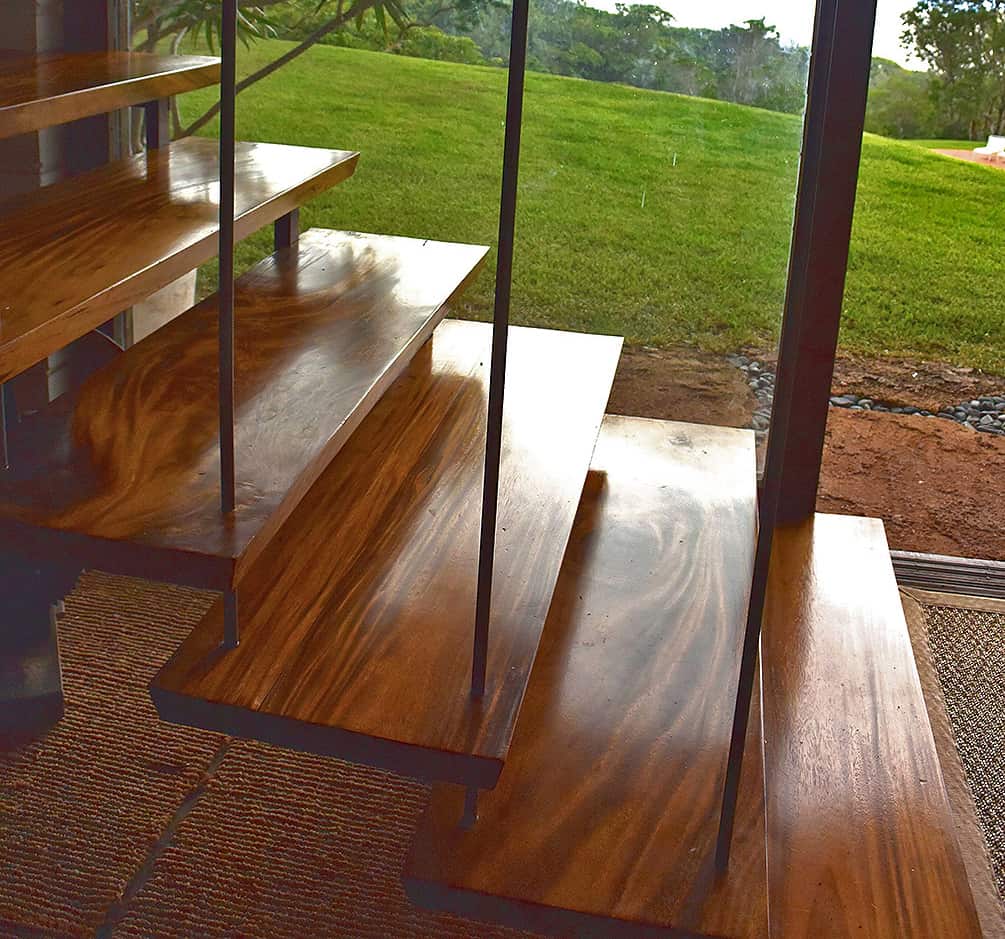 There is enclosed section and an open section allowing the kids to play regardless of the weather. There is the required pool and ping pong tables. As an added bonus, there is a projection room and a screen that rolls down from the ceiling. Oh yeah, and those views.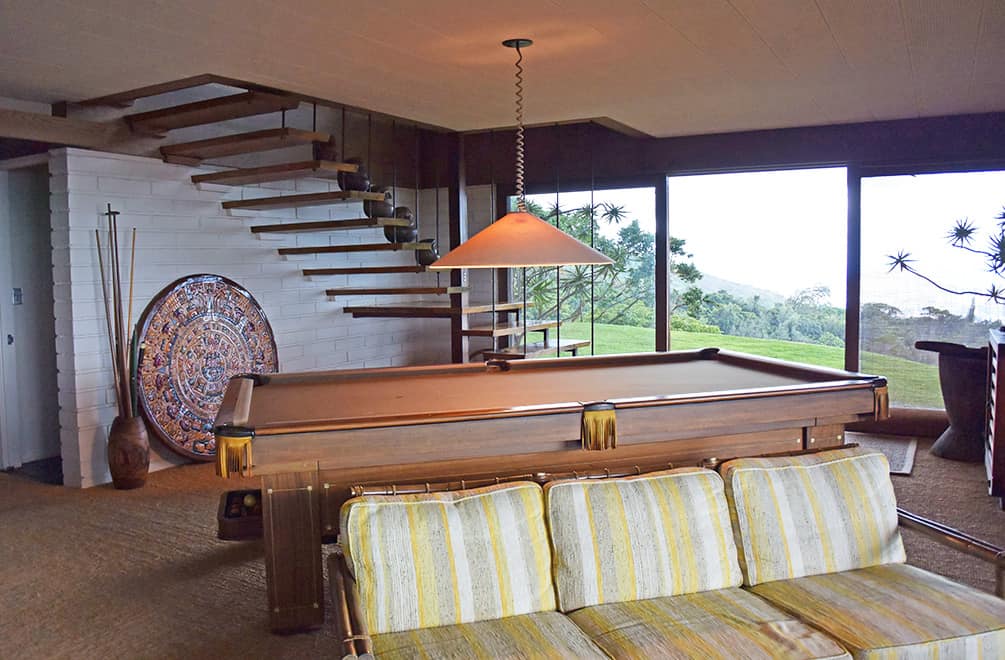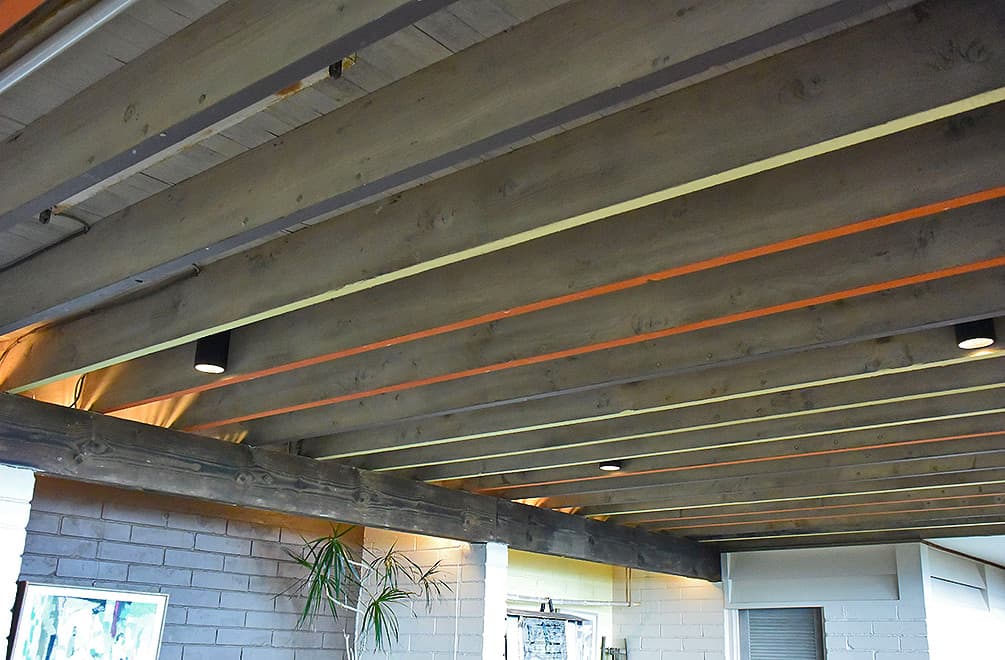 The open section of the Liljestrand House rec room has painted beams as a ceiling and a beautiful, glossy brown concrete floor. While I was asking Bob about the floor color (a brown powder is added to the concrete mixture) it started to rain. The group sat down and enjoyed the sound of the rain, sheltered under Ossipoff's colorful beams and looked out at the Hawaiian landscape. It was magical.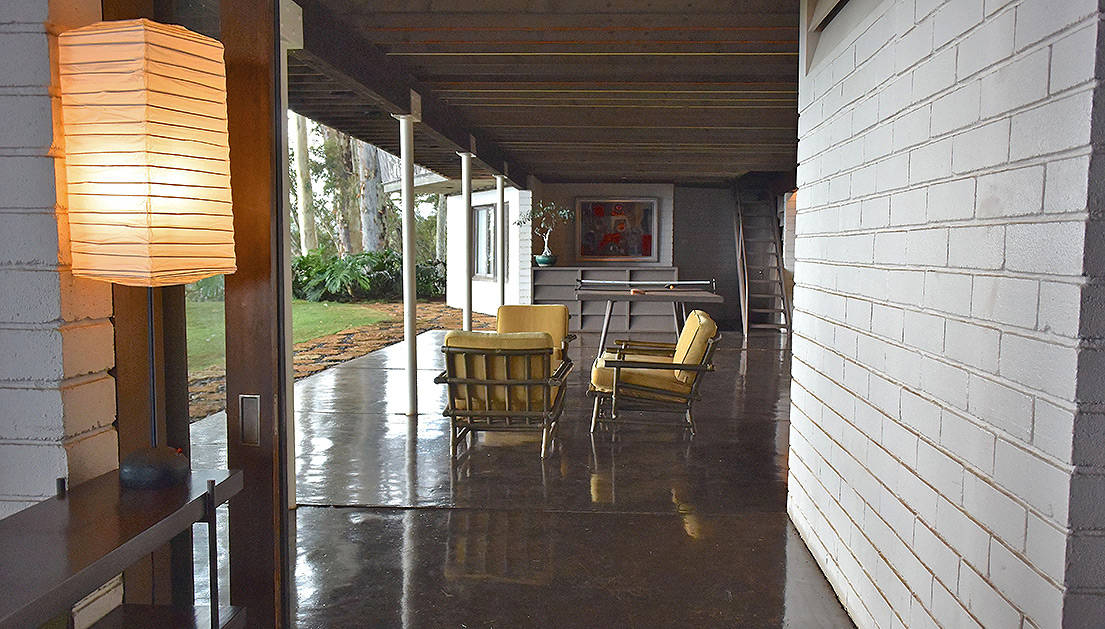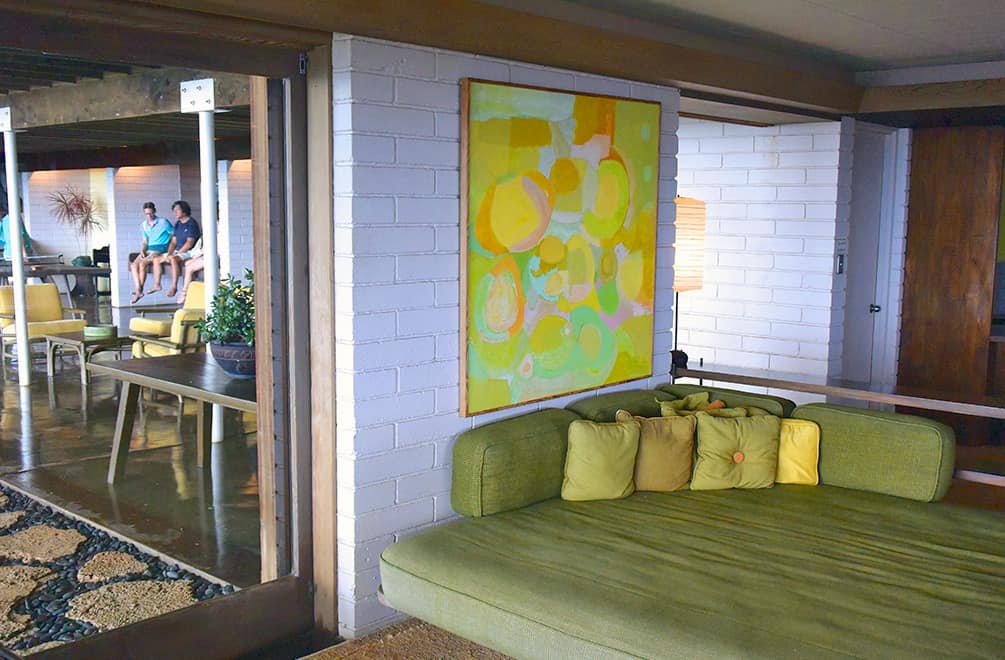 The furniture is comfortable and well-used. The unusual staggered-height couches — pictured at the top of this post and at the far left above — lend more character to this home already chock full of it. (Bob said there used to be brightly colored bricks behind the staggered couches, but after Ossipoff died they were painted over. Dr. Liljestrand wasn't a fan of the alternating bright bricks.) The large green couch faces the movie screen while the projection booth eyes all. The projection room now holds the Liljestrand House documents.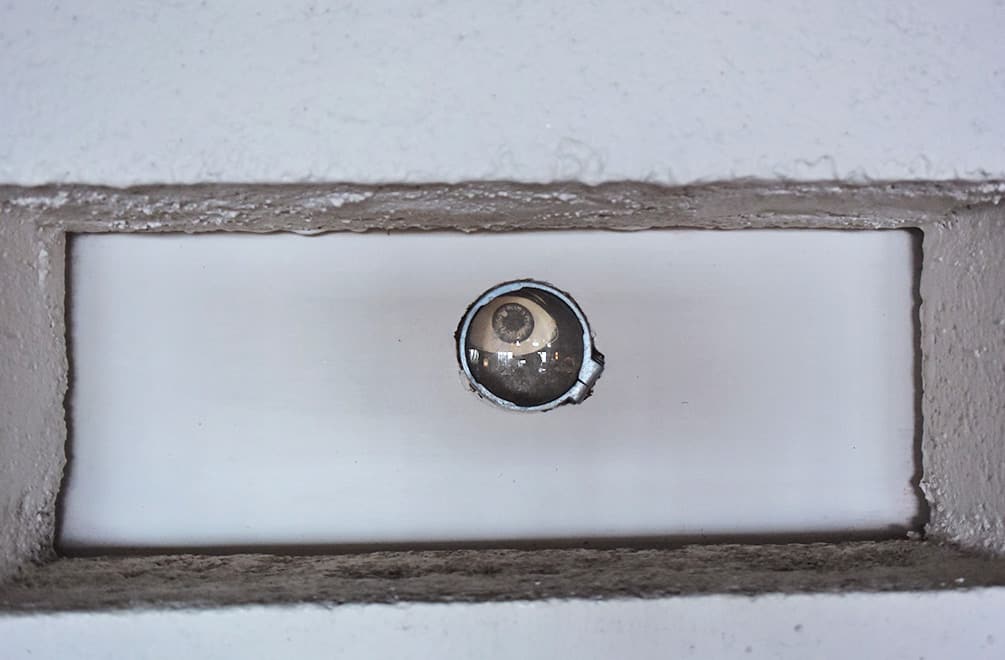 It's Hawaii! Let's go Outside for Crying out Loud.
The Liljestrand House is lousy with decks. They are everywhere. And why not when you're in a beautiful mountain setting with views on almost every side of the house?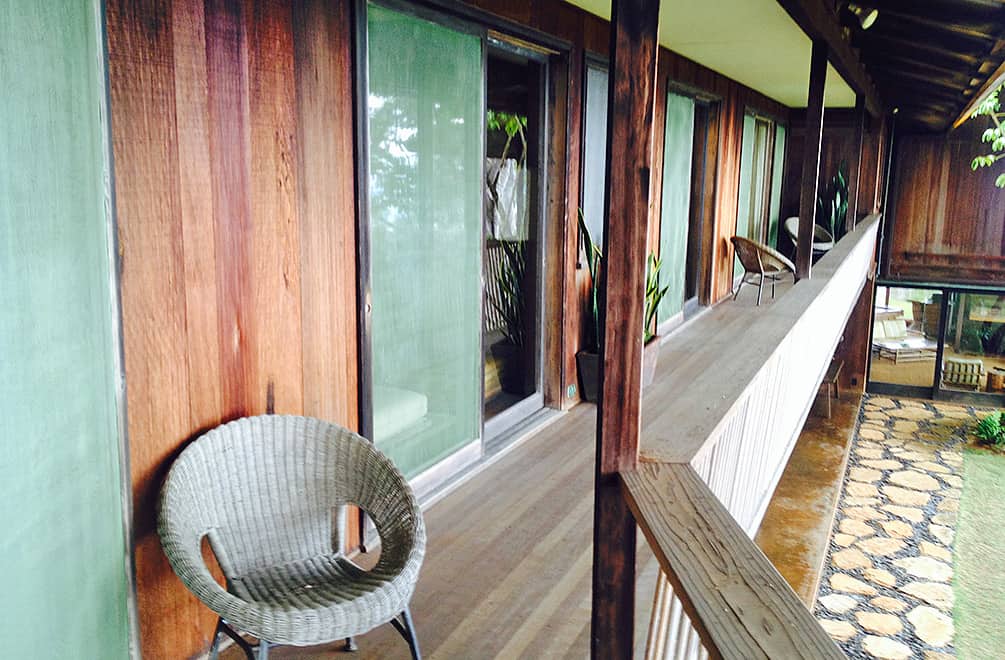 Finally, what would a mid-century modern family home be without a kidney-shaped swimming pool? It must have been like being in a secret jungle pond swimming here with the lush forest all around. The pool is situated in a grassy area and then it's Hawaiian wilderness everywhere else.
 I wish I could recall all of Bob's stories on growing up in a architectural landmark, but I do remember the warmth he has for his visitors and the love he has for the house and its preservation. Hearing about real life in the Liljestrand House made it the best architectural tour I've experienced.
That's nice. Sooo, should I go? Yes, yes, a hundred times yes. If you have any interest at all in mid-century architecture — or if you just want to see a really cool house on a really cool site – go on this two-hour tour. To book, visit their website.
I'm smitten. Tell me more. Dr. Liljestrand had a study in the house with a cork bulletin board. He used hypodermic needles to pin up his memorabilia.
Location 3300 Tantalus Drive, Honolulu, Hawaii 96822. About a half hour drive from Waikiki.
Cost A $20 donation is requested. It's worth more — and of course you could give more. As a sign of how much Bob gets involved in his tours, he forgot to collect the money. Luckily, I remembered right before leaving.
Tip There is no public transportation to the house — um, it's in the mountains. Save some power on your phone and take Uber up and back. It was $18 up and $22 back to Waikiki (we hit traffic on the way back.)