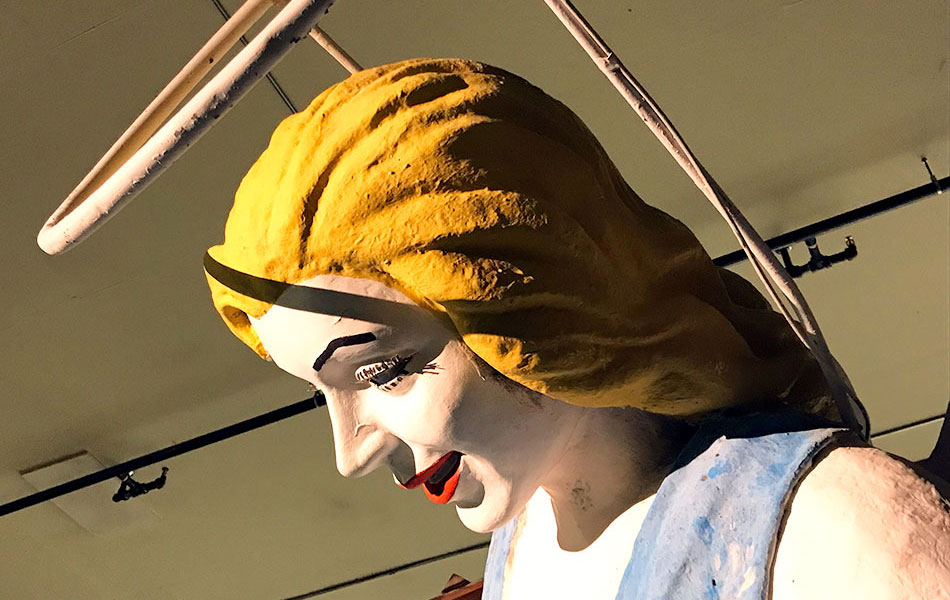 Leaning in a warehouse studio, surrounded by huge letters, old slot headers, a pink champagne glass and hundreds of lightbulbs is a lone figure. She is blond, blue-eyed and favors bright red lipstick. Her gown is full-length, powder blue, patchy in spots, and painted on her statuesque body. In a different era, she might be mistaken for Jean Harlow.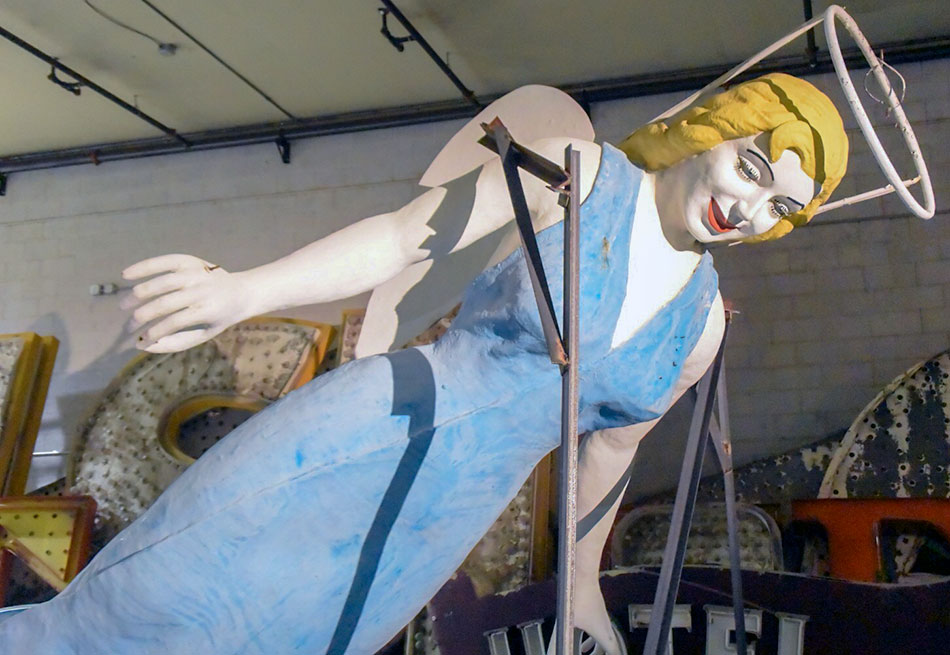 But she is not Harlow and she is not mortal. She has wings and a halo. She is The Blue Angel, former signage for a motel of the same name at Fremont Street and Eastern Avenue, near downtown Las Vegas. She lorded over the motel for 60 years, until she was removed for restoration last year. To many from the area, she was considered a kind of guardian angel for the city. While she awaits her makeover, she is the focus of an exhibit at Ne10 Studio, the new indoor sign exhibit space of the Neon Museum. "Blue Angel: Between Heaven and Earth" will be on display to the public Thursdays and Fridays, 1-4pm through July 6.
The Blue Angel is in surprisingly good shape for baking outside in the desert sun for over 60 years. The electrical work which was stowed in her back is now gone, waiting for an upgrade. Her wand needs some spike repair and will be reattached to her hand, allowing her to bestow good wishes to locals and visitors to the fair city. It looks as though she had been repaired at times during the years, but it will be wonderful to see a full restoration of her.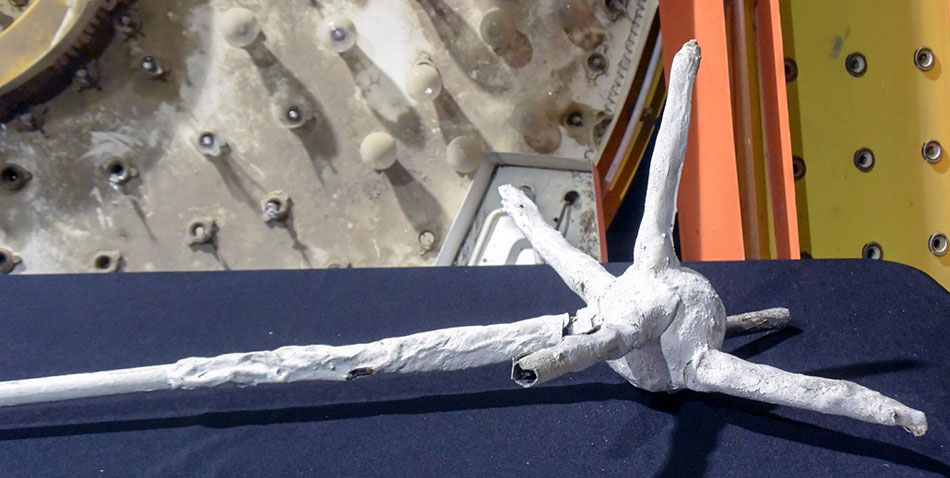 Her eyes may be missing some eyelashes, but she maintains her benevolent gaze. Her halo once sparkled and expects to be illuminated again.
The mid-century beauty was designed by the talented and prolific Betty Willis, designer of the famous Welcome to Fabulous Las Vegas sign, the Moulin Rouge sign, and oh so many others. Upon entering the exhibit, there is  a short slide presentation dedicated to Willis.
The Blue Angel sign was donated to the City of Las Vegas and they will determine where she will be positioned once the restoration is complete. While she patiently awaits her closeup, you can see her in her unrestored state for a few more weeks.
That's nice. Sooo, should I go? Yes. It's a moody exhibit, with ethereal music and of course, lots of other interesting neon signs in various states in the studio. The docents are ready and willing to answer any questions on the Angel or the surrounding neon. It won't require a great deal of time, so pop in. But hurry, she won't be there long.
I'm smitten. Tell me more. Local artists were asked to interpret the Blue Angel and that work is presented via slides toward the back of the studio. The Desert Space Foundation commission the work. Also included are some slides that may have provided inspiration for the statue, such as Disney's Blue Fairy from Pinocchio.
Location Neon10 Studio 1001 W. Bonanza Rd, Las Vegas, NV 89106
Cost Free.