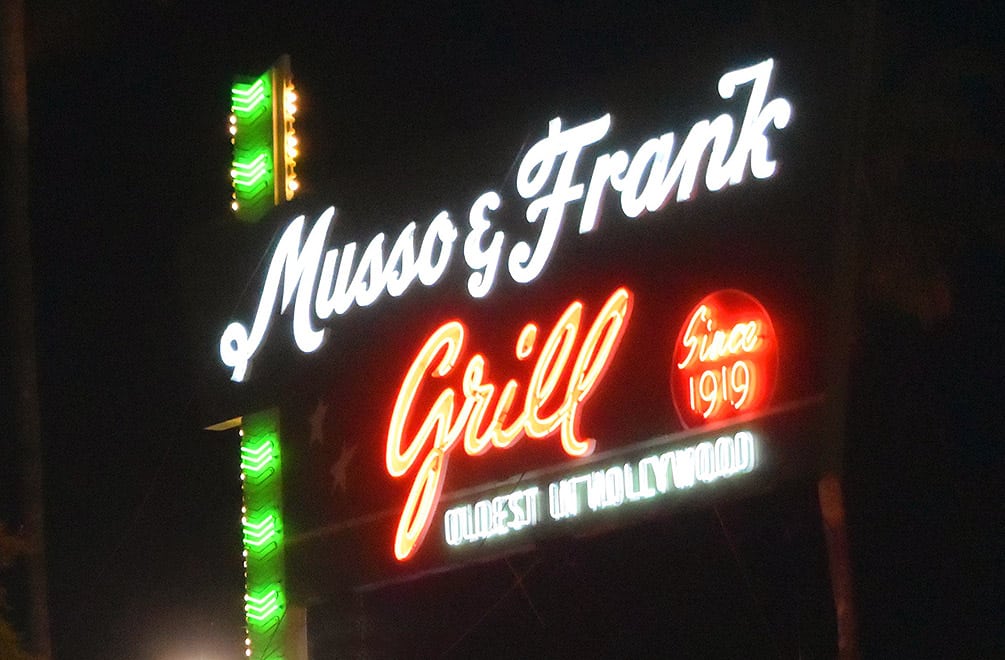 [lead]"Chaplin, Valentino. You want to make it interesting? You call Fairbanks."[/lead]
That is bona fide, actual dialog I heard while sitting in my red leather booth at The Musso & Frank Grill in Hollywood. The maitre d' was passionately discussing film with the diner in the next booth. And this old school, classic flavor was what I had come for. It was almost as if it were staged, like a movie.
If you are unfamiliar with Musso & Frank's, the sign outside tells you much of what you need to know. It's still neon for one thing. It states "oldest in Hollywood since 1919" with blinking green arrows pointing to the restaurant below. Their tagline is "Some Place to Eat." Got a feel for it yet? If you are imaging wood panels and red rounded banquettes, you'd be right.
Although we were in the historic "old room," we were at the crummiest booth across from the waiter's station.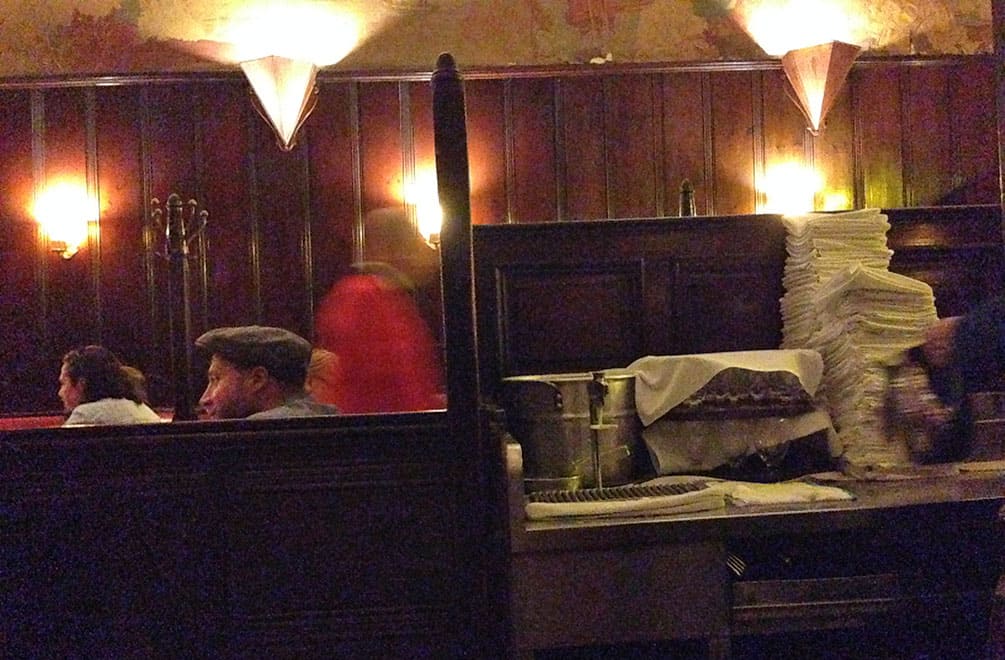 But after my first perfect Manhattan, it didn't matter.
The room was full, fun and humming, but somehow each booth remains intimate and you can converse with your dining companion in a normal voice. There is a weathered mural that wraps around the room, adding to the warmth of the room. Our professional waiter asks "Would you like to relax with your drinks awhile before ordering?" Yes sir, yes we would.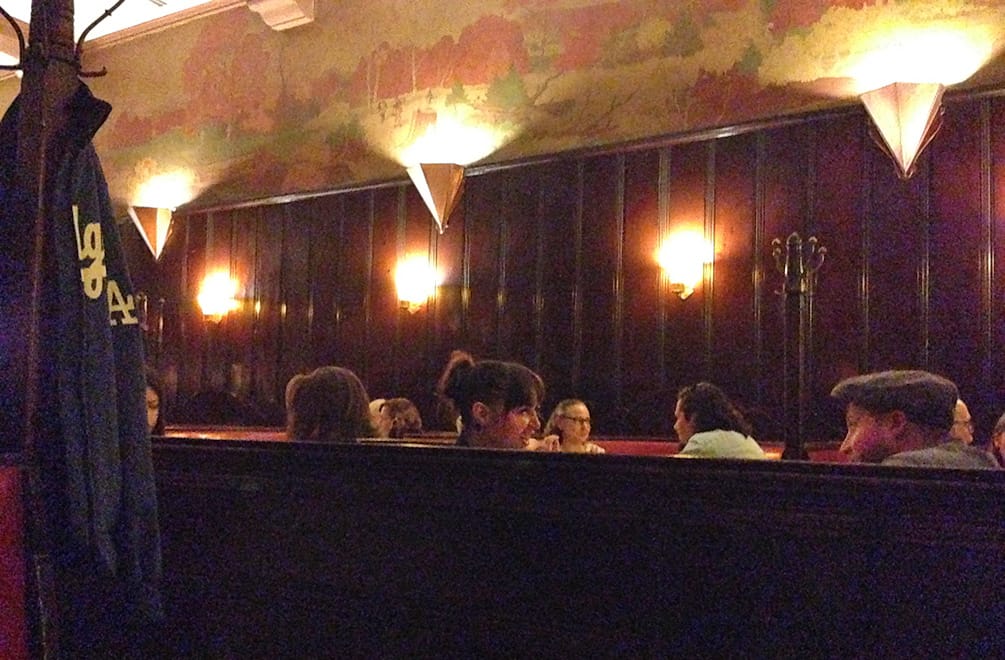 After perusing the HUGE menu,  you'll see items not found on most contemporary menus. How about liver and onions, chicken a la king, or stuffed celery? Perhaps some nice marinated herring or crab louie? Your wish is granted! Here's a portion of an old menu, mounted on the wall in back. Prices have changed, dishes have not. I ordered Potatoes Lyonnaise, which I never had before. (You could have a different potato dish every day of the week.) And to keep it very old school, we got the creamed spinach. Do not laugh. It was delicious.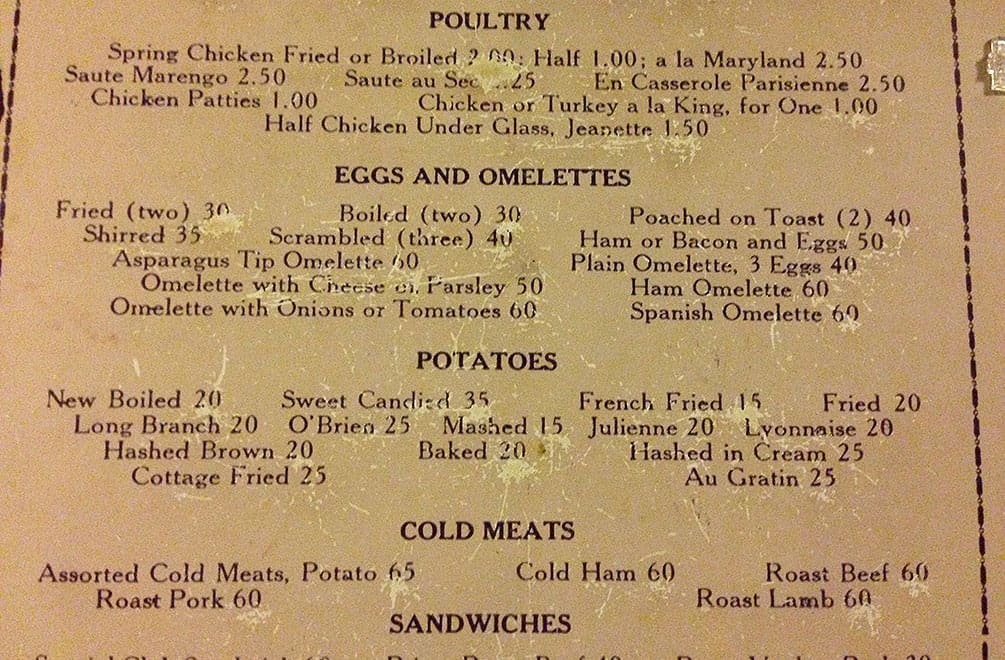 But you know you're not really going for the food, right? You going for the formal service, the stiff belts, the room, the atmosphere and the history. Don't get me wrong, our food was great. But if you're looking for some light California cuisine, you're in the wrong establishment.
Put on your best cha cha heels. Splash on some Clubman after shave. Relax with a drink. Order some meat. Eat that sourdough. Get too many sides. Joke with your waiter. Channel Betty Bacall or Dennis Hopper. Melt into those leather booths and into another era. Just like in the movies.
That's nice. Sooo, should I go? Yes. Places like this are few and far between. And they aren't building any new ones. So go already. As I mentioned, the menu is large and you'll find something to fit your taste. I'm not a foodie, but like they say it's "Some Place to Eat." It is.
I'm smitten. Tell me more. When my lovely husband and I sat down, the maitre d' informed us that for the first time in 50 years they've changed their plate pattern. I asked why and he said it was extremely difficult to get replacement dinnerware. "What were they before?" I asked. "A red floral." I suspected that Syracuse China — a division of Libby and no longer manufactured in North America — was their former supplier and a quick search confirmed my suspicion. If your a china fan, it looks like the Strawberry Hill pattern was used at Musso's. (That seems to match, no?) They now use a simpler, lined pattern with their scripted name on the service. I'm from Syracuse, hence my interest in these matters.
Location 6667 Hollywood Blvd., Hollywood, CA 90028. Reservations here.
Cost $180 for 2, including tip. But you can dine there for less. We had 2 cocktails each, 2 appetizers, sides, coffee and a ton of food left over which they boxed up for us.
Tip There is a small, validated parking lot behind the restaurant, but it fills up quickly. Prepare to look for a spot or pull into a lot, which will cost about $15.