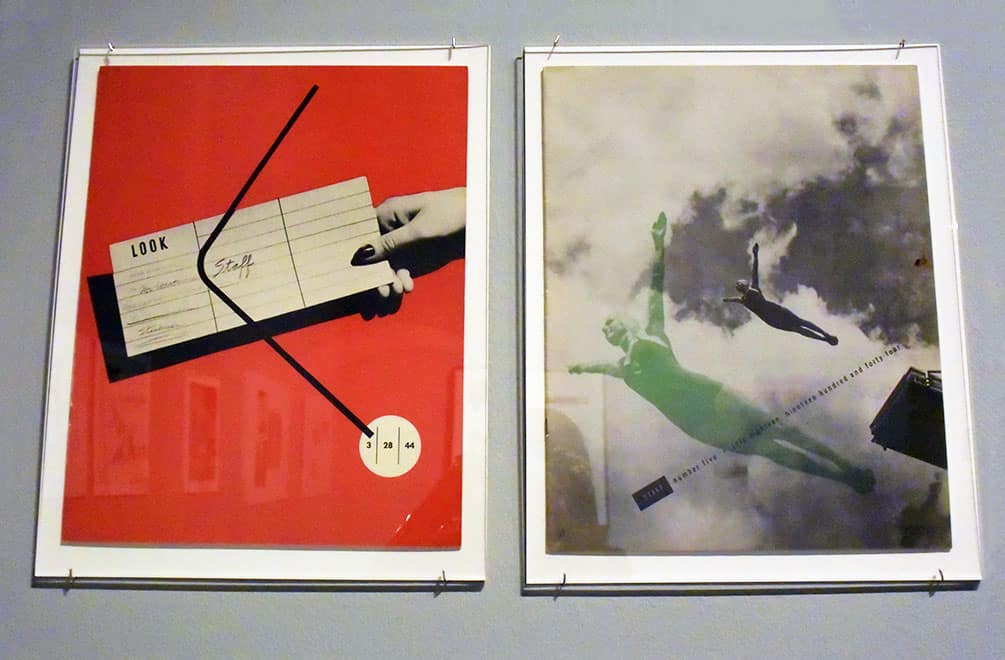 You don't really need a specific reason to visit Los Angeles. Seeing all those places you've heard about in song or in film could keep you busy for months. But a show on mid-century graphic designers, Alvin Lustig and Elaine Lustig Cohen, made me stop penciling out all the sites I should see and actually make some solid travel plans. Plus I was in the mood for some classic Hollywood dining. So I had 2 specific reasons to go to LA.
Junket Objectives
See Vitality of New Forms: Designs by Alvin Lustig and Elaine Lustig Cohen at LACMA.

Go old school at The Musso and Frank Grill for dinner.
Transportation: $25 for gas for the 2 hour drive to Los Angeles and back.
Cost of Lodging:  $527 (all taxes included) for 3 nights at the Hotel Aventura in Koreatown. That's $152 per night before taxes. Free parking is a rare and appreciated bonus.
---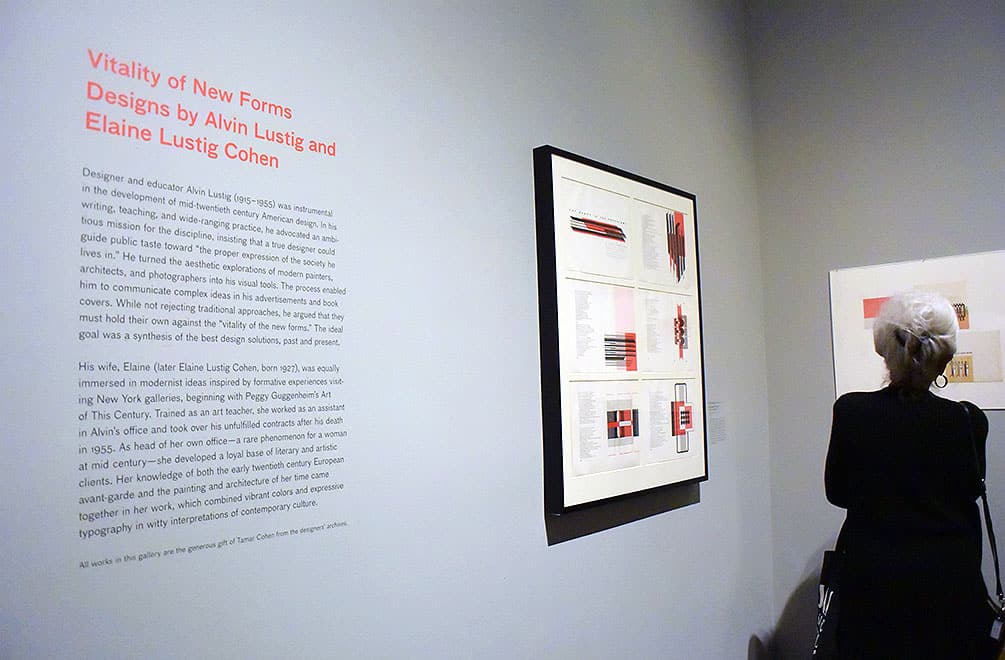 The Lustigs were design rockstars. Let's begin with Alvin as he started the practice. He was a designer, undaunted by any media: books, ads, interiors, albums, textiles, furniture, even animation. (He created the opening sequence for the cartoon classic, Mr. Magoo.) The term "generalist" often holds a "jack-of-all-trades, master of none" subtext, but this should not be applied to Lustig. He sought and achieved excellence in all of the design disciplines he tackled. His Lustig Chairs were sold and shipped across the U.S., his interiors were featured in architecture magazines, and as an educator, he developed design curricula for Yale and Black Mountain College. He had the ability to persuade a client to rethink their approach to working with a designer. Instead of taking on a one-off project such as a catalog, he would advise on all aspects of the company's design: their office space, their stationery, their advertising. He was modern in his craft and in his belief that good design could have a positive impact on all aspects of life — an edict that the industry currently evangelizes.
I won't recommend a lamp, but I will redo the entire room.
— Alvin Lustig
Then there is Elaine Lustig Cohen, who took over the design practice after Alvin's untimely death in 1955 at the age of 40. Elaine worked as Alvin's assistant and executed his designs, but wasn't then permitted to design herself. Prior to his death, when he was losing his sight, Alvin threw a party for his clients and explained his health situation so they could hire another firm if desired. Most opted to stay with the practice. Elaine was 28 when she took over the office, in a time where a young woman running a design business was extremely rare. But she dove in and one of her first assignments was to complete the signage for the Seagram Building that Philip Johnson had commissioned. He was so impressed with her designs, he became a longtime client and referred others to her. Building upon her training with Alvin, Elaine developed her own style designing book covers, museum catalogs and invitations through an experimental paste-up process. From 1969 on, Elaine directed her talents toward painting, collage and print making. Also around that time, she and her husband Arthur Cohen, whom she had married in 1956, founded Ex Libris Rare Books. Operating out of their New York home, the collection of books, magazines and posters focused on modern art, artists and design. However, please don't let my use of the past tense confuse you. Elaine is alive and continues to have solo exhibitions and is a frequent interview subject.
In experimenting with abstraction, photography, and a playful use of conceptual ideas, I found solutions that were not being used in mainstream publishing or museum catalog design at the time. — Elaine Lustig Cohen
Which brings me to the current exhibit at LACMA (Los Angeles County Museum of Art), up through July 4, 2016 – one of my junket objectives. The show entitled Vitality of New Forms: Designs by Alvin Lustig and Elaine Lustig Cohen features the print work of both mid-century artists. It is a show concerned mainly with publication design. (No 3-dimensional work such as signage is included.) The exhibit contains about 55 pieces, split almost right down the center of the room, Alvin's work on the right side, Elaine's on the left. Please note the Mondrian outside the room. Fitting.
The works on both sides of the room maintain their modern look — the only giveaway might be a frayed edge or a yellowed white. And perhaps the fact that magazines and books have a lot more junk on them today.
On one side is Alvin's spread for the poetry book, The Ghost in the Underblows…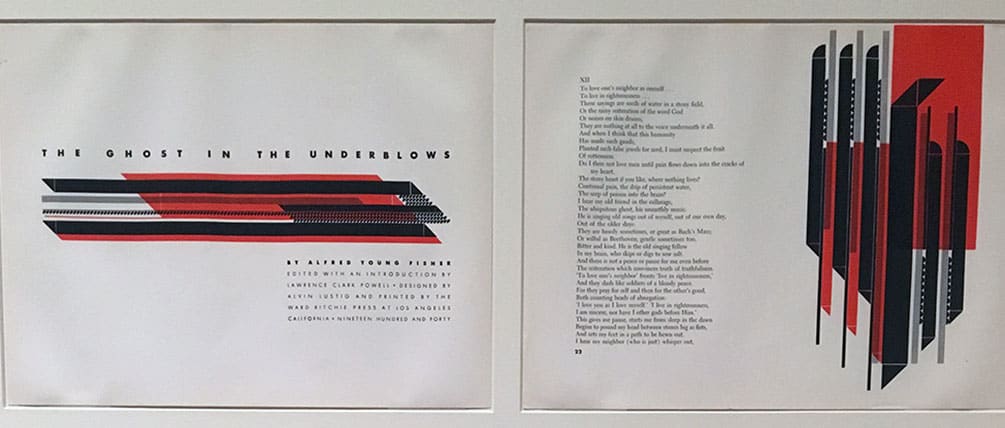 and across the room is Elaine's ad for Meridian Books.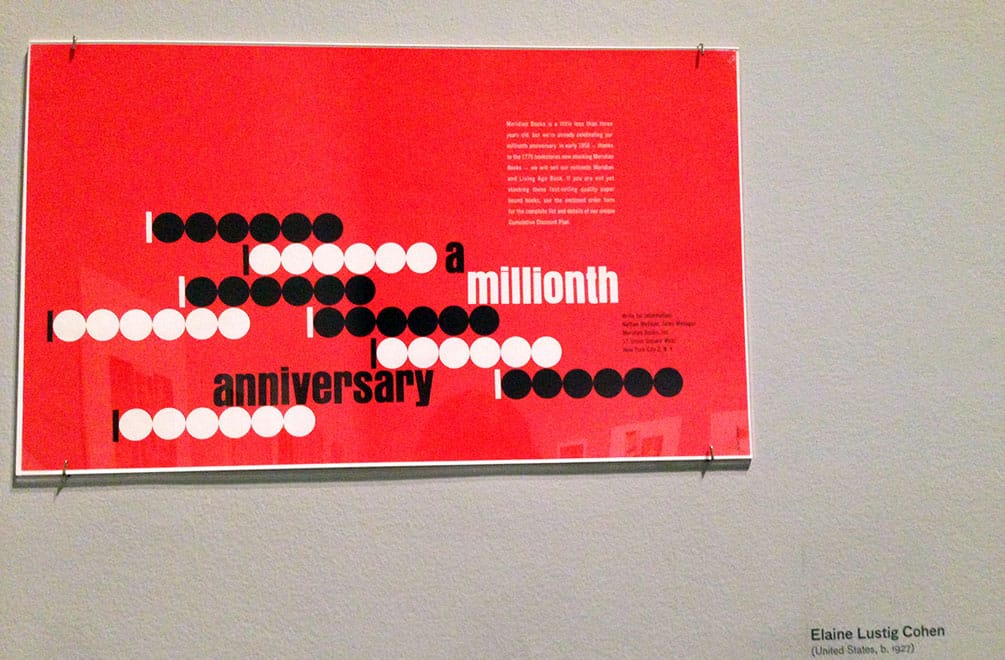 Fortune magazine covers designed by Alvin sit on the wall…
next to Elaine's Lightolier catalog cover.
Alvin's book covers…
Elaine's book covers.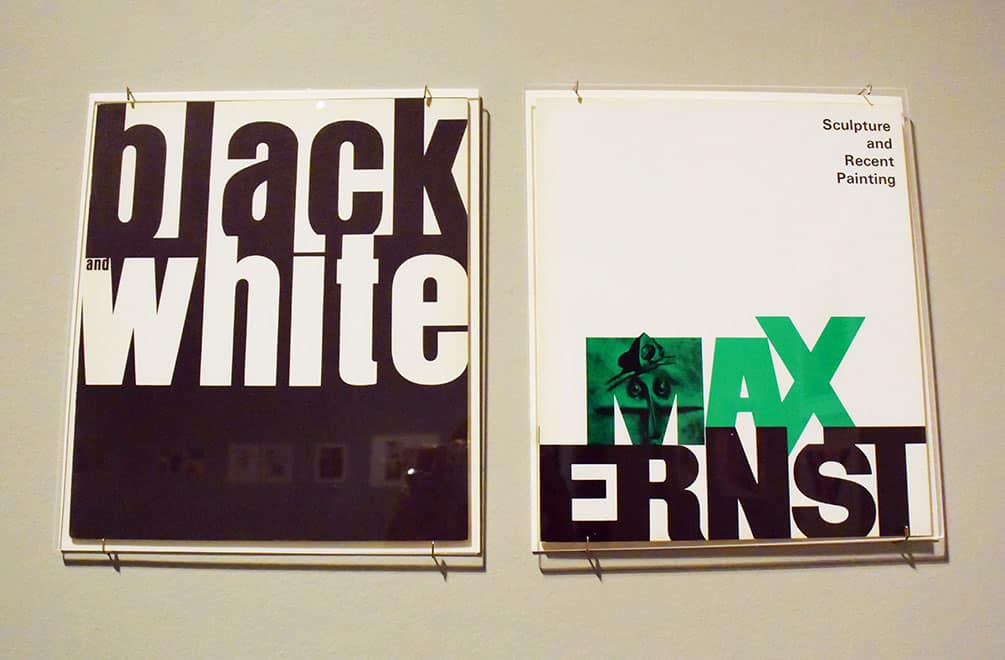 Industrial Alvin.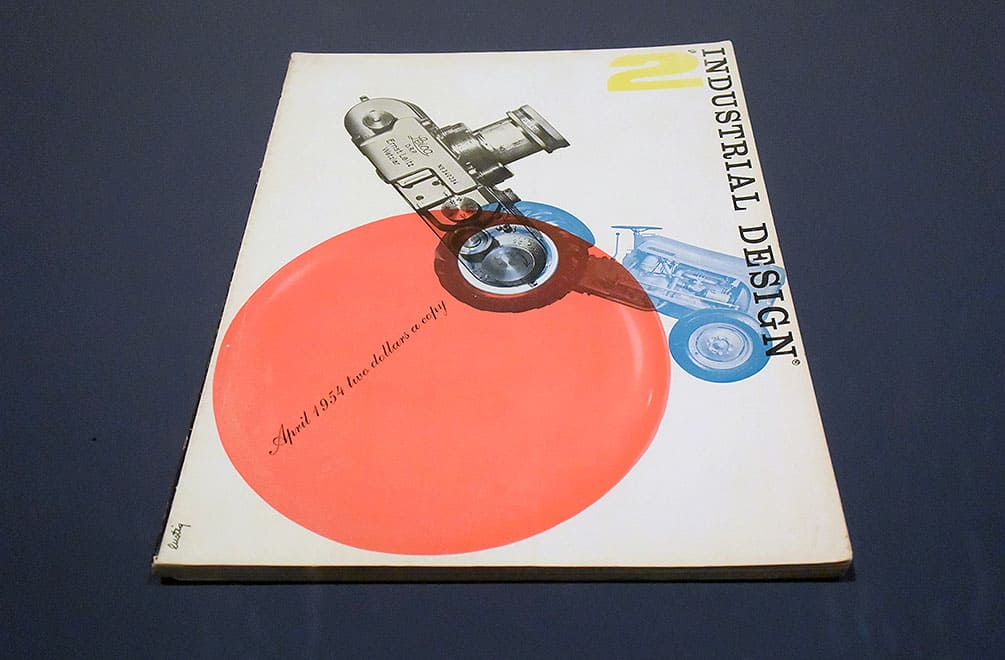 Industrial Elaine. Kind of. Structural anyway.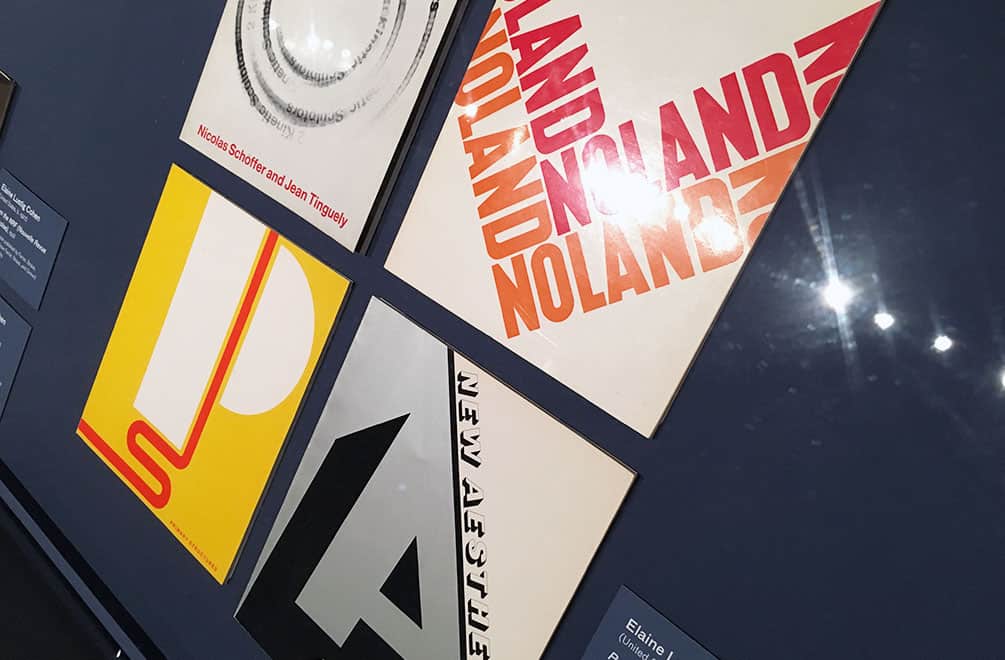 Alvin's electroshock booklet. Acute Mania? Damn.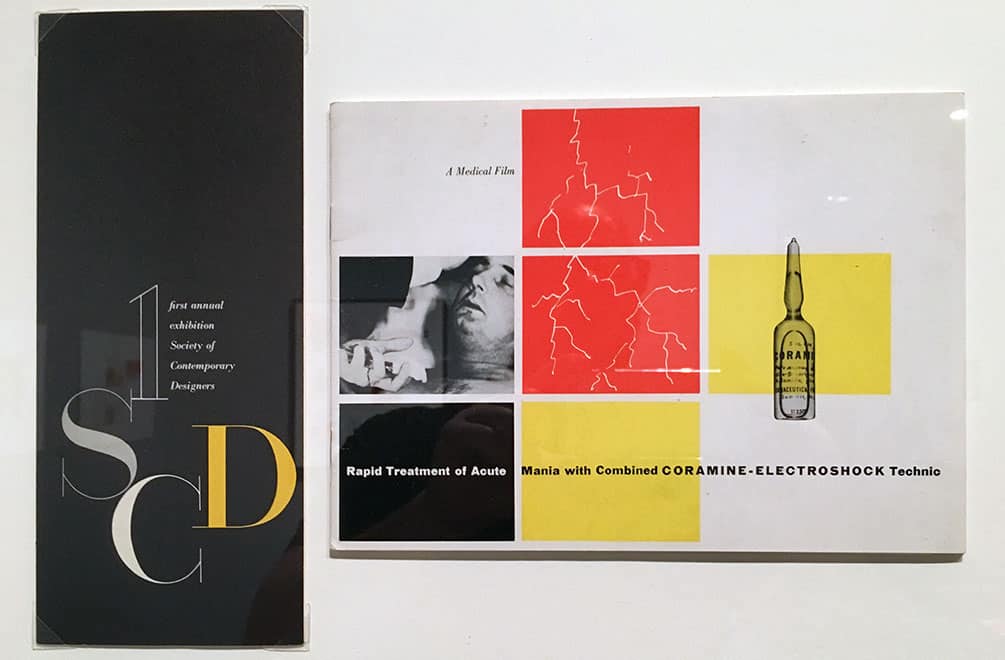 Elaine's Babydoll cover. Elaine signed this one! (Alvin seemed to sign most of his work.)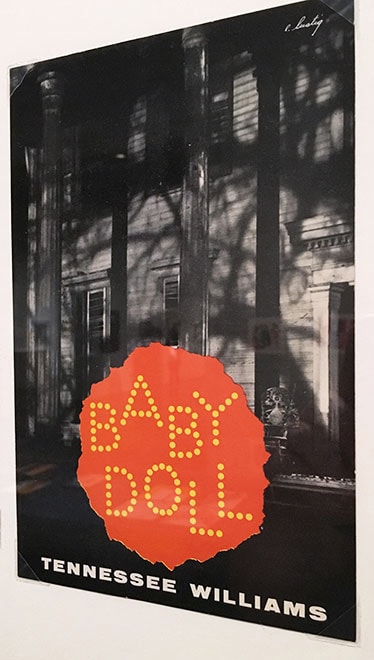 Upon exiting, straight across from the exhibit room, is this Miro, which is perfect positioning.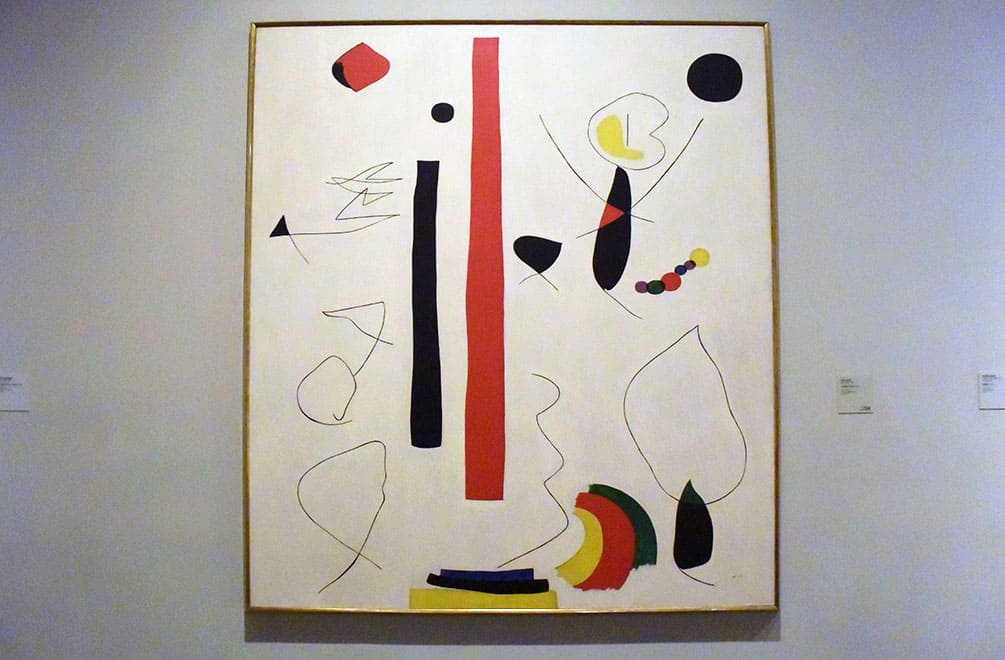 Modern designers informed by modern art. A holistic design practice. A woman running her own studio. These were new concepts in the middle of the century. And there is a fearlessness in the work of both artists — Alvin's fearlessness to conquer any design project, Elaine's fearlessness in taking up that mantle and not just succeeding, but converting it to her firm.
I do have a beef with this exhibit. I wish it were larger. It left me longing to see more, but I do appreciate the opportunity to see these select gems — to see the stock they were printed on, to see the real colors, though some may have faded. And it stoked the desire to learn even more about these two prolific designers/artists. That's lust, right?
That's nice. Sooo, should I go? As a designer, this was very interesting to me. As a mid-century aficionado, this was interesting to me. As a book lover, this was interesting to me. If you don't check off any of those boxes, you may not want to make a special trip for the exhibit. As I mentioned, the exhibit itself is not that large. (In fact, I had trouble finding it.) However, LACMA  is a great museum. And a big museum. So there is definitely something there for you to enjoy.
I'm smitten. Tell me more. Both Alvin's and Elaine's websites contain a great deal of wonderful information and helped me when researching. But take a gander at Elaine's daughter, Tamar Cohen's site. She supplied the materials for the exhibition and is an amazing artist in her own right. A revelation.
Location 5905 Wilshire Boulevard, Los Angeles, CA 90036
Cost This show is included in the general admission which is $15 for adults. If you want to see any special exhibits, there is an additional fee.
Tip If you live in L.A. County, admission is free for you after 3pm on weekdays, which is super. If you don't live in L.A. County, what this means to you is the museum gets more crowded after 3, so you might want to depart by this time if big groups aren't your thing.