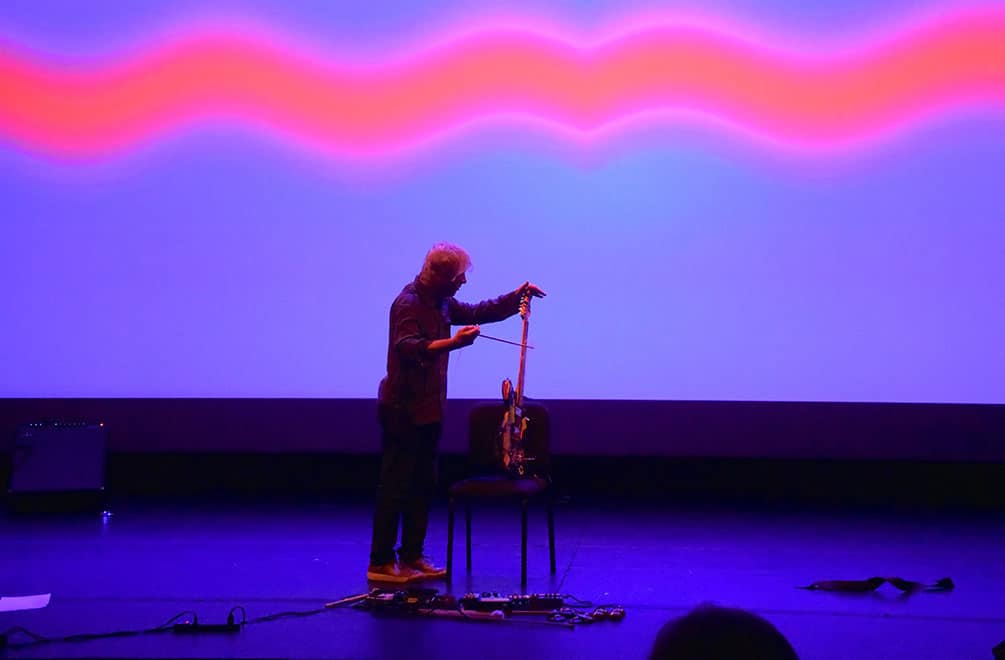 "You don't have a glass?" In the museum cafe, a well-heeled hipster was grilling the cashier on the lack of a glass for his bottle of Stella Artois. She helpfully offered one of those short, plastic wine glasses you get at parties. He turned up his nose. She offered a cardboard coffee cup. He sighed. Then one of the men behind the grill offered a styrofoam coffee cup. Beer drinker shook his head "No," and slumped away. This didn't bode well for the evening.
I took my dinner outside and immediately felt better. I had timed it just right to catch the sun bouncing off the buildings.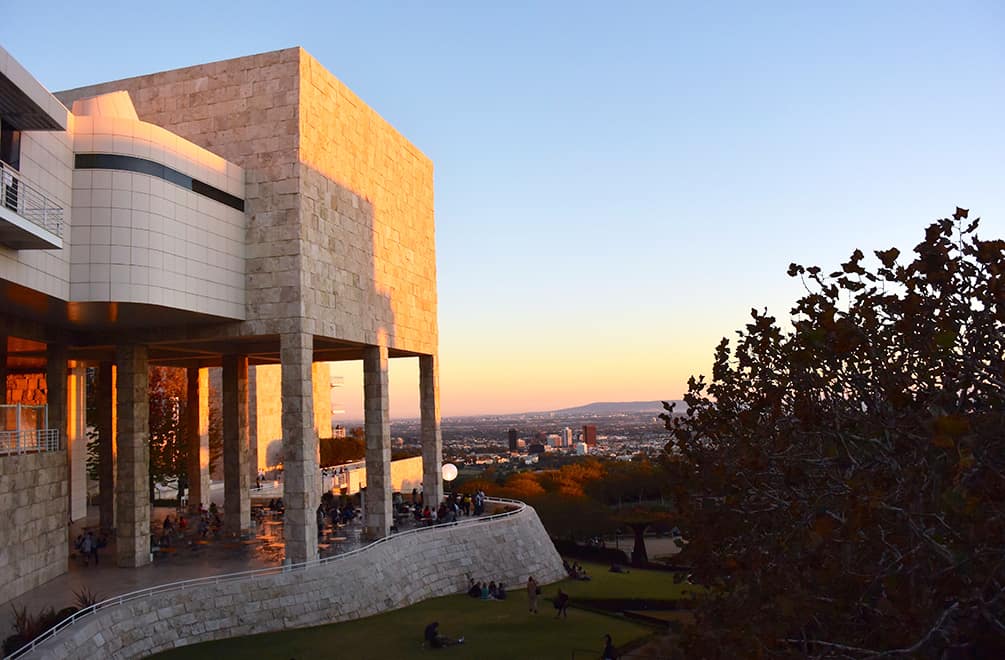 This junket had brought me to the Richard Meier designed Getty Center, perched on a beautiful hill in Los Angeles. Specifically, to see Lee Ranaldo, a founding member of the band Sonic Youth.
Junket Objective
See Lee Ranaldo, one of the Saturday Nights at the Getty performances.
Transportation: $16 for gas for the 2 hour drive to Los Angeles and back.
Cost of Lodging: Â Zero. I drove back home after the show.
The last time I saw Sonic Youth was when I lived there in Seattle, as openers for Neil Young. Neil Young's fans weren't sure what to make of them. They didn't like them, but weren't moved enough to boo them. A palpable sense of relief came over the Coliseum once they left the stage though. Fear of the new? Maybe. Not melodic enough? Probably.
Time went by. Sonic Youth became indy darlings, perhaps in the rosy glow of 90's nostalgia. Excellent press piled up. Presumably, sales of their back catalog increased — I hope they did anyway. Many more people knew of the band, but maybe didn't actually know the band. I know that sounds record-creep snobby, but it's my takeaway from this evening. Let me explain.
As I was eating my wrap, I heard a sound. A low sound, like a cow mooing in the lowest register possible. The sound grew, became louder. People looked around, wondering what it was. It was like a strange 5 o'clock dinner bell. I ran toward it and up the stairs to see Ranaldo on the deck with his guitar.
Folks were sitting at the outdoor tables listening and watching Ranaldo move around the patio, interacting with the building itself. He scraped his guitar against the walls, dragged it along the travertine floor, spun around in a circle while holding onto the neck. He calls these performances "sound interventions."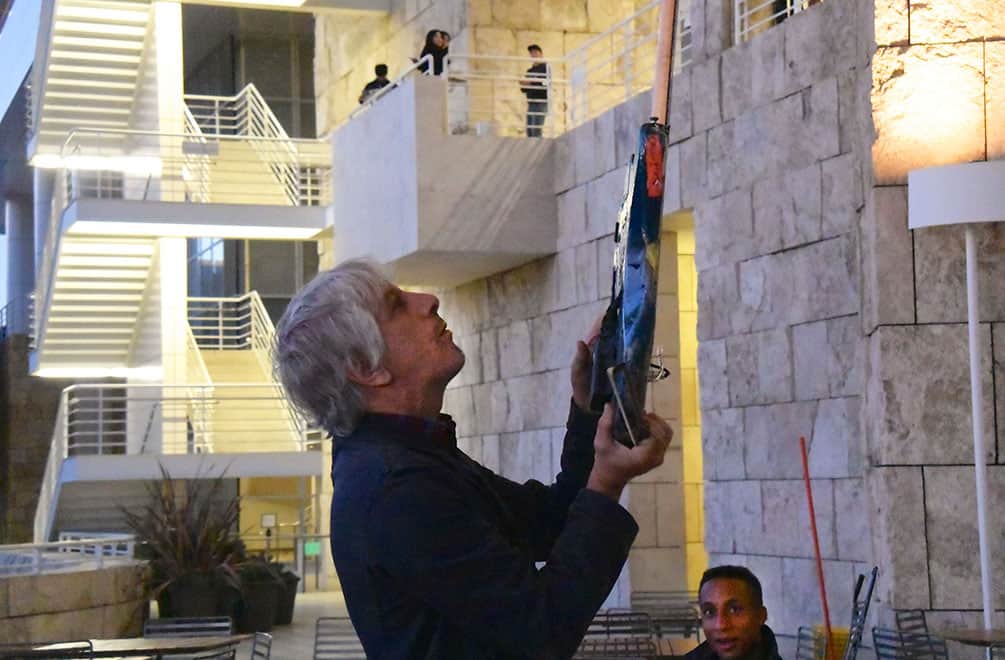 It wasn't a large audience, but the group that was there was astonished (see above). Evening set in and the otherworldly music continued while the lights of LA turned on. It was a transformative experience: the spacey soundtrack, Ranaldo calming walking around destroying his instrument and the beautiful blue sky taking over the scene. I didn't want it to end. But I knew the actual ticketed performance indoors was ahead.
I had time to explore 2 of the Getty's recent exhibits, both from Japan. Ishiuchi Miyako: Postwar Shadows is a stark, beautiful exhibit of post-war Japan photos by Miyako, a  female trailblazer in a male dominated arena. The Younger Generation: Contemporary Japanese Photography shows the exciting work of 5 female artists who continue to carry the banner.
It was time for the show, so I went into the theater. We were handed a lithograph of Lee's artwork to take home. The show was at the Harold M. Williams Auditorium, an intimate, comfortable theater. I had a fourth row seat, right in the center. To my left was a couple on perhaps their second or third date. To my right was a man who brought three other people with him. He was very excited to be there.
The theater was almost full with a few single seats here and there. The woman on the date kept looking at her watch and wondering when the show was going to start. Hmm, had she ever been to a "concert" in her life that started on time? The fellow next to me was vibrating with anticipation.
Ranaldo came on and was accompanied by a film backdrop created by his wife, Leah Singer. The music was loud, harsh, piercing, mesmerizing and great. Ranaldo added spoken word to this show while still wandering the stage, breaking strings and improvising.While the performance outside had been echoing and atmospheric, in a more confined space the sound was noisy and demanding. The woman to my left began shifting in her seat and looking at her watch. Then the whispering began, the woman clearly wanting to leave. They were the first in my row to go. The date was over.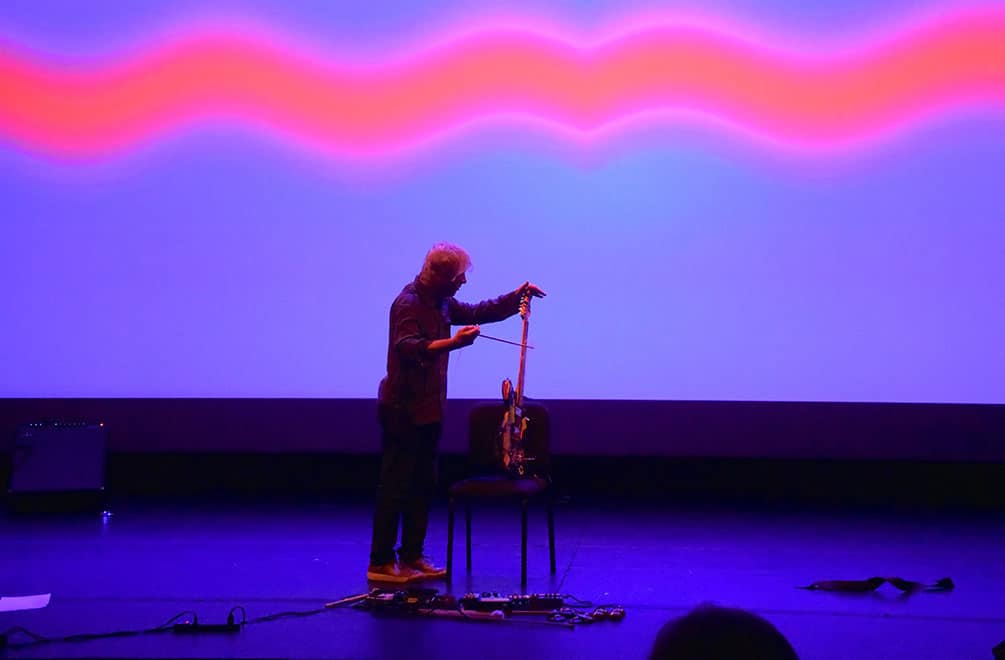 The group on my right was also shuffling. What I think happened is the group said they wanted to go, but the excited guy could stay. He opted not to stay and have the group abandon him. So they left as well. I remained in the center of an empty row.
Lee continued on. The performance was new, organic and spectacular. As the lights came up, I looked around and saw over 3/4 of the audience had left. What were they expecting? Why had they gone to the trouble of getting a ticket? Was it because it was free they thought they'd give it a shot? Was it just too much noise for most? I thought of seeing Sonic Youth way back when and realized Lee's sound hasn't aged. It's still crisp and challenging and cutting-edge — hence the audience exodus.
I was thrilled by this show. To the young woman who programmed the performance, kudos. This was a perfect fit for a museum: daring and difficult. I left with a huge smile on my face. And almost forgot about the glass-seeking beer drinker.
That's nice. Sooo, should I go? To the Getty Center, yes. Even if you have absolutely no interest in art, if you go when the sun is setting, it's magical. To see Lee Ranaldo, in most cases, no. Don't get me wrong — I LOVED HIM. But his music is not for everyone. And it is very loud. If you do see him, earplugs are useful.
I'm smitten. Tell me more. If you can't stand the loud, Lee is touring Europe with his solo acoustic show.
Location 1200 Getty Center Dr, Los Angeles, CA 90049
Cost Saturday Nights at the Getty is a free performance series and Lee's "sound interventions" were also free.  It doesn't look like any new shows are scheduled at the time of this post but for future shows, you do need to reserve a ticket online or via phone. You check in about 1-1/2 hours before the performance and are given a hard ticket with an assigned seat, which is really nice. You can then go check out the museum, and come back few minutes prior to the show. It's a great system. The museum is alway free. Parking is $10 after 4:00 pm. (I got there at 4:01 — I know!)
Tip  You can bring in your own food and have a picnic on the lawn. No alcoholic beverages are permitted to be brought into the Center, but you can buy beer and wine on site. Be advised however, there are no glasses for the beer.