The Palm Springs Art Museum can do no wrong. The permanent collection is stellar and the width and breadth of the special exhibits allow something for everyone. Case in point: a recent visit offered this: a Robert Heinecken photogram exhibit (fascinating), a collection of sculpture by 20th century masters (monumental), and a shoe exhibit (killer). And all for free on a Thursday night.
The most popular exhibit that evening was the "Killer Heels" show. And why not? People love shoes and I'm not immune. My closet is overflowing with everyday basic flats and questionable high heel purchases. My friend and I used to look at a guy's shoes to determine a.) where they were from and b.) if we'd be copasetic. "The shoes don't lie," she'd deadpan.
The exhibit itself is situated nicely, well-lit, with plenty of room to view the various angles of the shoes. There are lots of shoes to see — 110 contemporary shoes and 50 historical selections according to the museum's website. The exhibit is comprised of pieces from the Brooklyn Museum (where an iteration of Killer Heels ran earlier this year), the Metropolitan Museum of Art's costume collection, and the designers themselves. Most every contemporary shoemaker of note is here — you want your Louboutins, you got em. You want Ferragamo, si signora. A bit of Chanel? Coming right up.
Representation from the art world was in evidence. Damien Hirst designed these boots for Manolo Blahnik and if I ever win the lottery, I'm buying them.
Perhaps you like shiny objects. Never fear, they have your Swarovski crystals under glass.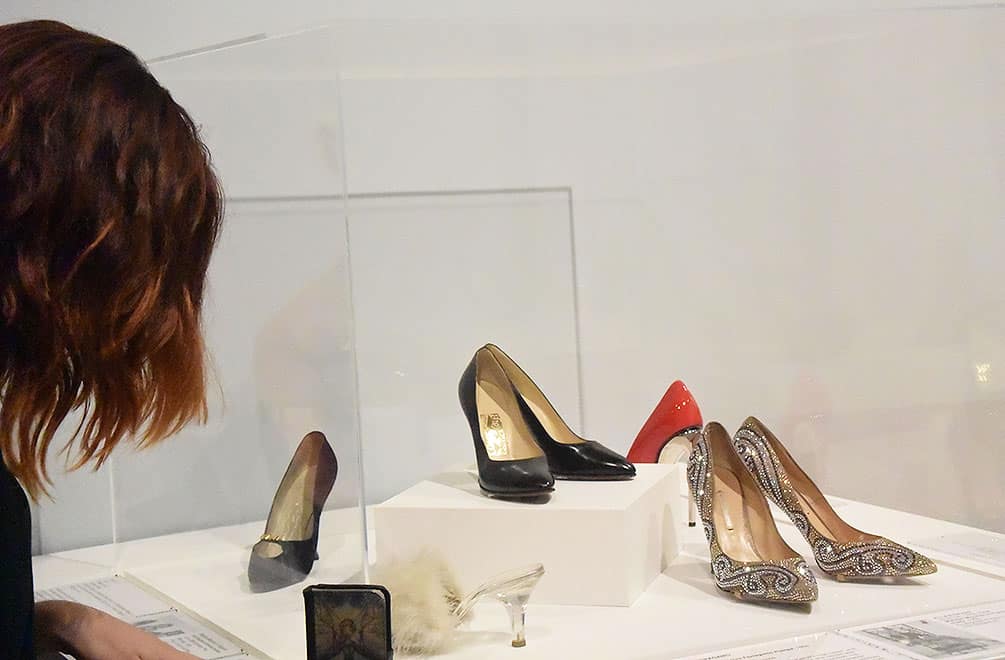 Or is your "shiny" sequins?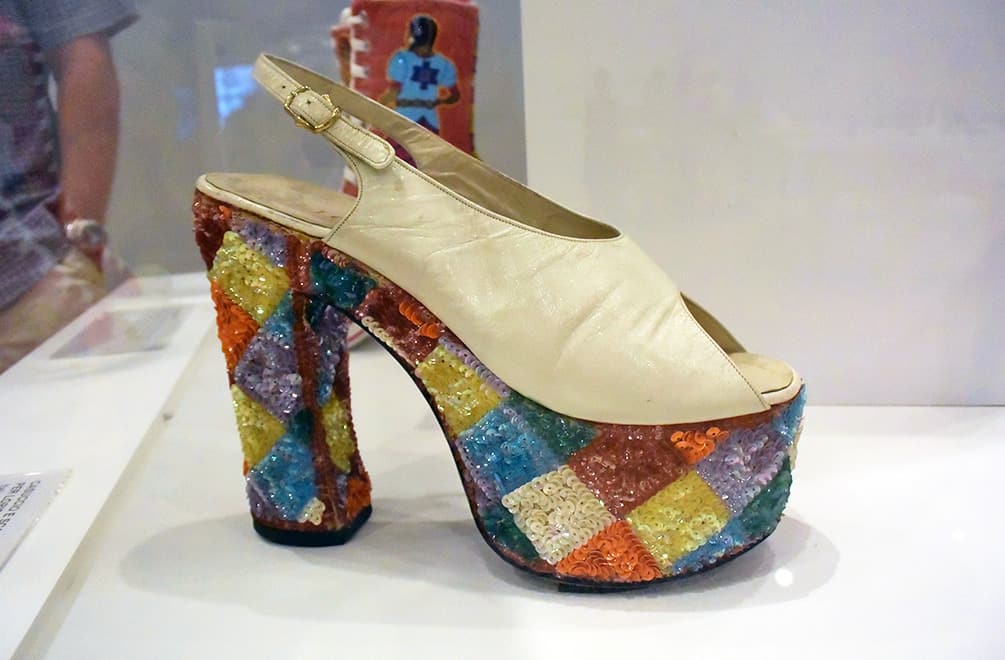 Along with the shoes on view, there was a loop of six films created by Ghada Amer and Reza Farkhondeh, Steven Klein, Zach Gold, Nick Knight, Marilyn Minter, and Rashaad Newsome. And these films were riveting. To every demographic.
This gentleman below watched the loop about 4 times.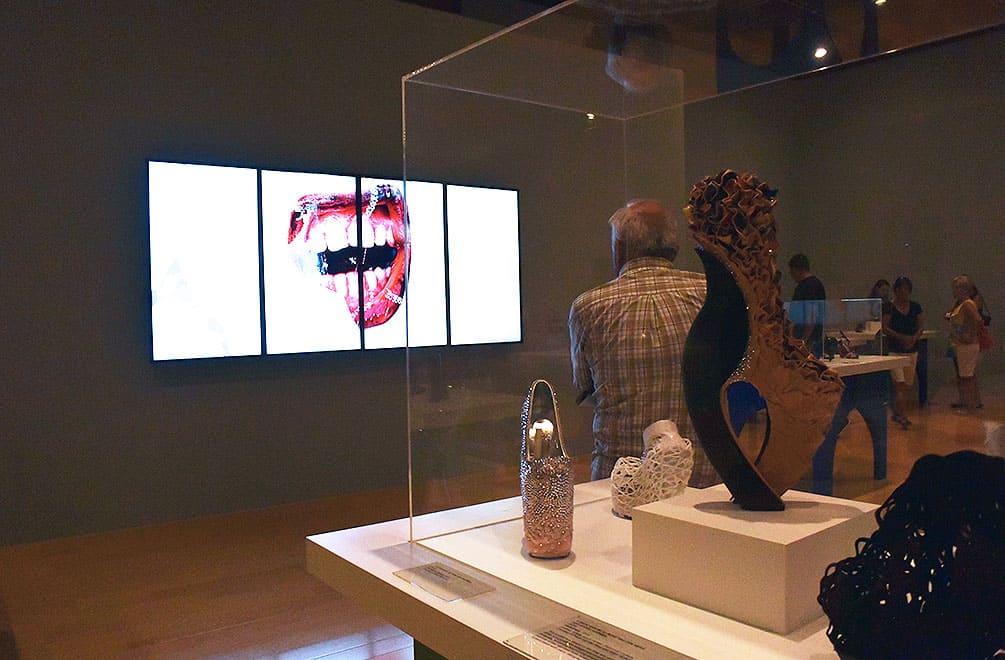 Urban myth has it that man designed high heels so a woman couldn't run away from him. I don't know if that's true. I can run in my heels. Ok, not fast, but I can run. They are bad for your back. However, putting aside the psychology and physiology behind the high heel, let's face it. People love them. Women, men, it doesn't matter. And focusing on the shoe as an art object makes sense. They are sculptural and architectural. The creators are craftsman. The materials, exceptional. Some are unwearable — created just to be looked at, studied and marveled over. Isn't that the definition of art?
That's nice. Sooo, should I go? Yes, I didn't see anyone there who wasn't enjoying it. Lots of chatting, pointing out their favorites to their friends. It was a fun, informative experience. On view until 12/13/15.
I'm smitten. Tell me more. I've focused on the more contemporary pieces. There is plenty footwear of historical significance. There are Italian platforms from 1600, 19th century Chinese shoes for bound feet and French boots from the early 1900s.
Location: Â 300 South Palm Canyon Drive, Palm Springs, CA 92262
Cost: Â Free on Second Sundays and Every Thursday 4-8pm. Other times it's a reasonable $12.50 for adults.
Tip:  Don't pass up the videos just outside the exhibit. They include a video of an Ferragamo artist making a shoe, a clip from the film The Gay Shoe Clerk and a video showing a woman walking in one of Zaha Hadid's outrageous shoe designs. Then go take a selfie of your shoes.