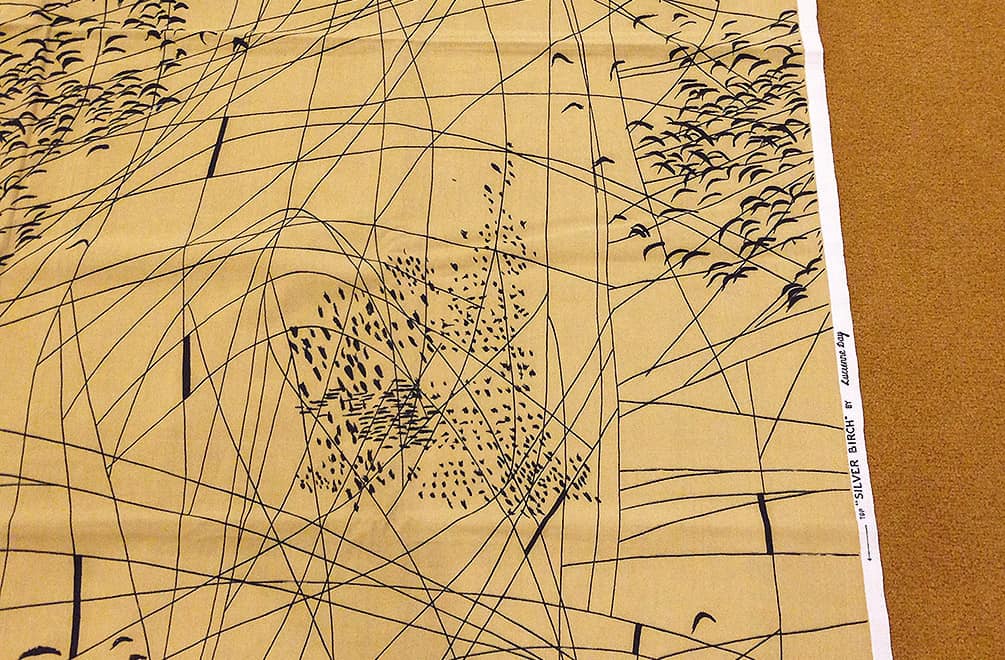 In Andrea Zittel's Aggregated Stacks exhibit at the Palm Springs Art Museum Architecture and Design Center (phew, still getting used to that moniker), Zittel selected textiles from the Museum's collection for inclusion in the compilation. They are interspersed around her cubes, laid flat on horizontal platforms on the ground, providing color and texture blasts against the stark white of her stacks. Among these are samples designed by British textile designer, Lucienne Day. I had only seen photos of these works before, so it was a surprise to see swathes of them as part of this show.
A quick primer on Day's work:  After graduating from the Royal College of Art in 1940, she briefly designed fabrics for women's fashion. But she was more interested in designing textiles for furnishings, believing in well-designed products for all. In her work on the Homes and Gardens pavilion for the 1951 Festival of Britain, she got her wish. Her ground-breaking pattern "Calyx"— inspired by botany and painters such as Miró and Klee — was a huge hit at the Festival. Britain was ready for change after the war and Day's optimistic, modern artwork fit the public's mood. Printed by Heal's Fabrics (and copied by others), Calyx solidified her as a textile designer — at a time when the term "textile designer" would not have been uttered regularly at a cocktail party. Sought after throughout her life, she designed carpets, wallpaper, ceramics and was commissioned by Liberty and John Lewis, in addition to Heal's.
Calyx 'electrified the whole of the British textile industry, as well as sending shock waves abroad'. –Design Historian Lesley Jackson
As someone who lives in a hub of mid-century design, looking at the small sampling of her work, I was struck at the color palette. Many times a mid-century palette is more of the astro-bright variety:  turquoise, electric orange, acid green. Day's palette was more muted, still incorporating brights, but in a subtler manner. Plant and human figure abstractions could easily have fallen into whimsy, but hers do not. Later linear works are more reflective of modern architecture, making them perfect for a contemporary home, then and now. Although one often hears "that could have been created yesterday," in Day's case it's true.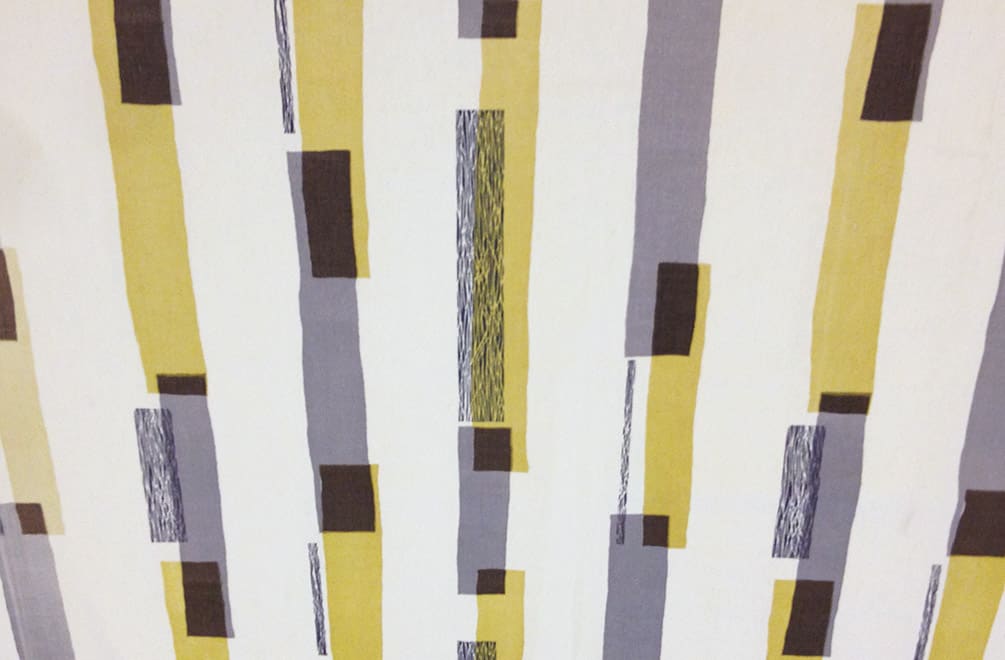 [highlight]Why she's My New Imaginary Girlfriend[/highlight] Although she married a renowned furniture designer, Robin Day, and they remained married until their deaths, she worked independently on her own projects and was recognized for her own artwork, designs and achievements. And her patterns are still in production by Classic Textiles and twentytwentyone. To see a super timeline of their work (each separate, of course) visit their foundation website here.