"It's kindergarten nap time for grown ups in a sound sphere."
Have you heard of The Integratron? Yea, me neither. But lots of folks know about it — apparently Anthony Bourdain filmed a tv bit there on "No Reservations" when he visited Joshua Tree. I guess I missed that episode. Anyway, a building called the Integratron sits in all its white-domed glory in the high desert. And it's got an interesting back (and front) story.
First the back story: Aeronautical engineer and test pilot George Van Tassell spent 18 years building the Integratron. He was inspired to build it after he claimed he had been abducted by aliens — Venusians to be precise — and taken aboard their ship. The aliens provided him technology for life rejuvenation, which he would incorporate into the dome.
The Integratron's site is apparently located on an intersection of geomagnetic forces which provide energy to reinforce the reviving properties. That's the impetus behind The Integratron — life rejuvenation. That and being a kind of time travel machine. Traveling back in time would indeed propel one back towards one's youth, so the one does not necessarily contradict the other.
During construction, which was financed by donations (among the donors was Howard Hughes), Van Tassell and his wife Eva held popular "Spacecraft Conventions." The conventions raised funds for The Integratron and invited fellow alien abductees to tell their stories. The exterior of the dome really does look like a spaceship — or perhaps a midcentury concept of a spaceship. It is ringed by metal rods that look like they could spin, light up, and initiate blast off.
So that's the outside of the building itself. The surrounding grounds are made for lingering, which you'll do as visits are by appointment and timed. You'll be instructed to arrive early and it's actually pleasant to do so. Hammocks, a fire pit, a water fountain, and tables inhabit the waiting area.
There is hippie artwork and functional seating made from repurposed materials. (Those ski chairs were actually comfortable, despite looking quite the opposite.) Outside chairs covered in artificial turf? That's actually a bit of genius. And please express how zen you are on the chalk boards lining the perimeter.
When your time arrives, you get called to the entrance of a dirt corral where your ticket gets taken. Then you head into the first floor of the structure: a wood room with exhibits around the sides and large column in the center, with stringed radii circling out from it. You leave your shoes here and staff supervise the ascent to the second floor via a steep wooden staircase. Don't worry, you can make it up the incline. Everyone in our group climbed the stairs fine and there were all ages in attendance. Ponchos are optional.
The Integratron's website states: "It's kindergarten nap time for grown ups in a sound sphere." Indeed. Upstairs are beds organized neatly around the dome. Blankets are available and you'll want one.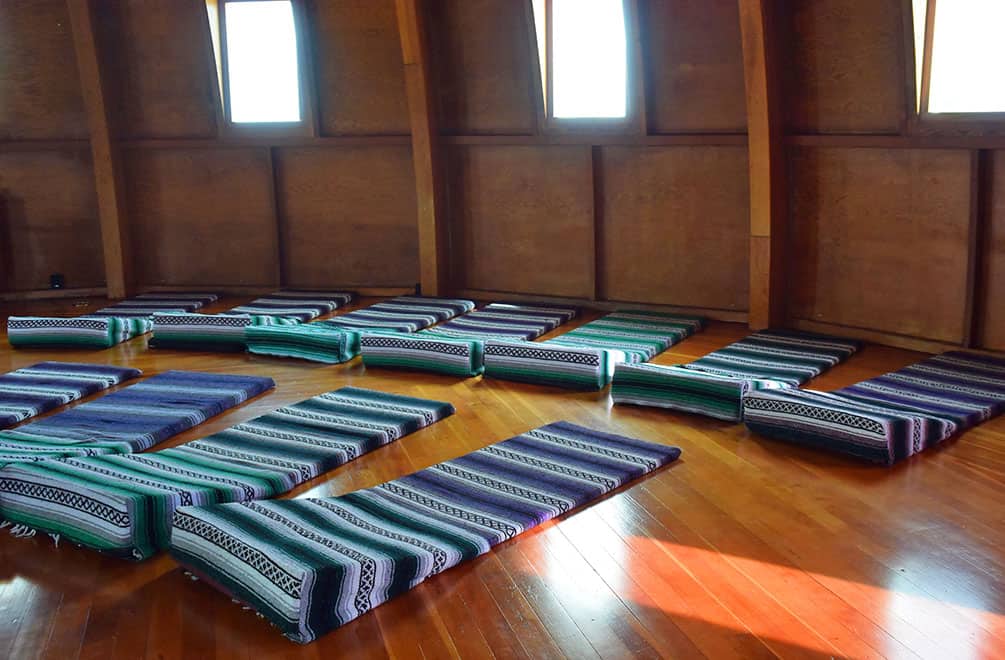 At one edge of the dome sit several milky bowls. The musician that will be playing them arrives and gives a little orientation talk — with a lengthy directive on snoring. The bowls are quartz and purported to be keyed to the body's energy.
They work with the wooden spines of the dome, which are natural sound amplifiers. (If you stand in the center of the circle and speak, a rich echo comes back at you.)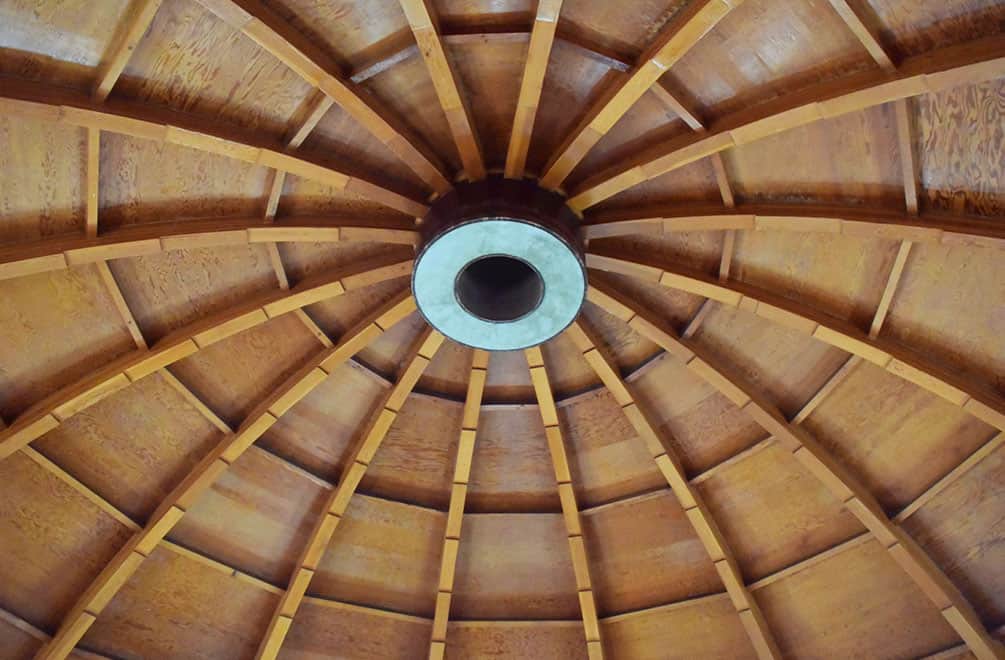 Everyone takes a bed and the bowls are played for about 30 minutes, then the remainder of the time you rest listening to recorded music.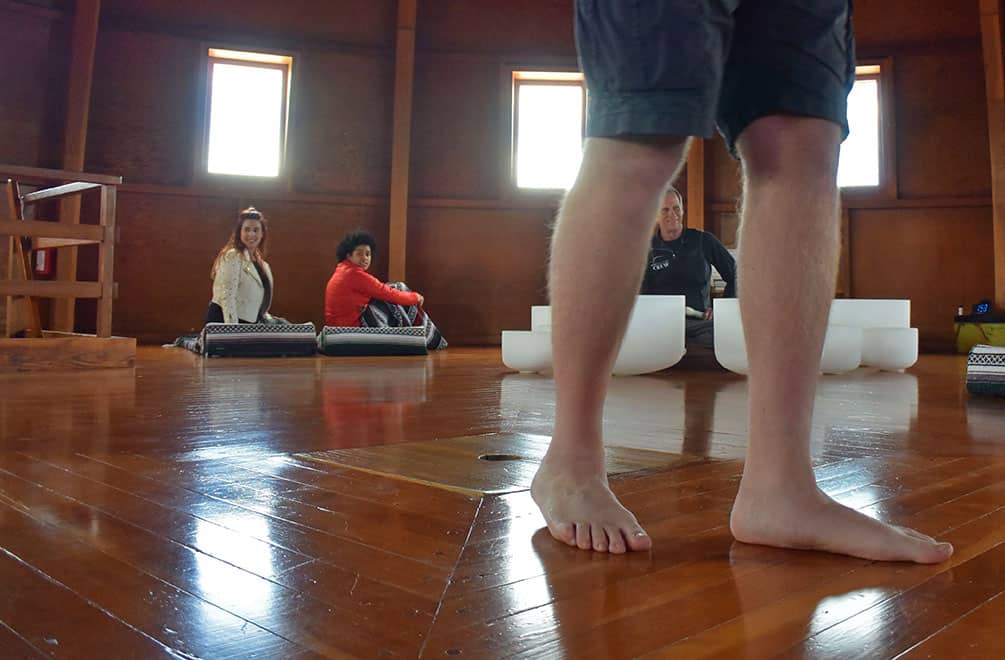 So, what exactly is the sound bath experience like? I could feel the various sounds moving up through my body, just as the bowl player predicted — low sounds in the abdomen, higher sounds in the temples. I wouldn't have imagined that laying in a circle with a bunch of strangers could be relaxing, but it is. It's very relaxing and meditative, allowing us to escape the day. And despite the snoring warnings, I could hear noise that could fit that definition emanating from several people nearby. No matter, everyone came out smiling and appearing energized, so perhaps Van Tassell knew what he was doing.
Regarding the time travel aspects, well, I'm still here at my computer in 2017. I'd weigh the experience as more Merry Prankster than H.G. Wells. But a dip in this sound bath was refreshing. Visit the Integratron and let it wash over you.
That's nice. Sooo, should I go?  I'm a cynical gal and I found the whole experience — the grounds, the art, the building, the people — uttering charming. My husband, who is even more cynical than me, really enjoyed himself. He said it was "the most L.A. thing he'd ever done." Unless you have an aversion to laying around with groovy, barefoot people who might snore, I'd say go. You don't have to believe in the energy of the site to unwind for an hour. Plus, it's certainly a unique way to spend an afternoon.
I'm smitten. Tell me more.  The Integratron is located near Giant Rock, which was where the Spacecraft Conventions were held. If you have a 4-wheel-type vehicle, you can visit there. However, word has it that there is litter everywhere and the rock is covered in graffiti. My car wouldn't have made it, so I didn't venture out there. But maybe you can.
Location  2477 Belfield Blvd, Landers, CA 92285. But print and follow the directions on the website as gps may not work there.
Cost For a group situation "Pop Up Sound Bath" where you are with 25-30 other people you don't know: $35 for adults weekdays, $40 on weekends. Kids have to be 12 and over for this experience. You can have a private Sound Bath which is more expensive, but I thought being with a load of strangers, each not knowing what to expect, was more interesting.