Experiencing an altered reality in the desert used to be left to hallucinogens. Not anymore. An art project called the Dream Wanderer allows you to have a drug-free trip, submerging you in a virtual reality designed by Kyle Marler of Flatsitter arts cooperative and determined by chance. I hit the road to see how this installation could mess with my mind — or at least provide diversion. My husband Mark, who came with me, kept asking me what it was and what we were going to see. I replied, "We'll find out when we get there. Don't get uptight." Which I thought was appropriately hippy sounding.
The Dream Wanderer did indeed wander around North America, visiting festivals and shows and inviting the curious onto the bus. Now it is parked in the high desert of California — Landers to be specific — where another trippy experience can be had at the Integratron. This part of the world is said to have geomagnetic power, which could be true, I can't say. What I can say is there is not much around, so you can't miss the colorful sign and the colors of the bus itself.
This particular art installation entitled "Lily Dale" is based on interviews and visits Marler made to the aforementioned town, a psychic spiritualist community located in western New York, near Lake Erie. Many of these sects sprung up in New York in the mid-to-late 1800s. Lily Dale still survives and thrives, attracting believers, skeptics and lookyloos. The town is populated by mediums (in order to live there you must be one) and tourists can get a reading or allegedly converse with loved ones who have passed on. The prime directive among Lily Dale residents is the belief that we never die. The artist arranged interviews with the mediums, discussed their thoughts on this belief, transcribed them and these sessions provided the foundation of the artwork.
Ok, how's it work?
Upon entering the bus, participants are surrounded by collages and assembled pieces of art mounted around the bus interior. Themes include the body,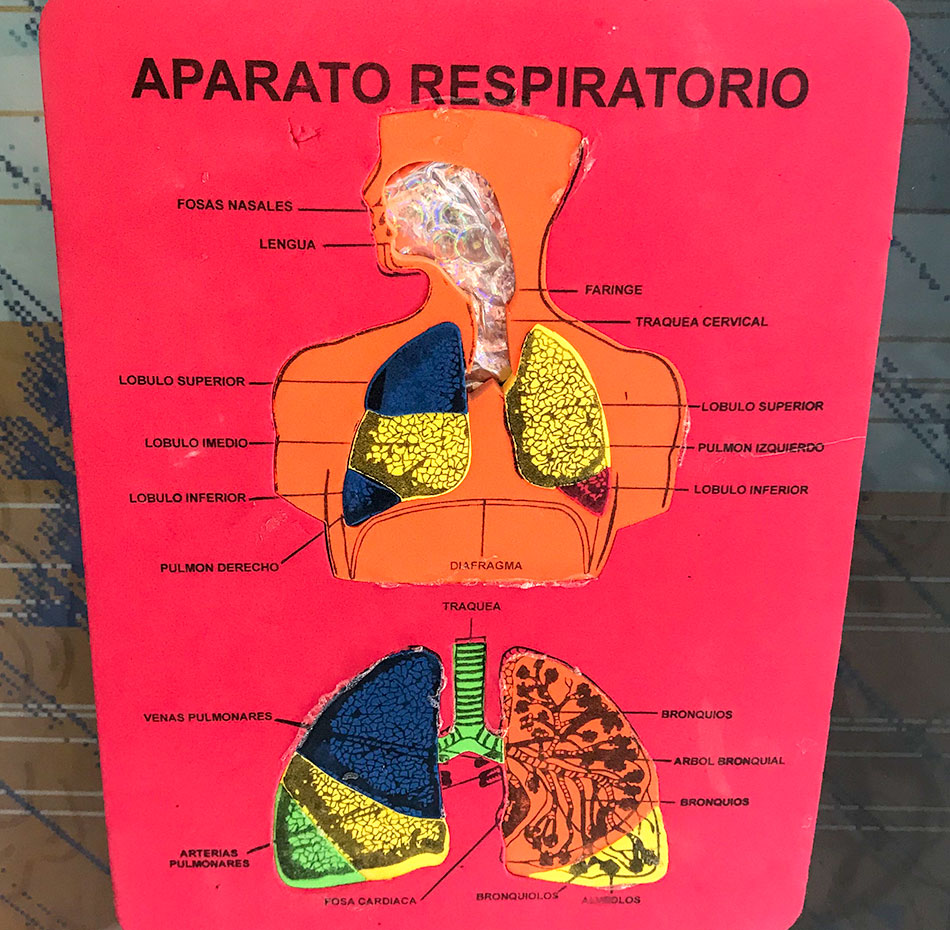 dreams,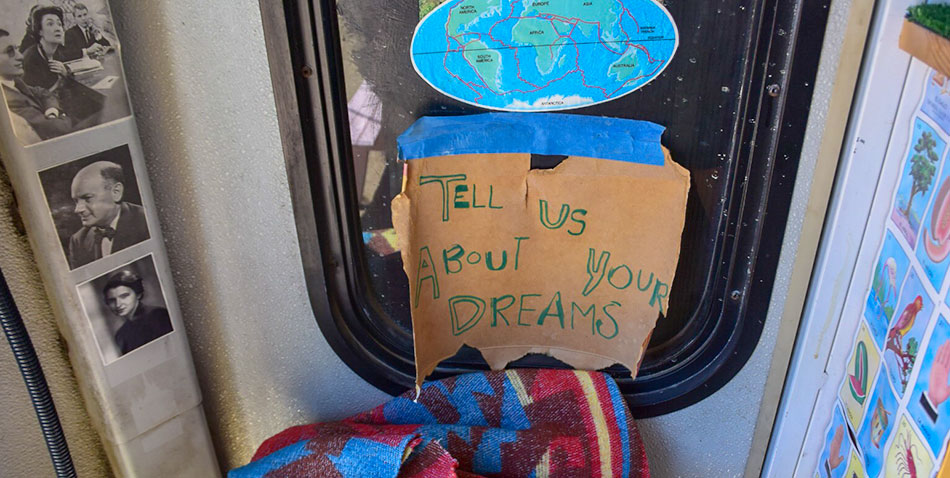 maps,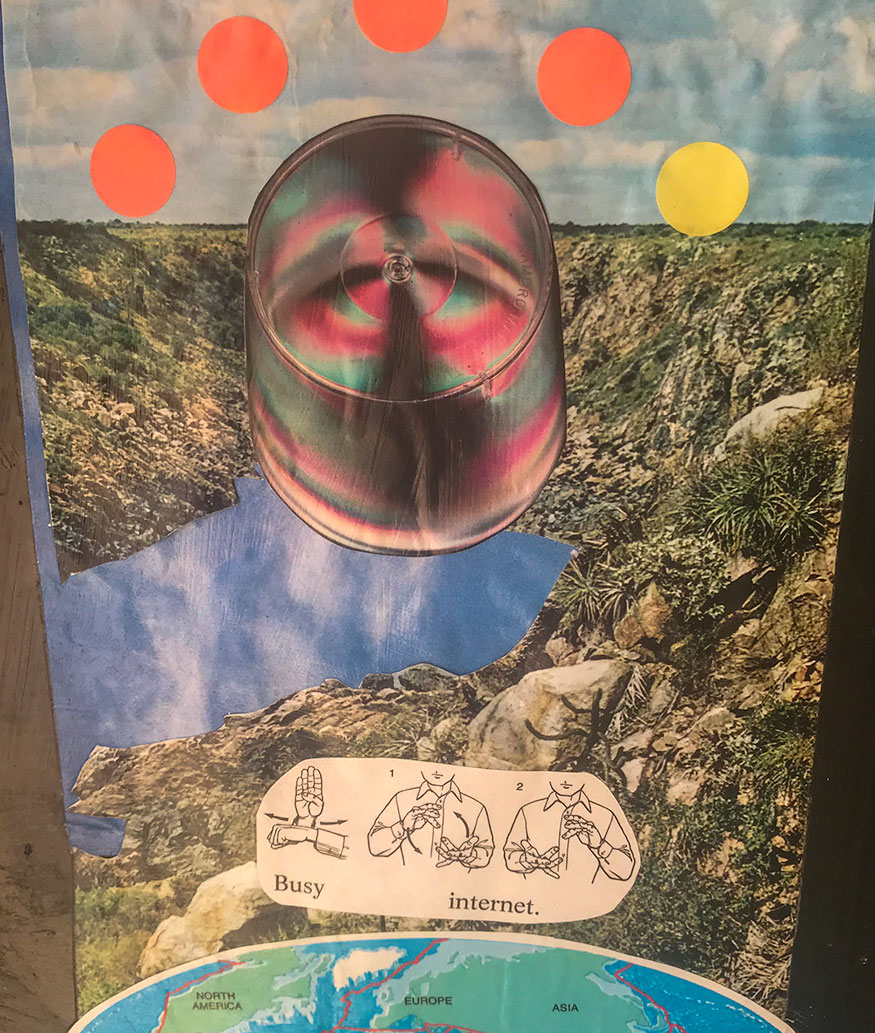 sky, space and sign language.
We were warmly greeted by Aimee who is the caretaker of the bus. Aimee has a massive arts background, can converse on any topic, is talented, entertaining and meeting her was one of our favorite parts of the trip. She describes the origins of the virtual reality project and then gives a little overview on what to expect.
She then produces a deck of cards and asks if you get motion sickness.
Both my husband and I do get nauseous traveling at times, so answering yes, I notice she removes a few cards from the deck. Next I pick 3 cards — this is where the chance I wrote of earlier comes in. My selections are below.
Aimee and I both laughed when she turned them over. Do you think the universe was trying to tell me something??? The cards determine which individual virtual reality "program" will get played for the participant. (My husband's cards were different of course.)
I donned A VR mask, vest and headphones. The vest provided grounding and during the run of the programs, strummed vibrations were felt through my chest. The audio is atmospheric music plus narration from the Lily Dale interview transcripts hums along. The speech is slowed to prove more dreamlike and transporting.
My VR experience, as determined by the cards, was set up on the computer by Aimee. And the session began. My three programs were abstract, ethereal and dark in color and composition, not in content. The entire 15 minute experience was strangely relaxing. The interviews at times faded from my focus, then floated to the front of consciousness again. My programs were comforting and seemed beneficent, especially the second program which featured heavenly giants on all sides of the viewer. (Aimee told me not everyone agrees with me on that, others thought the figures more malignant.) Even though the talk orients around death and passing, I took off my mask feeling uplifted and optimistic. And I'm not religious in the least.
If you attend the Dream Wanderer with another person, you can see what they are seeing in their headset on the computer monitor. So I was able view my husband's session on the screen. Mark's programs contained much more representational imagery, even though they were presented in a surreal context. He was very taken with the music and Aimee and I saw him drumming to it in the VR gear.
We ended up chatting with Aimee for about another half hour, about the project, about New York state, about everything. We reluctantly left the bus and headed back into the blinding desert sun. We headed out talking excitedly about how great the whole thing was and how we wanted to come back and pick new cards for a different experience.
The Dream Wanderer happening wraps your senses in a blanket that is warm, dreamy, eerie and mesmerizing. It was executed perfectly and hosted convivially. The project mixes an equal balance of high-tech and handmade artwork, of dark and light. Get on the bus. No peyote needed.
That's nice. Sooo, should I go? Yes. They have limited hours at times, so check here to make a reservation.
I'm smitten. Tell me more. Joshua Tree is often thought of as a place of spiritual convergence, so it makes sense this installation is only about 15 minutes from the park's entrance. Putting the spirit in spiritual convergence!
Location 56221 Reche Rd, Landers, CA 92285
Cost $10 per person for 15 minutes.