To be honest — and shame on me — I never really thought about the artists, designers and illustrators behind pinball machines. Which is strange as the backglass artwork is what entices a player to choose one game over another to play, at least initially.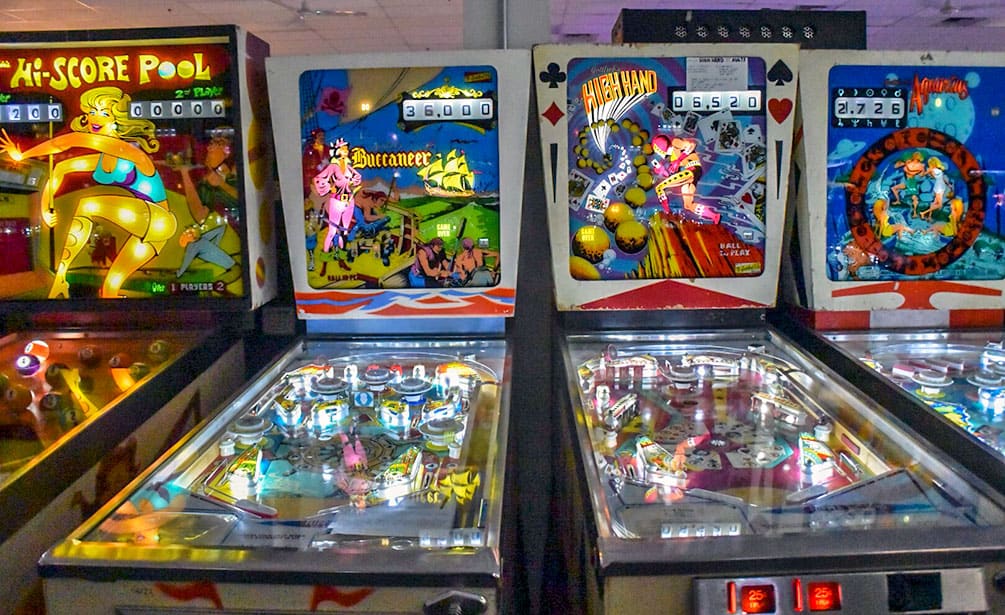 But in looking at my recent photos from the Pinball Hall of Fame in Las Vegas, I noticed different illustration styles among the machines from the 1960s and 1970s. These vintage machines were what I was drawn to and what I played while at the Hall of Fame. Much of the pinball artwork of this time focused on "groovy" graphics and culturally popular motifs of the time: space, science fiction, rock n' roll, underwater worlds and fantasy. Of course, as the games were geared toward boys and men, scantily clad, busty women were usually featured prominently. I set out to see if I could find out a little about the artists and their electric work.
A particularly prolific pinball artist during this golden age was Gordon Morison, with approximately 150 games under his belt. He worked with the machine manufacturer Gottlieb during the 1970s — Gottlieb was the company that introduced the all-important flippers to the games — and was adept at a variety of styles. Among pinball aficionados, he seems to be held in high regard.
Christian Marche also worked on about 150 games, and although the Lucky Ace and Jive Time artwork aren't typical representations of his signature "pointy people" he is apparently a divisive figure in the pinball world. Some love his style, some hate it. Ah, the things you learn in the chat rooms!
Another productive artist, Art Stenholm, also worked with Gottlieb during the 1960s. He is credited with about 80 machines. Check out that "It's more fun to compete" type-yowza!
A great thing about the Pinball Hall of Fame is the cards that are on some of the machines describing the designers, artists and the histories of the models.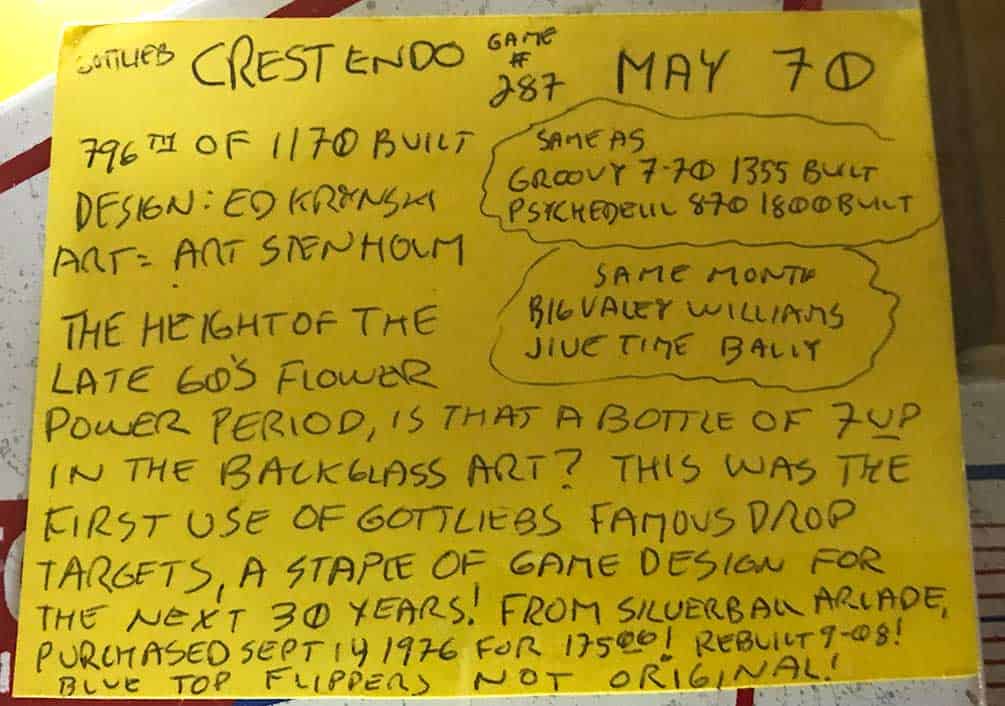 Occasionally, art was also reused and revised to create a new, different machine. Or maybe one not that different at all.
Some of the artists can't be identified, such as the illustrator behind the Grand Tour machine. (I particularly like the Joan Collins figure with the bow, daahling.)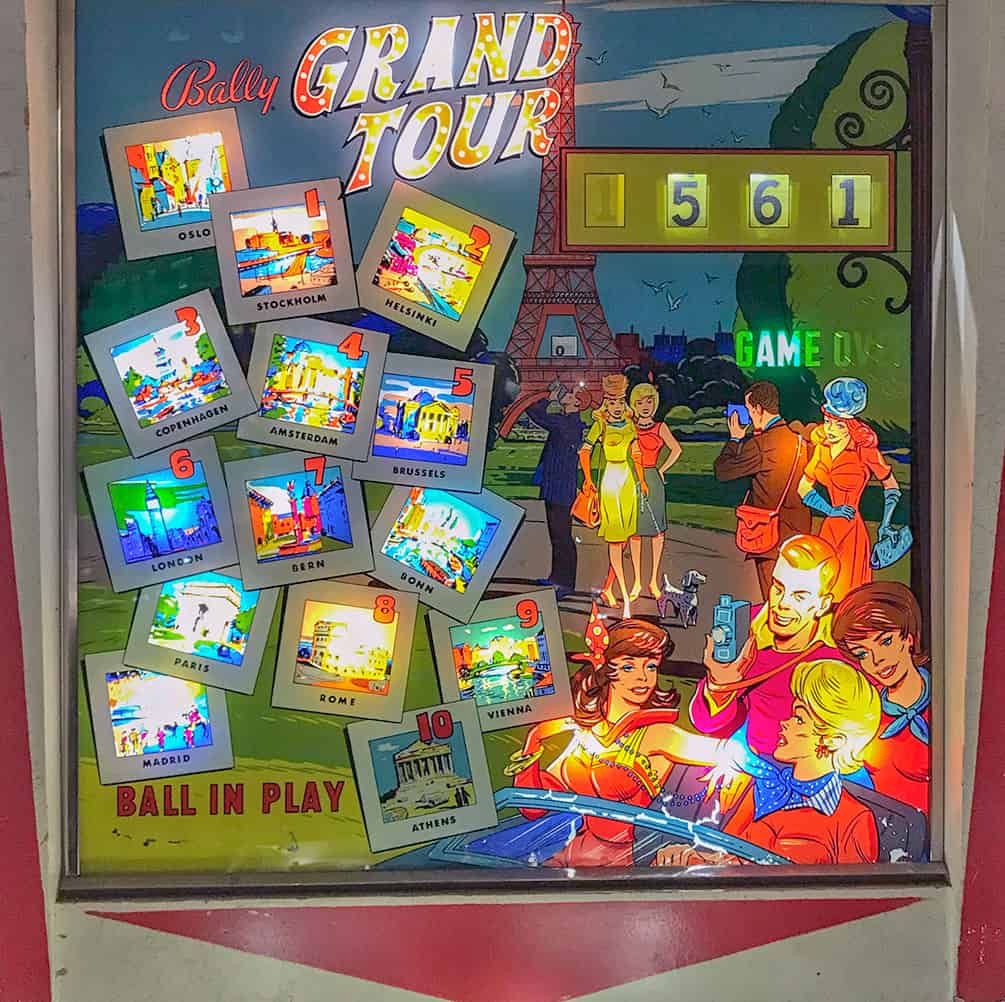 What I couldn't discover is who created the art on the sides of machine cabinets. They don't warrant a mention as far as I could tell. The art appears stenciled and spray painted with a limited color palette. If anyone knows the story, please comment!
Alas, trends change and what attracts a teen in the 60s, is not what attracts in the 80s. Space travel lost its novelty, psychedelia fell out of favor and laws citing pinball illegal in many states were repealed. (I know! Pinball was illegal in many cities up until the mid-1970s!) As technology and rendering techniques progressed, the artwork became more photorealistic. Fantasy still reigned, but licensing from film and tv became the norm and the artwork reflected those products. And of course, Asteroids and PacMan swayed players to use a joystick instead of flippers.
But that's ok. There is still a place where you can review the bright, backlit headers, all in uniform rows and pick whichever strikes your fancy. Take a moment to appreciate the artists' underrated, beautiful work. Reach in your change purse and enter  the bizarre worlds they created for you. It's only a quarter—far out!
That's nice. Sooo, should I go? If you have ever played an arcade game and enjoyed it (and who hasn't?), yes. Kids love this place and can play, unlike at the casinos.  And it's a cheap way to spend an hour or so.
I'm smitten. Tell me more. This post focuses on vintage, 1960s-1970s machines, but there are tons of machines at the Pinball Hall of Fame from more recent days. Machines such as Shrek, Wheel of Fortune and Lord of the Rings are some of the models manufactured in the 2000s that can be played here. They do have classic arcade games such as Centipede and Donkey Kong too.
Location 1610 E. Tropicana, Las Vegas NV. 11am till 11pm, Sunday to Thursday. 11am till Midnight, Friday and Saturday. They will be moving to a new location on the south strip in the future.
Cost Free to enter. You can play many machines for a quarter, (especially the vintage units) — others are a bit more. Don't worry, they have change machines.