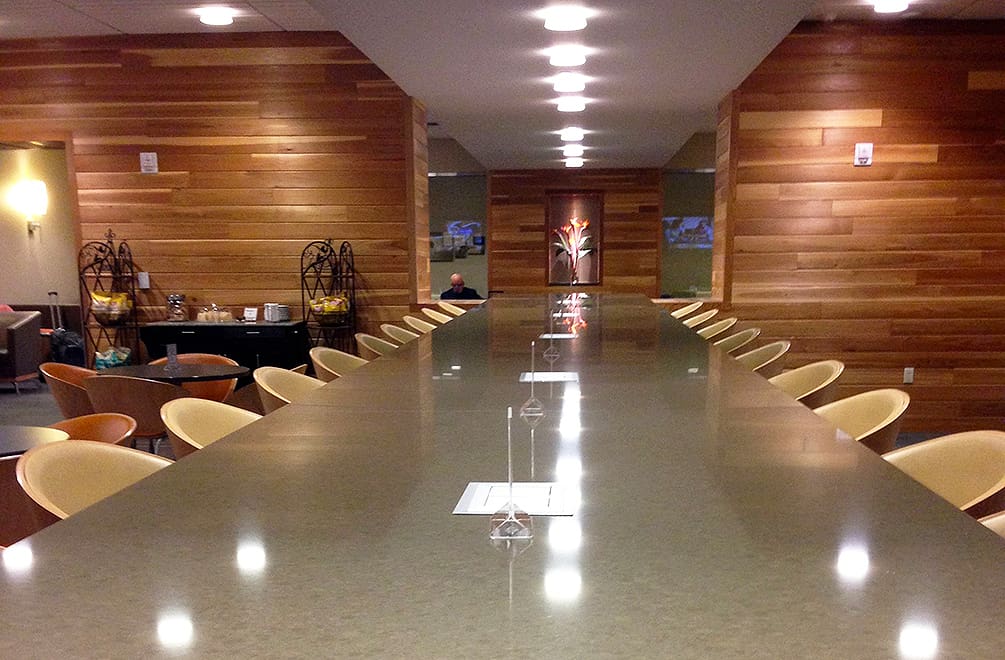 [lead]I am as down to earth as it gets in all aspects of life except one.[/lead]
I love escaping from the traveling masses into a calm, uncrowded, airport lounge where you don't have to wait in line for coffee, where you can charge your phone and actually find a seat. Airport lounges have traditionally been operated by the airlines: Alaska Board Rooms, United Clubs, American's Admiral Clubs, etc. However, on two recent junkets, I noticed lounges not aligned with a specific airline. I tried one out at McCarran airport in Las Vegas.
The Club at LAS is new, bright and offered everything the airline lounges offer: a bar, table seating, work stations, above average snacks, free wifi that was a breeze to log onto and the much coveted alcoholic beverages. At LAS they even had a shower, which not every airline lounge has. The staff were lovely, the furniture is in great shape (I know, I know, because it's new) and the whole place just seemed fresh.
Full disclosure: I have an Alaska Airlines Board Room membership. Alaska sent us to The Club at LAS as they don't have a lounge in Terminal 3 at McCarran, so this particular lounge has some sort of arrangement with select airlines. And gaining access was simple, a quick show of the boarding pass. (Sometimes at airport lounges, they look you up and down to determine if you're worthy of entering to eat their pretzels.) But the deal with these lounges is you don't have to purchase a yearly membership – you buy a day pass and that's it. No yearly membership, airline loyalty, just the long green.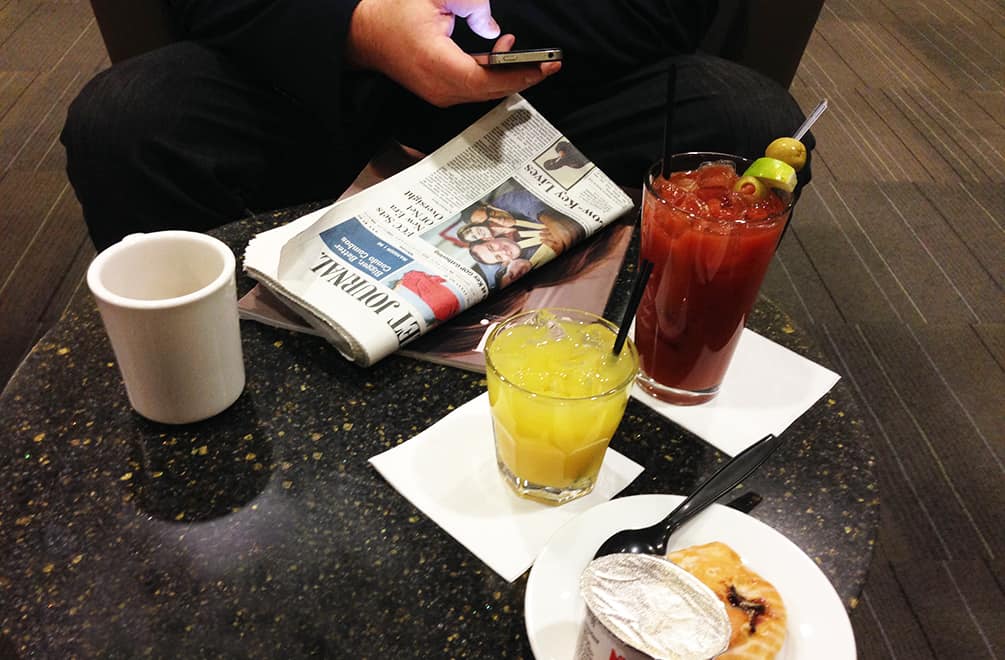 A bevy of beverages at LAS. Recommended!
At the Baltimore airport there is the Airspace Lounge, an American Express venture. Similar concept, anyone can pay to use the lounge. I didn't go into this one, but in contrast to The Club at LAS, you pay less, but not all food and drink are complimentary. They have "premium" options which go beyond the snacky, finger food into a more substantial menu and claim a more upscale beverage selection, right down to the mixers. Their admission price gives you a credit toward one of these eating options.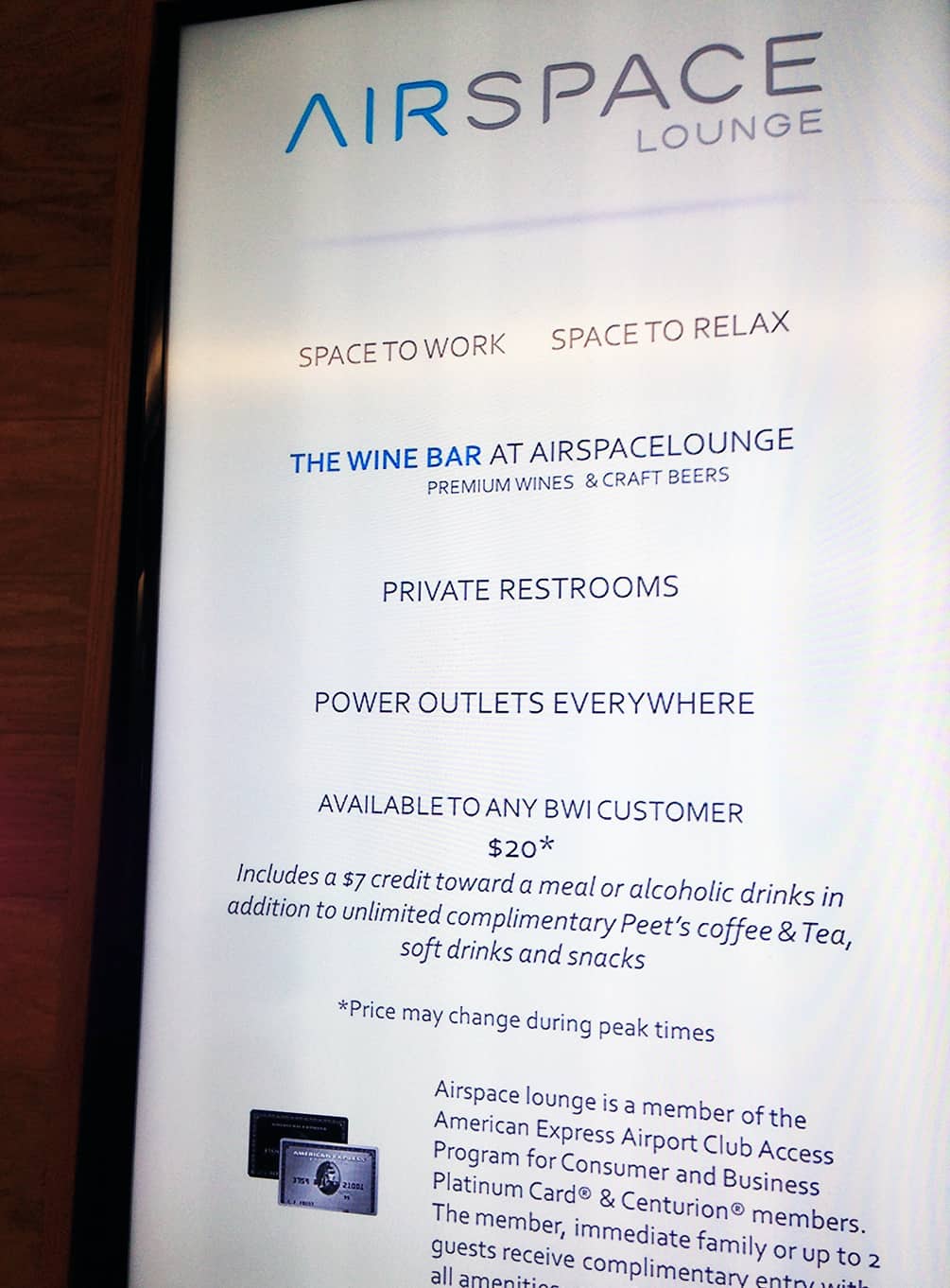 I love the option of ponying up the dough to have a comfortable experience while waiting for my delayed flight. No yearly commitment, or hundreds of dollars for a membership. But will these rooms get just as crowded as that airport bar offering you a double for an extra $2?
---
[highlight]That's nice. Sooo, should I go?[/highlight] If you have a lengthy delay or if you have more than 2 hours between connections why not be more comfortable? (Or if you can chug-a-lug, and have a tighter connection, have at it.)
[highlight]I'm smitten. Tell me more.[/highlight] The Club Airport Lounges logo reminds me of the old Pleasant Hawaii Holidays logo. But I digress…
[highlight]Location[/highlight] Â Airport terminals
[highlight]Cost[/highlight]Â Â The Club at Las and all their locations – Seattle, Atlanta, Phoenix, San Jose and Hebron are currently priced at $35 for a day pass. This includes complimentary snacks and alcohol.
Airspace Lounges prices can vary with the location. When at BWI, the pricing was $20 for entry which included a $7 food and beverage credit. So to make it more worth your while, Â ordering something from their premium menu makes sense.
[highlight]Tip[/highlight]  The Club group will let you bring in food from an outside restaurant. And you won't get an ugly look.