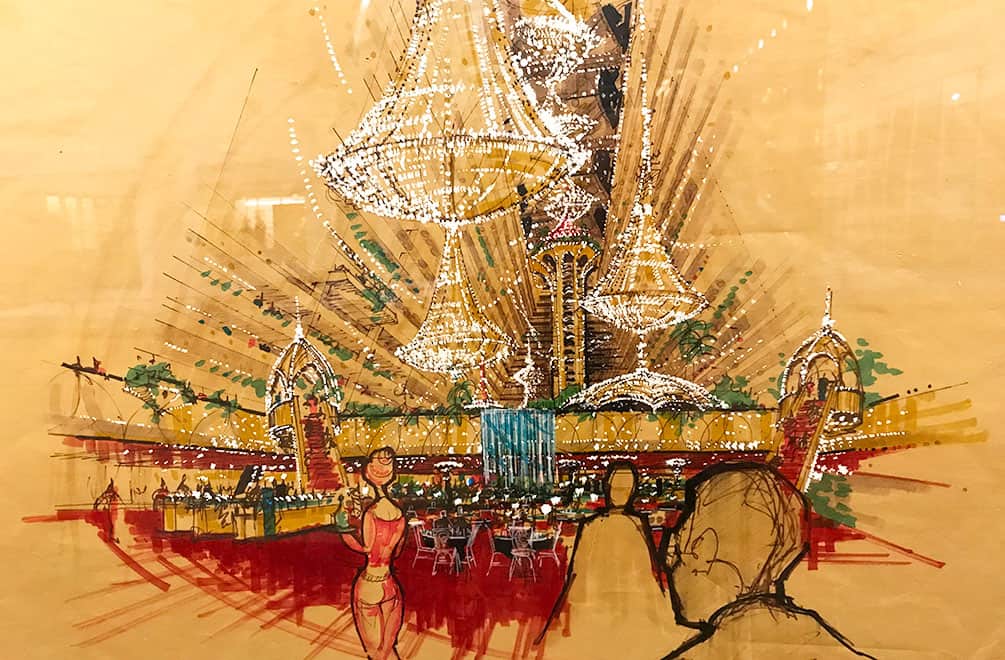 A small but select exhibit hangs at the UNLV Lied Library. Called "Unbuilt Las Vegas: Imagining Failed Dreams," it showcases architectural concepts of casinos that were never built or were dramatically watered down if they were built. Curated by Peter Michel from architectural collections housed in the UNLV Special Collections and Archives, the drawings focus on three architectural offices that worked for Las Vegas movers and shakers: the offices of Martin Stern, Jr., Homer Rissman and Gary Guy Wilson. Apologies for the glare. They are under glass in a library and a library needs bright lighting.
As Nevada is in the west, and westerns were on the newly acquired black and white tvs that everyone was snapping up in the 1950s and 1960s, it made sense that a western theme would be a popular motif casino owners would gravitate toward. Rissman and Rissman Associates designed several iterations for the "Bonanza" casino to capitalize on the tv show's popularity.
The Bonanza was eventually built, but looked nothing like these renderings. And it closed after a few months. The Silver Slipper, also by Homer Rissman, was also built and hewed closer to his concept.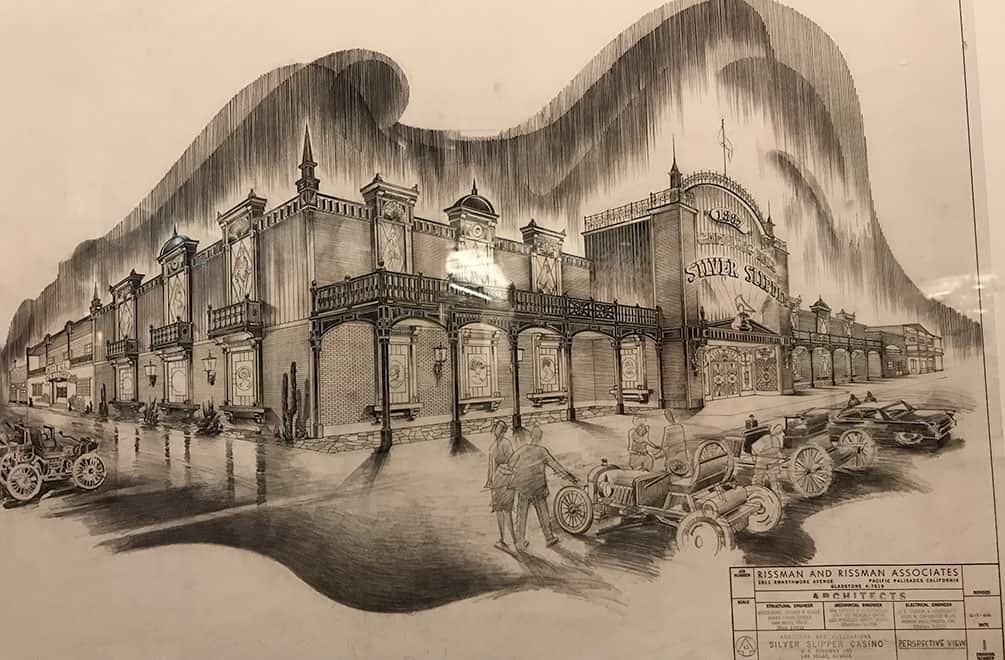 As Las Vegas currently digs the dirt for a Raiders stadium, sports arenas aren't a new idea for the city. Gary Guy Wilson was tasked to attach an arena to an existing hotel. In this drawing, he chose the Hilton International (designed by Martin Stern Jr., more about him in a bit), now saddled with the uninspiring name the Westgate.

He designed a free-standing dome stadium, also unbuilt.

One the wonderful things about these drawings is their hand-craftsmanship. The care that goes into the lettering of the word "sketch" — I can't conceive of spending the time doing that, just to make the illustration a little more beautiful. Everyone should sign their sketches like that.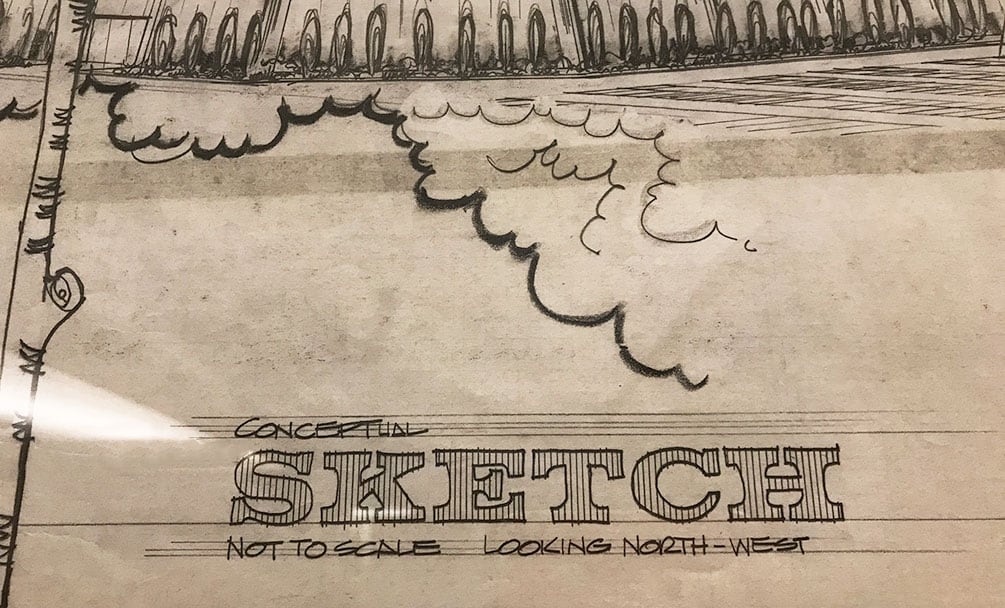 Wilson also used Martin Stern's Xanadu concept (seen as the gorgeous first image on this post) to design a Polynesian property called "Tamaran." Don't worry, he didn't plagiarize it, he purchased the blue-line concept sketches.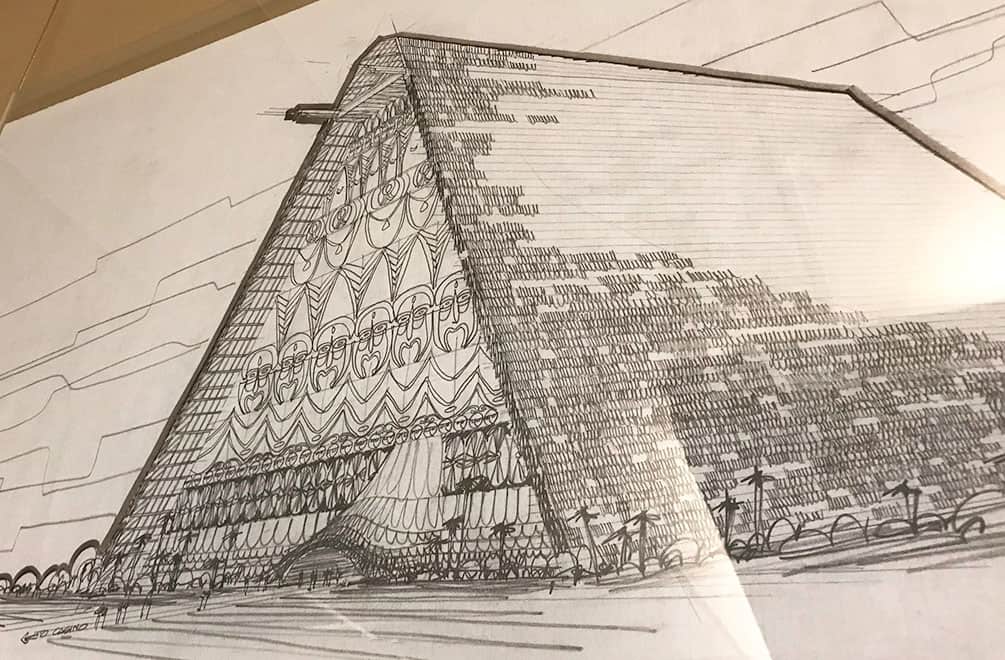 A project that was built, the continually plagued Landmark hotel's design was worked and reworked by Martin Stern, Jr. He built models, revised his drawings again and again and seemed to really have some attachment to it. (Other architects were also involved in the project.) The building itself was eventually imploded in the film "Mars Attacks." The futuristic tower design was pretty cool and I'm sorry it's not part of the skyline any longer.
Computer software makes everything easier, makes concepts look complete, makes sketches look finished. The hand drafting, drawing and painting in these works is astonishing. These architects created perspective without Corel, drew bricks, shingles and glass without Photoshop, and went through iteration after iteration without hitting the "C" key at their workstation. Add to that technique the architects' imagination made evident by these drawings and the exhibit seems a bit poignant. All that creative effort poured into these concepts and most of them never realized. The Strip changes constantly, but it still would have been nice to see some of these unbuilt reveries come to life.
That's nice. Sooo, should I go? Yes, it won't take much of your time and is worth it just to remind yourself what pencil renderings look like.
I'm smitten. Tell me more. You can take a look at the accompanying exhibit "Built" on the first floor. There is a map of Sahara Avenue, with building photos along its stretch. You can see the age and design of the structures change from east (the older part) to west (where new developments are built.)
Location The Lied Library, 3rd Floor UNLV Campus, 4505 S Maryland Pkwy, Las Vegas, NV 89154.
Cost Free