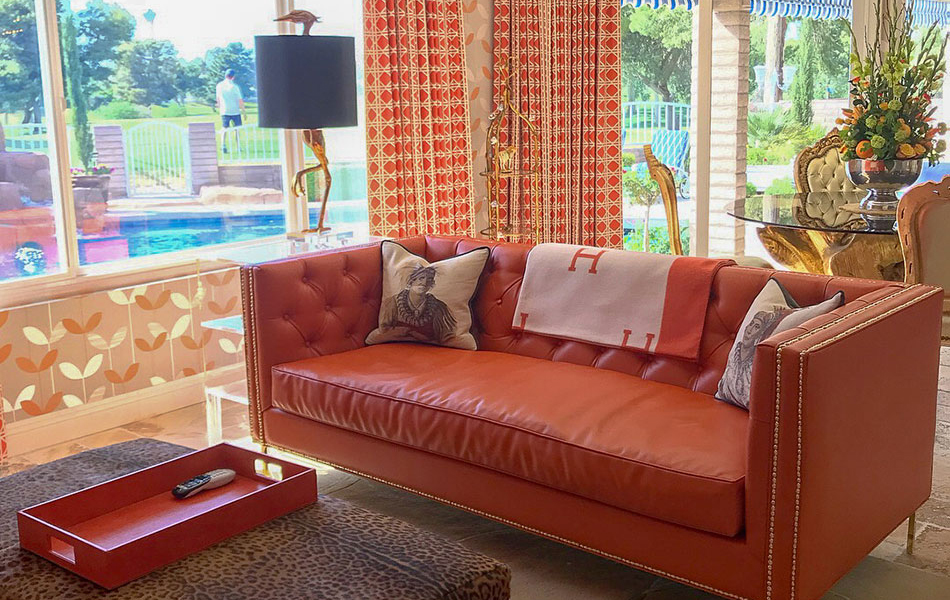 Each year, at the end of April, a celebration of midcentury architecture and history takes the place of the usual glitzy entertainment in Las Vegas. Instead of lining up to see Celine Dion or Criss Angel, on this weekend, people flock to Sin City to tour homes, see neon and hear about 1950's paint colors. I spent the weekend running to as many of the events as I could. Sure it was exhausting, but well worth it.
Opening night – Friday
The opening night party was held at Nevada Preservation Foundation's headquarters and celebrated the opening not only of Home + History, but of Uncommon Vegas. Uncommon Vegas is a project documenting vanishing mid-century buildings in the valley and this exhibit was the middle portion of the project: a professional photographer shooting the crowd-sourced photos, resulting in a gallery exhibit. The shots were taken by Kirsten Clarke and are an exquisite assortment of architectural styles and details. The next step is to create a book of the photos documenting the buildings for future generations to reference. (I wrote about my participation in the project here.)
Next, it was time to pile onto a open-top, double-decker bus for a nighttime neon tour. This bus tour was a ton of fun. Although at times difficult to hear the narration — it was a beautiful Friday night in Vegas after all — the tour took us by known (the Hacienda horseback rider) and lesser known signs (Society Cleaners). Sitting on the upper deck, you could almost touch the neon tubes. The tour ended with a walk through the world-famous neon boneyard at the Neon Museum.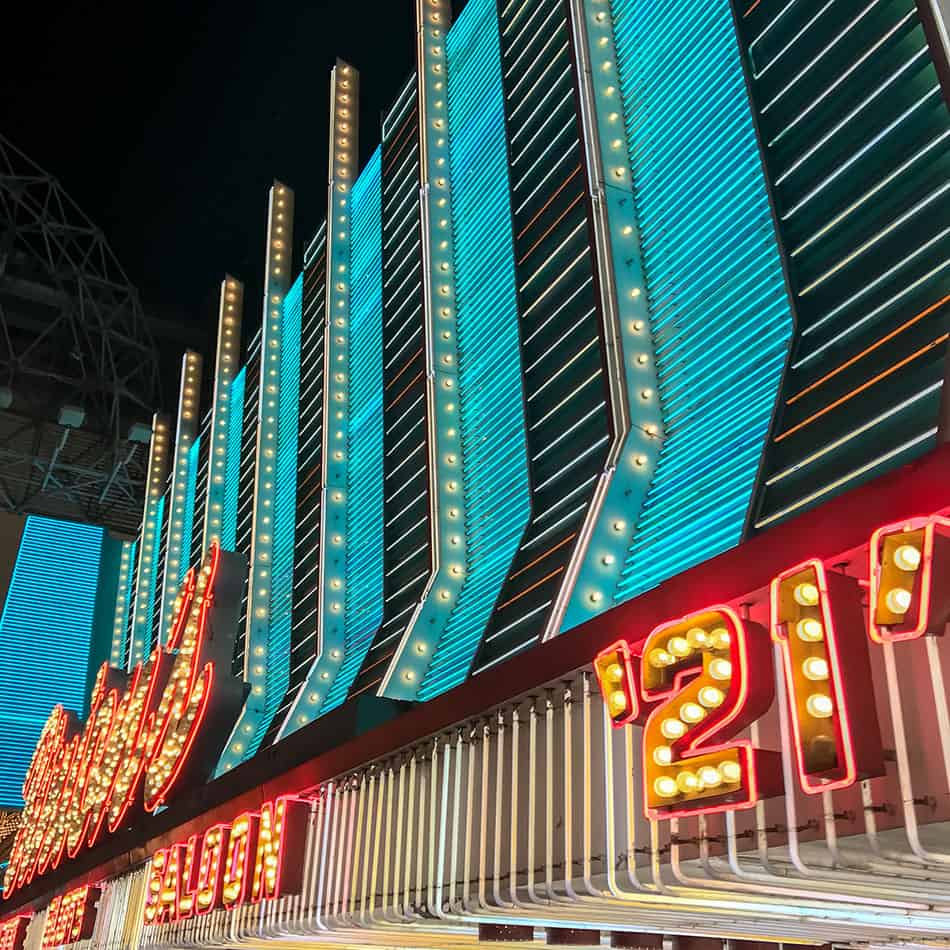 Saturday
Saturday morning started with an early double-decker bus tour. This one, entitled "McWilliams v. Clark: Crossing the Tracks" took us to two different parts of town. Formerly the McWilliams and Clark townsites, the tour explained how the railroad basically divided and then segregated the city. The guides were engaging and laid more fascinating knowledge on us than I could take in.
Shameless plug: my firm created the logo and branding for Home + History this year.
The ornate Las Vegas Academy of the Arts situated on the former Clark townsite in current downtown.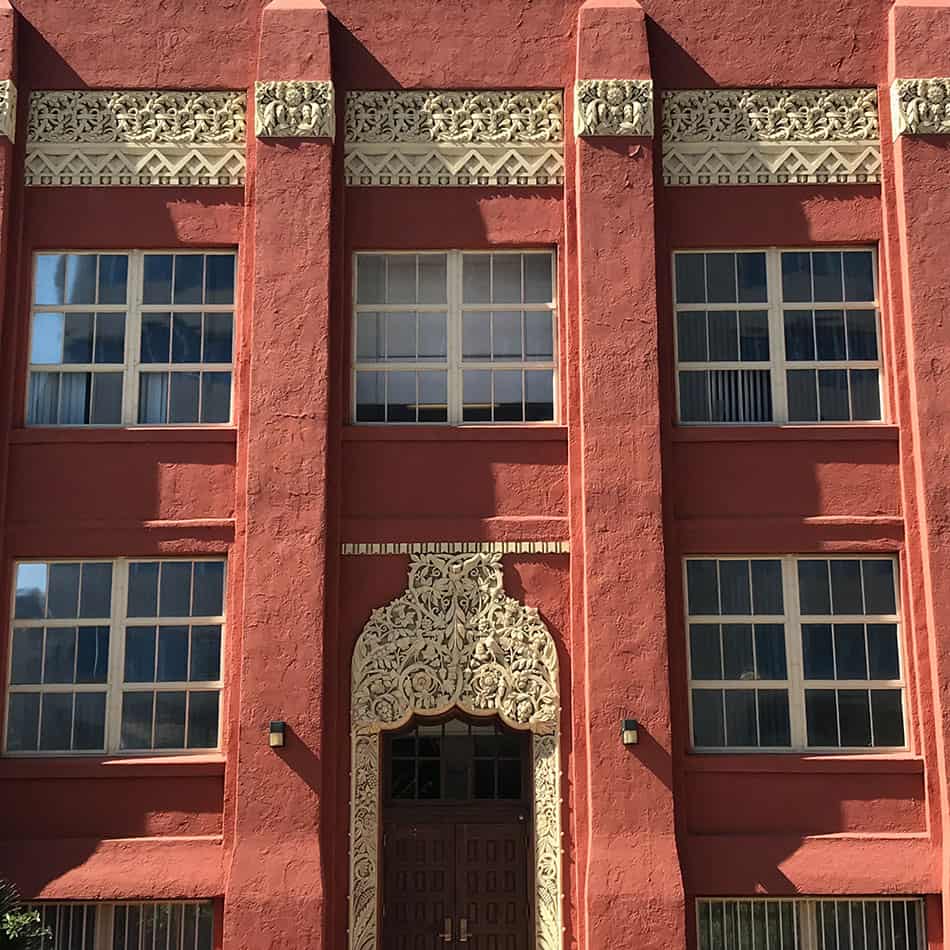 And on the other side of town, the former McWilliams townsite is now an African-American community. Many folks came out to greet the crazy tour bus driving down their neighborhood streets! This tour revealed some unpleasant truths regarding city planning — but these facts are vital to be able to understand the formation of Las Vegas. Hopefully, we can learn from the willful segregation that took place and never repeat it.
After the history tour, we made a quick trip back to NPF's office to see some original house blueprints from architect Hugh Taylor. Taylor was a prolific mid-century architect, recognized mostly as a residential home designer. In addition to the plans, on view were 3D computer recreations of some of Taylor's designs such as Elizabeth Taylor's home in Desert Inn Estates (demolished to make room for the Wynn casino and hotel.) Heidi Swank, Executive Director of Nevada Preservation, gave a short talk on Taylor's work and pointed out some of the more distinct features of a Taylor home such as the "Tropicool Roof."

Next up: a walking tour of the historic John S. Park neighborhood. This neighborhood has homes from the 1930s, 40s and 50s and Las Vegas' movers and shakers lived in these modest homes. Journalists, mobsters and bankers (John S. Park was a banker) were among the inhabitants of this lovely little tract. Tudor Revival, Colonial Revival and Minimal Traditional styles were present.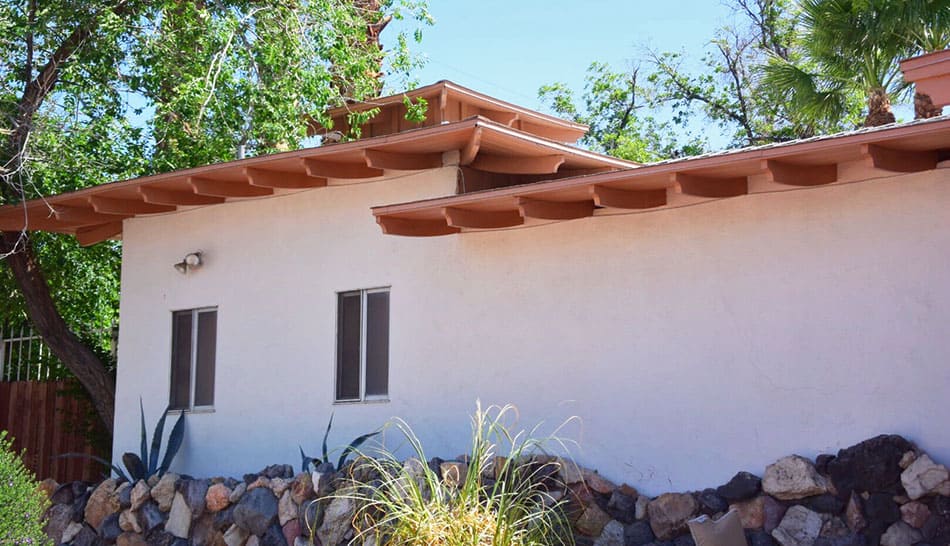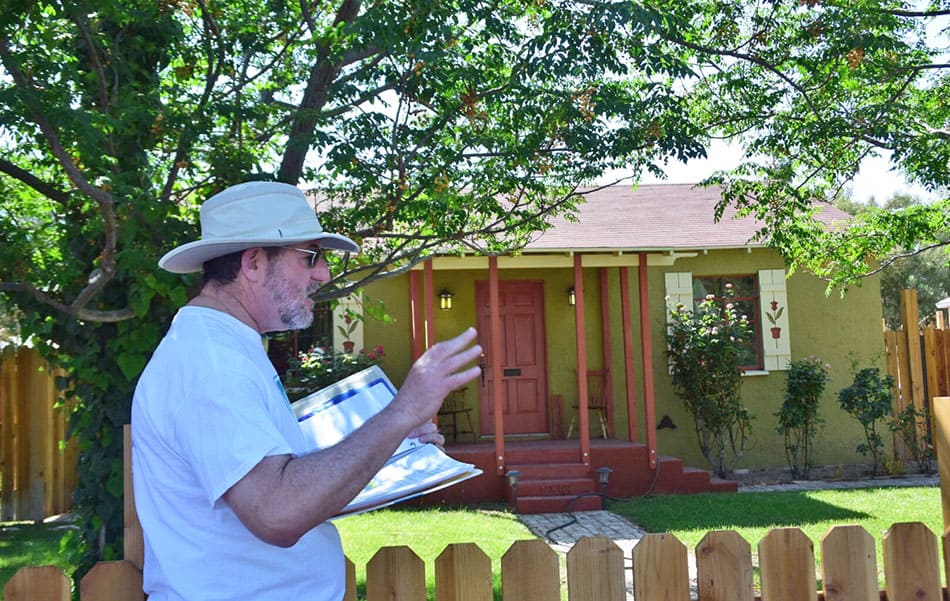 Ok, after ALL this I was sweaty. Home for a shower and to prep for the Martini Party: Bomb Shelter Edition. This party was set in a 1978 bomb shelter. And when I say "bomb shelter," this wasn't your average concrete basement bunker. This was a 6,000 foot underground home, complete with a pool, spa, putting green, casita, bar, 2 bedrooms, 3 baths — all decorated in 1970s decor. (Yep, the kitchen was pink.) The home has day and nighttime lighting, 4 scenes of different areas of the world painted outside the windows, selected by the original builder Jerry Henderson, owner of the Underground World Home Corporation. Most disconcerting was a painting of a group of folks outside a fence, jealously looking into the house. Nestled in the corner was a cryogenic tank. No photos were permitted, but here is an article with some photos after the sale of the home. This was a fascinating, fun night after a day filled with tours, history and information.
Sunday
Sunday morning started off with Coffee + Color, a presentation by Dunn Edwards on mid-century paint colors, presented by color expert Sara McLean. Not only did she talk about how colors became popular during the 40s, 50s and 60s, she also explained the research process of determine the original colors of a building, such as the Town & Country Center in Palm Springs, designed by Paul R. Williams and A. Quincy Jones.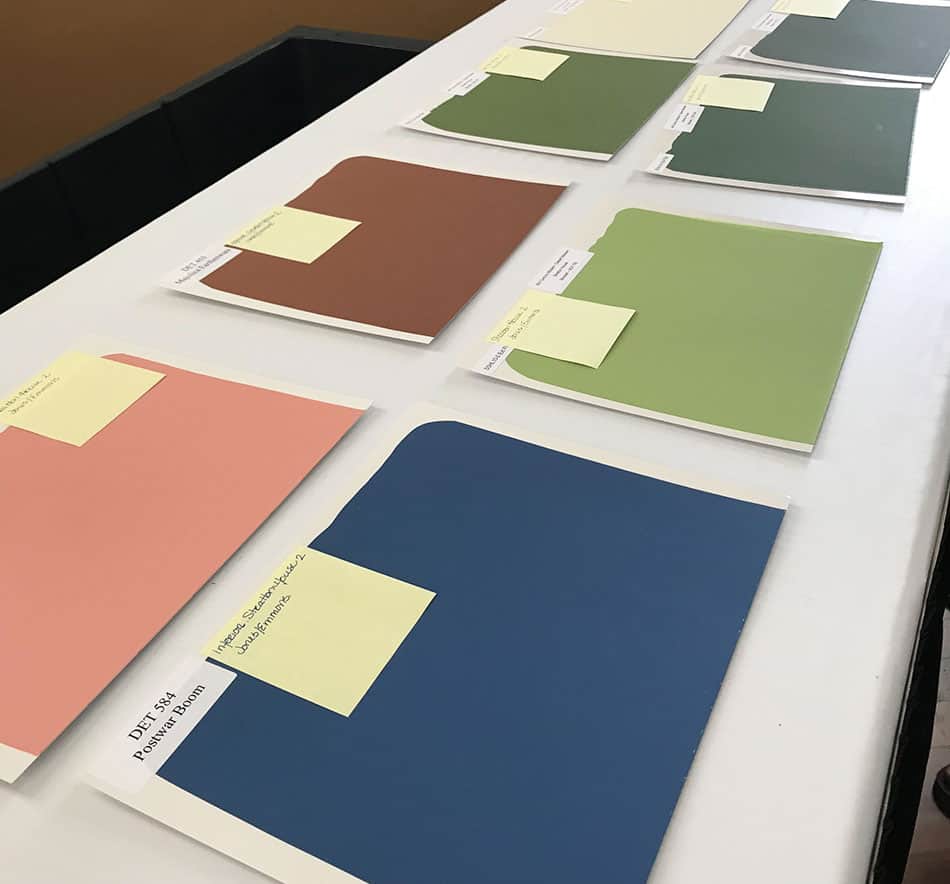 As the afternoon rolled on, it was time for the signature event of the weekend — The Vintage Vegas Home Tour. The tour is self-driving through various neighborhoods and included an assortment of home styles. From "The Weeping Ranch" to "The Sarno House," these homes were all different, inside and out. I have toured homes during Modernism Week in Palm Springs and the homes in Las Vegas are generally smaller, closer to the houses next door and in neighborhood tracts. Plus, they deviate from a strict mid-century modern aesthetic. The owners were present, charming and happy to answer questions about their wonderful homes.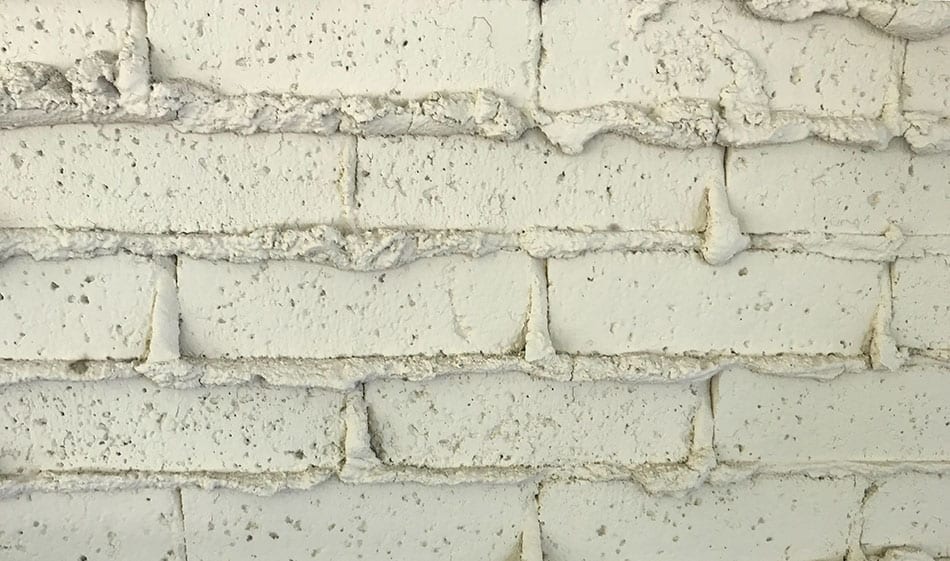 The aforementioned weeping mortar. I have never seen this technique outside of Vegas. Has anyone else?
A Cinderella Ranch house from 1964. Not shown is is "birdhouse" atop the gabled roof.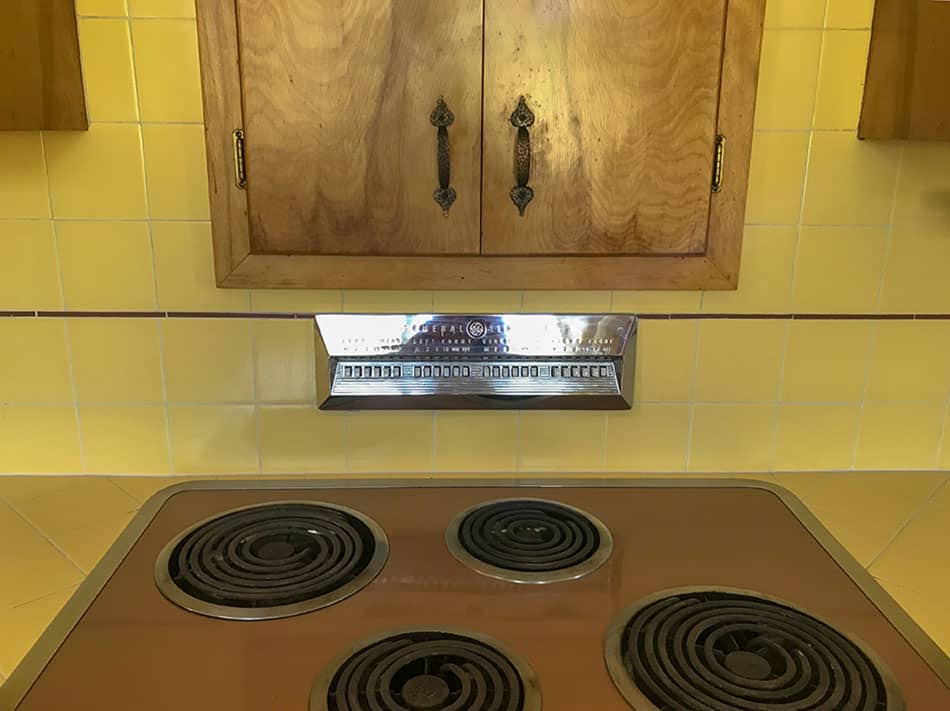 Mid-century details were in abundance. Check out the original cooktop and cupboard!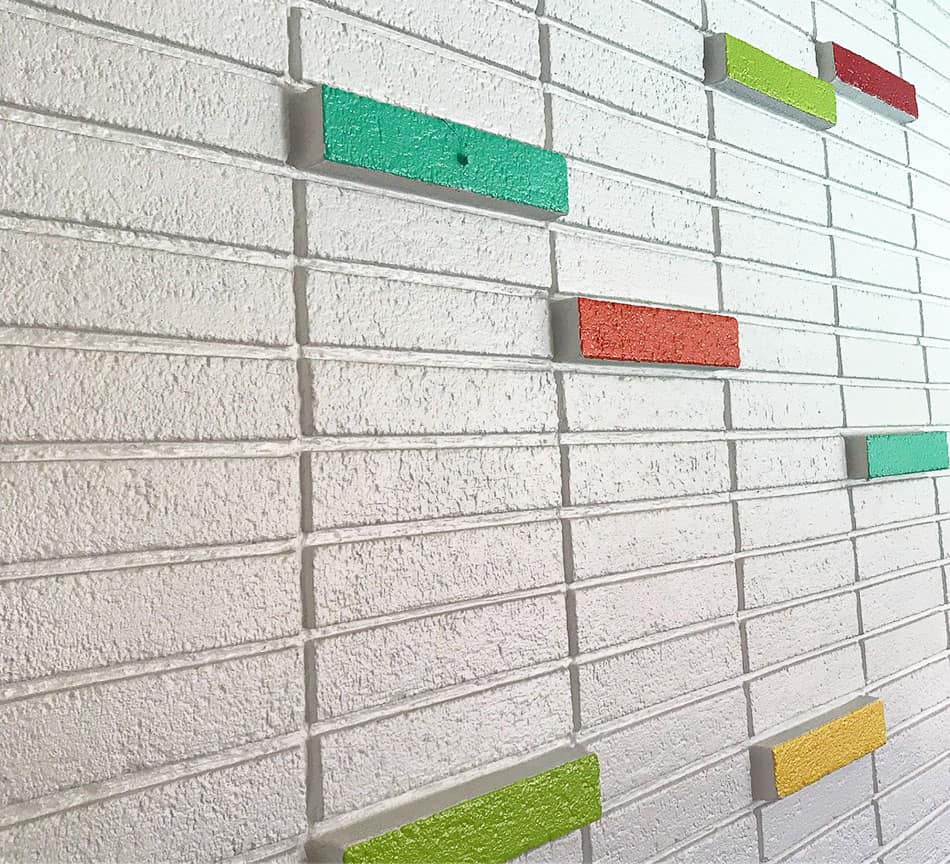 More mid-century details with colorful touches.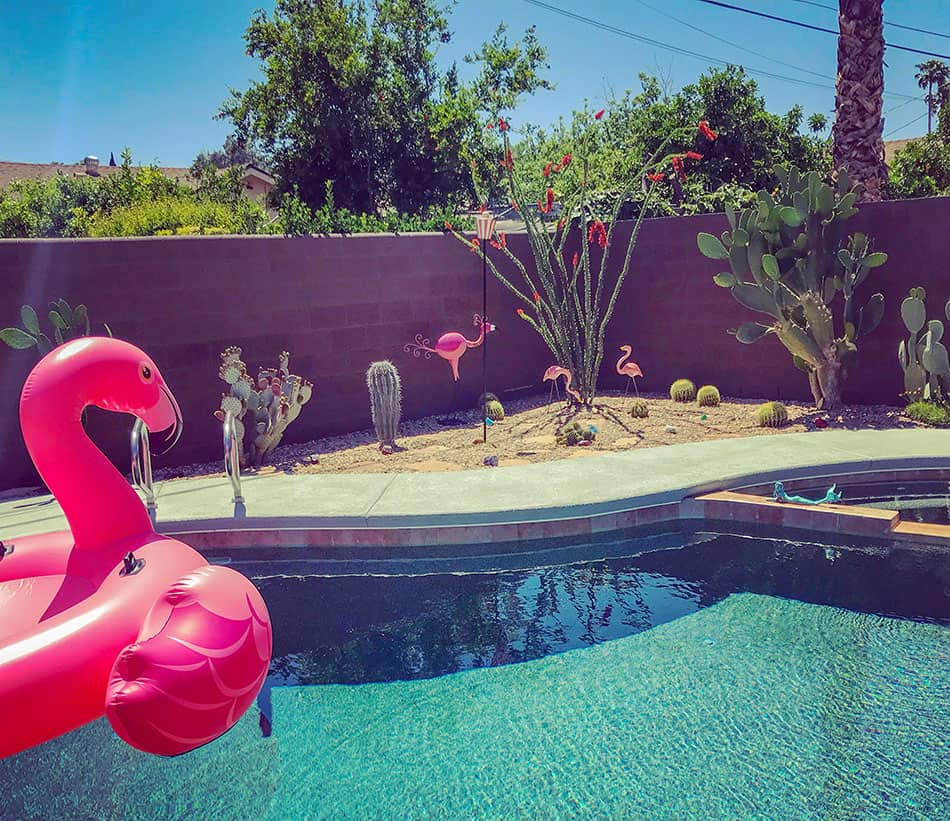 Some had pools, some did not — a notable different from Palm Springs home tours. A pool is a Palm Springs requirement. Pink flamingos represent!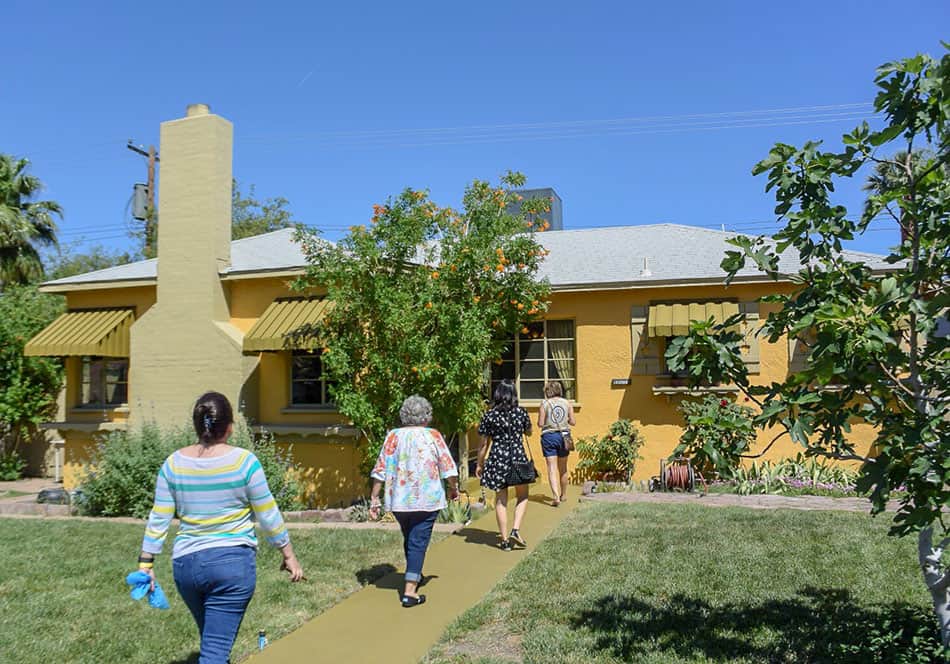 This delightful 1940s home was perfectly restored after burning to the ground. The owners even put in a floor from a tree they cut down. Incredible restoration.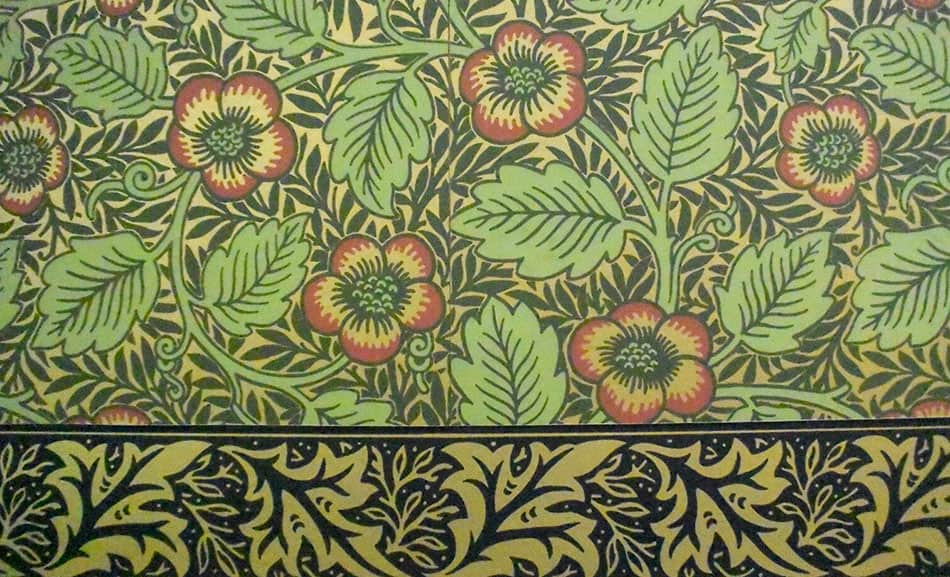 Some of the Bradbury & Bradbury wallpaper from the restoration.
Of course, not everyone lives in a time capsule home. Owners put their personal spin on modern in all the homes.
One of the last homes on the tour was formerly owned by Jay Sarno, visionary developer of Caesars Palace and Circus Circus. And it was a crowd favorite, for good reason. It was an exquisite example of Hollywood Regency decor. Owned by an interior decorator and a stylist, they used their talents to great effect.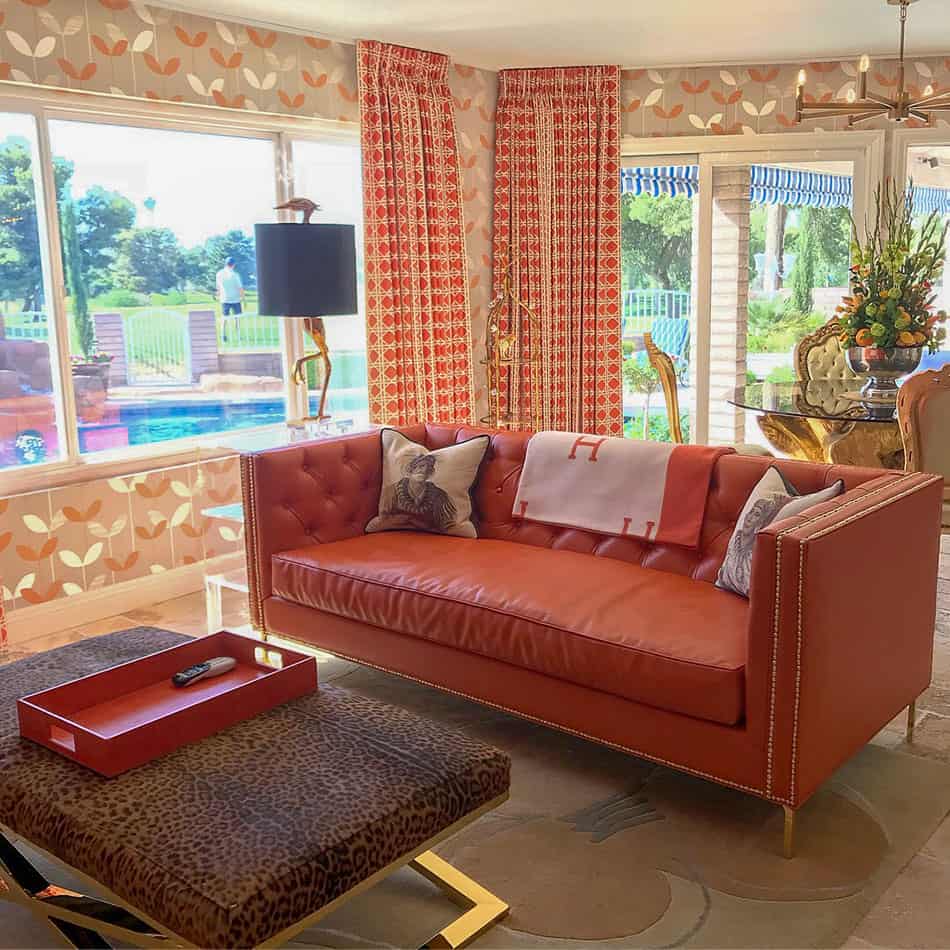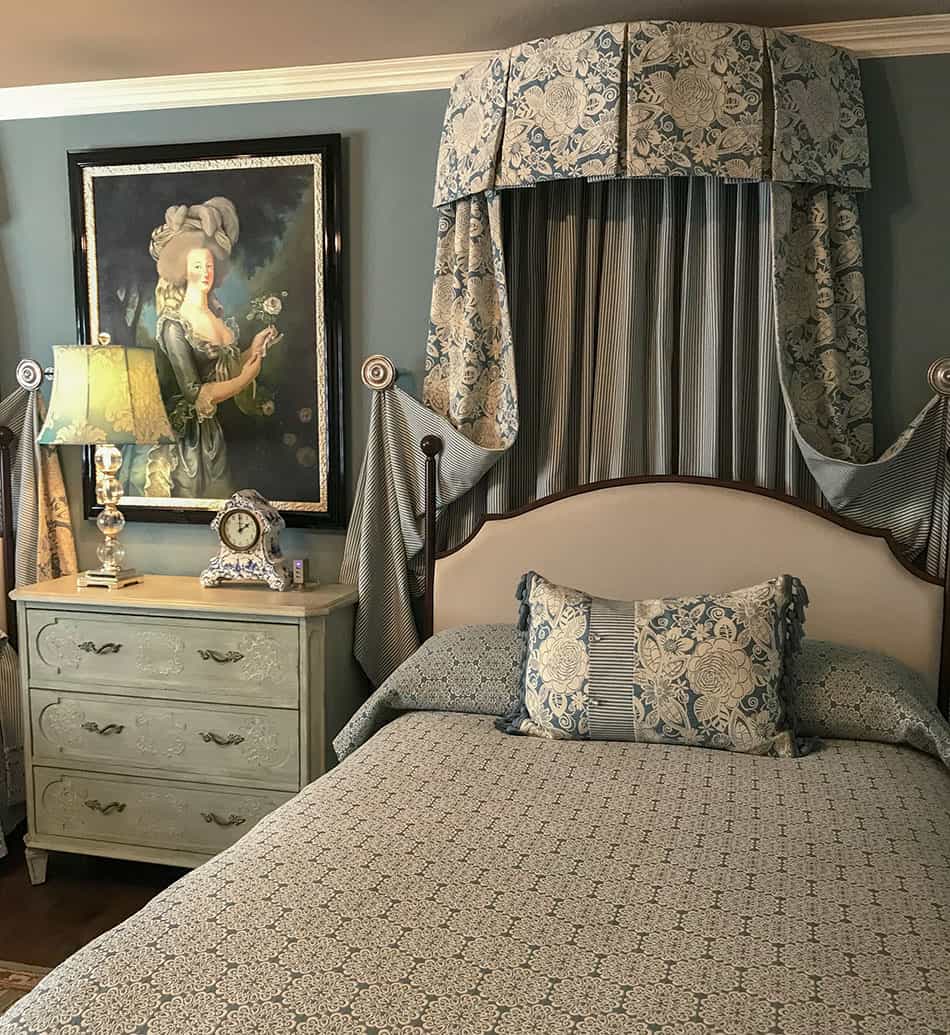 Finally, the closing night party was held at an interesting new venue: The Underground at The Mob Museum. It is modeled on a speakeasy (with hidden doors behind paintings), but still maintains its integrity as a museum — there are exhibits all around. The waitstaff let us sample their moonshine and the Old-Fashioneds were served in bottles stowed in books.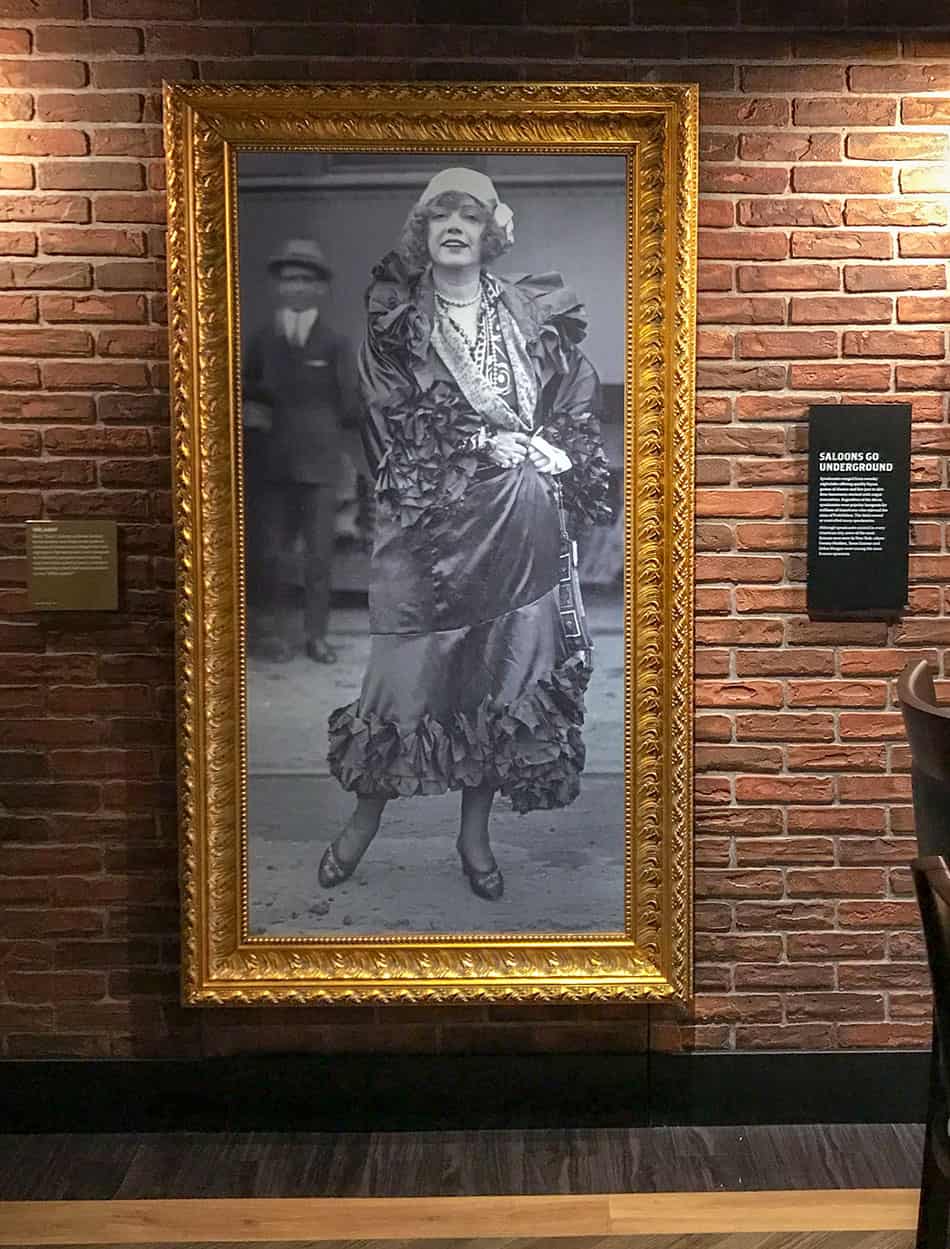 After this weekend full of preservation, mid-century architecture, talks and parties, Sunday night was an early one. I had some great swag, some once-in-a-lifetime experiences and a whole lot of absorbed history. As Nevada Preservation Foundation says "Preservation is not possible without education." The Home + History Las Vegas weekend educated in a most entertaining way. And that can only help preserve some of the buildings and some of the history of Las Vegas, a city known for imploding structures rather than preserving them. As I hit the hay, I dreamt of double-sided fireplaces, accent colors and swag lamps. And I think weeping mortar made an appearance too.
That's nice. Sooo, should I go? Even if you have no interest in mid-century architecture, you have to admit, it's fun to see inside people's homes. There are free events too if you'd like to test the waters. The proceeds go towards the preservation of Nevada historic buildings.
I'm smitten. Tell me more. If you are a visitor to Las Vegas, these tours take you to places an average Las Vegas tour does not. It is something completely different and if you've been to Vegas a few times and want to get away from the strip, this is a great escape. Next year's dates are April 26-28, 2019. (Full disclosure, as I stated above, my firm did some work for the event. But I would recommend this weekend even if I hadn't done so.)
Location All around Las Vegas.
Cost Events range from free films and lectures, up to $150 for a fundraising cocktail party. Most tours are around $45 and run for 2 hours or so.